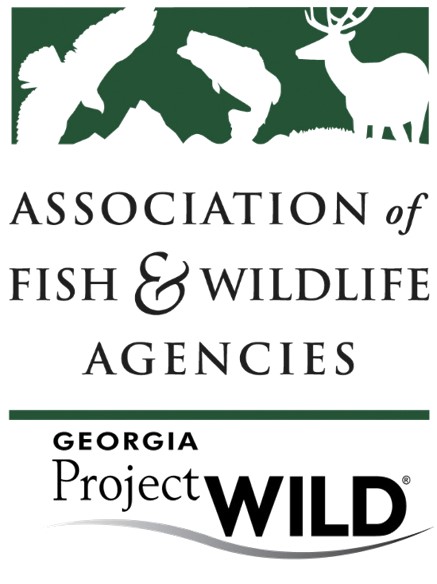 Project WILD has been providing award winning, classroom tested, quality conservation education in Georgia, the U.S. and around the world for over 20 years. It is an environmental education program for students of all ages. This program is sponsored in Georgia by the Department of Natural Resources, Wildlife Resources Division and the Georgia Chapter of the Safari Club International.
---
Mission Statement
The Mission of Project WILD is to assist learners of any age in developing awareness, knowledge, skills, and commitment to result in informed decisions, responsible behavior, and constructive actions concerning wildlife and the environment upon which all life depends.
---
Workshops
These workshops are held throughout the state. Participants receive a set of activity guides which contain lively, hands-on, diverse and instructionally sound educational activities for all grade levels.
Already a facilitator for Project Wild or Growing Up WILD? Access to necessary forms for upcoming workshops is available. Contact Amber Barrow at 770-784-3059 for the link.
For more information contact:
Project WILD
Charlie Elliott Wildlife Center
543 Elliott Trail
Mansfield, GA 30055
770-784-3059
Fax: 770-784-3061
www.projectwild.org
---
Project WILD Educator Workshops
Thank you for your interest in a Project WILD Educator Workshop. This award-winning program provides a means for educators to teach important environmental and conservation concepts. Over 19,000 Georgia teachers have attended WILD workshops to investigate the teaching strategies of Project WILD, to experience exciting hands-on activities, and to learn more about wildlife and the environment.
At the one-day workshops, participants receive a set of supplementary activity guides which includes a basic guide and an aquatic activity guide. The Project WILD materials have been classroom tested and provide a framework to assist teachers in taking students from an awareness of the nature to responsible actions concerning the environment.
Fee
A small registration fee of $25 per participant covers the cost of the workshop.
Registration
To register or if you have questions, contact Amber Barrow at 770-784-3059 or at amber.barrow@dnr.ga.gov.
We have workshops scheduled throughout the state on a regular basis. If you do not see a nearby workshop listed below, please contact the Project WILD office for information. Also, we would be happy to schedule a workshop for a minimum of 15 participants. If proper arrangements are made, staff development credit can be given for teacher recertification.
Project Wild Educator Workshop: Coming soon
Project Wild/Growing UP WILD combined Educator Workshop: April 14, 2018
---
Project WILD Advanced Workshops
Project WILD offers advanced workshops to facilitators and educators who want to learn more about wildlife and the environment. These hands on programs provide in-depth information on specific wildlife topics to help you prepare detailed lesson plans.
Upcoming Workshops
Outdoor Wildlife Leadership School (OWLS): July 9–13, 2018
Teacher Conservation Workshop: June 19–22, 2018
---
Project WILD Facilitator Workshops
Project WILD is an award-winning environmental and conservation education program for learners of all ages. Workshop participants consist of teachers, local, state, and federal natural resource agency personnel, youth group leaders, nature center staff members, conservation group leaders, and other concerned individuals.
People who attend the Facilitator Workshop learn tips for successfully conducting their own Educator Workshops. Facilitators receive all the resources needed to plan and conduct their workshops, plus ideas for making their workshops fun and relevant. Two or more facilitators usually work together in offering these hands-on Educator Workshops. Our goal is to enhance quality wildlife education in Georgia.
Upcoming Workshops
Triple Facilitator (WILD, WET, and Learning Tree): March 23–24, 2018 in Forsyth, GA
---
Growing Up WILD
Growing Up WILD: Exploring Nature with Young Children is an early childhood education activity guide that builds on children's sense of wonder about nature and invites them to explore wildlife and the world around them. Through a wide range of activities and experiences, it provides a foundation for developing positive impressions about nature while also building lifelong social and cognitive skills.
Growing Up WILD's activity guide:
Is written for early childhood educators of children ages 3–7.
Features 27 field-tested, hands-on, nature-based activities in a full-color 11"x17'' activity guide.
Includes crafts, art projects, music, conservation activities, reading and math connections and much more.
Involves social, emotional, physical, language, and cognitive domains to help foster learning and development in all areas.
Supports developmentally appropriate practice allowing children to learn at levels that are individually, socially, and culturally appropriate.
Is correlated to the National Association for the Education of Young Children (NAEYC) Standards and the Head Start Domains.
Facilitator Training Evaluation Form
---
Growing Up WILD Workshops
Growing Up Wild Workshop: Coming soon
---
Flying WILD
Flying WILD is a Project WILD conservation education curriculum for middle-school students sponsored in Georgia by the Department of Natural Resources, Wildlife Resources Division.
Flying WILD introduces middle-school students to bird conservation through school bird festivals and hands-on classroom activities. Flying WILD helps teachers by providing interdisciplinary, standards-based lessons that engage students in real-world learning. By participating in Flying WILD activities, students will gain opportunities to learn and lead. Half of the activities in Flying WILD are designed to involve students as leaders.
Service learning is also an essential part of Flying WILD. The Flying WILD guide includes suggestions, instructions, and resources for doing service leaning activities, such as conducting a school bird festival and participating in habitat improvement projects. Flying WILD has the potential to help capture the hearts and minds of middle-school students in Georgia by harnessing their natural fascination with birds. 
Educator Resources
"What's My Wingspan?" worksheets
Upcoming Workshops
Flying WILD Educator Workshops: February 10, 2018
---
Project WILD Resources
Listed below are resources available to Project WILD Coordinators:
Project WILD Teacher Resource Guide: The purpose of this guide is to supplement the Project Wild (PW) curriculum with natural history information specific to Georgia. This guide seeks to provide a basic introduction to key habitats and wildlife for each physiographic region within Georgia, and provide references for further study and field trip sites. 
---
Project Wild Correlations
Correlations to the NAAEE and Guidelines the National Science Standards
In order to meet the needs of educators nationwide, correlations of Project WILD K–12 materials have been developed for the North American Association for Environmental Education's (NAAEE) Excellence in Environmental Education: Guidelines for Learning and for the National Science Education Standards (the Standards). These guidelines identify knowledge and skills essential for environmental literacy and articulate how environmental education fits into formal classroom settings. Each of the activities have been correlated to an assessment rubric that indicates the fundamental concept taught in each activity. Using this document, educators can easily fit Project WILD activities into their lesson plans by following the user-friendly format for each section of the Standards.
Georgia Specific Correlations
The Georgia Project WILD program has correlated the Project WILD K–12 Curriculum and Activity Guide and the Project WILD Aquatic K–12 Curriculum and Activity Guide to the state standards. Links to online correlations can be found below.
Project WILD has been providing award winning, classroom tested, quality conservation education in Georgia, the U.S. and around the world for over 20 years.