Fort Yargo State Park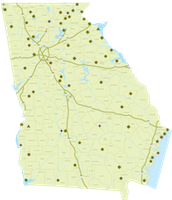 [2]
As a competitive game, disc golf was invented in a park. The objective is to throw a Frisbee-style disc into a metal basket called a "hole." The targets are arranged along a course, similar to holes in the game of golf. The one who traverses the course and gets the disc into each basket with the fewest number of tosses wins.
Cloudland Canyon [3], Fort Yargo [4], Georgia Veterans [5] and Richard B. Russell [6] state parks have disc golf courses. The game is even easier than it sounds (and a lot more fun, too). It's ideal for families and groups since people of all ages enjoy playing. No wonder it's taken off in more than 40 countries around the world! A small fee is required for playing disc golf in Georgia's State Parks. Learn how to play disc golf [7].