---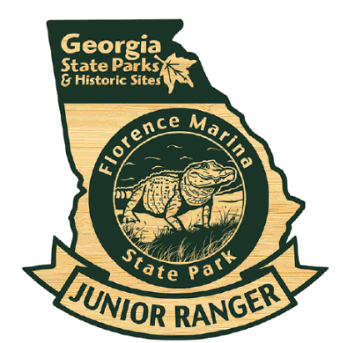 How to Become a Junior Ranger
Georgia State Parks & Historic Sites are now offering free Site-Specific Junior Ranger Activity books and badges at 59 different parks and historic sites. Guests of any age can receive a badge and become a certified Junior Ranger. Inside each book there are fun and exciting missions to complete to experience nature first-hand, explore Georgia's fascinating history and enjoy outdoor recreational activities. Junior Rangers can learn about alligators in South Georgia, about forts along the coast, or about bears and hemlock trees in North Georgia. Some pages are specific about a site's history or features found only on that park. Junior Rangers can work through the activity requirements on their own or with an adult helper.
How do I get a book?
Pick up a site-specific book by visiting any park or historic site. Junior Rangers are encouraged to complete the book as they explore and learn while visiting each different park setting.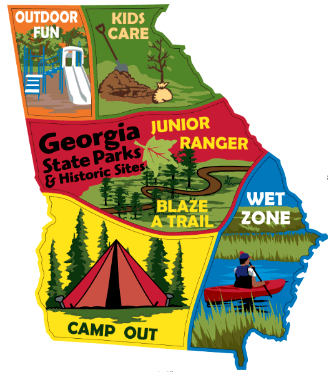 How can I get my reward and be sworn in as an official Junior Ranger?
If you have completed your book and would like to receive your free badge and have a park ranger swear you in, stop by the park office, museum, or visitor center and ask for a ranger to issue that site's official Junior Ranger pledge and badge.
How to Continue Earning Rewards
Junior Rangers can continue earning additional rewards by participating in other outdoor activities. Junior Rangers can earn up to five other embroidery stickers once they complete activities related to park experiences. To earn additional reward stickers, complete each outdoor activity 5 times and then take the page to a ranger to collect your reward for these categories:
Outdoor Fun: Play in the dirt or on a playground, golf, mini golf, disc golf, play tag or hide and seek, build a fort, fly a kite, or dance with the wind.
Wet Zone: Fish, swim, canoe, kayak, paddle board, aqua cycle, pedal boat, ride in a boat, or creek walk.
Blaze a Trail: hike, bike, ride a horse, or walk your dog.
Kids Care: Want to help a ranger? Attend a volunteer day at a park. You could be asked to pick up trash, remove invasive plants, stain picnic tables, plant trees or help with trails.
Camp Out: Spend the night in a tent or an RV. Make sure to use your 5 senses when it gets dark.
---

View Junior Ranger Event Calendar
---
---
Group Requests
To help facilitate classroom educators and to provide an option for school groups, homeschool groups, scouts, or other organized groups, some of the Junior Ranger topics are available for teachers and group leaders to download online. The printable pages are listed below and can be completed at any location.
---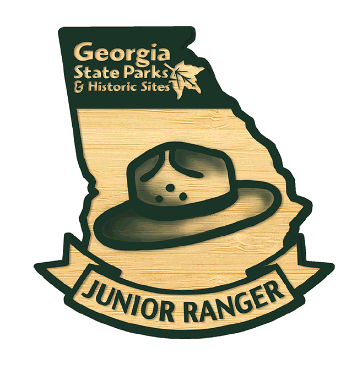 Once a group completes all the pages listed online, a Junior Ranger reward sticker can be mailed to schools or groups upon request. The school can also make a request to their nearby parks or sites to have a ranger visit the school to do the Junior Ranger pledge with students and to issue the Junior Ranger sticker. Contact Valarie Ikhwan, Chief Naturalist at valarie.ikhwan@dnr.ga.gov to request a ranger visit or reward stickers.
---