Were you a member of the old sticker program? Find out what to do.
Earn. Redeem. Enjoy. It's that easy to be rewarded for staying at a Georgia State Park!
---
Join
Sign up for a rewards card when you arrive at any Georgia State Park office.
---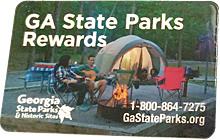 Earn
Earn 10 points for every dollar that you spend on overnight accommodations, day-use facilities, and other reservable items at most locations. Begin to earn points on new reservations as soon as you are enrolled in the program. Be sure to present your card at the time of your transaction for check-in to earn your points.
*Excludes Amicalola Falls, George T. Bagby, Georgia Veterans, Hardman Farm, Jefferson Davis, Lapham-Patterson House, Len Foote Hike Inn, Little Ocmulgee, Smithgall Woods, Reynolds Mansion, SAM Shortline Excursion Train and Unicoi.
---
Redeem
Your points can be redeemed for free overnight stays and day-use reservable facilities at participating Georgia State Parks. Use them as you earn them, or save them up for a multiple days.
Points can be redeemed according to the following table:
Reward

Points Needed

One free night of camping
(including electric, non-electric, RV, tent, equestrian, platform, tree house, backcountry and primitive campsites)

3,000
One free daily horse stable rental
3,000
One free night of a pioneer campground
4,500
One free daily picnic shelter rental
4,500
One free night in a tent cabin
5,000
One free night of adirondack camping
6,800
One free night in a yurt
7,500
One free night in a log cabin bunkhouse
7,700
One free daily amphitheater rental
8,000
One free daily conference/meeting room rental
9,500
One free night in a camper cabin
10,200
One free daily group shelter rental
12,000
One free night in a cottage
15,100
One free daily pavilion rental
16,500
One free night of a group lodge
30,400
One free night of a group camp
36,800
---
Enjoy
Enjoy that special family time when you earn and redeem your rewards points at Georgia State Parks. Spend that time hiking, exploring, and reconnecting around a campfire. Sign up for your rewards card the next time you visit a Georgia State Park during normal business hours. You'll receive one card and two keychain tags for your household.
---
Program Details
For reservations, the dollar amounts for each night will be rounded down to the whole dollar (i.e. $25.01=250 points; $25.99=260 points).
Rewards program information and balance inquiries can be made by calling 1-800-864-7275.
When multiple reservations are made in one transaction, the customer making the reservation will receive all of the points associated with all reservations. Points will not be awarded to the other occupants of the sites.
Points shall be awarded after an overnight stay or day-use facility rental is completed. "Overnight stay" means from check-in until check-out completion and not each individual night. Points received can be redeemed the day after check-out occurs.
Earning and redemption rates may be adjusted by Georgia State Parks at its discretion.
Points cannot be redeemed in the same transaction in which they are earned and can only be used when making new reservations. Refunds for an existing reservation will not be given in order for points to be substituted as a method of payment for a night. Previously earned points can be redeemed to pay the balance on a reservation.
Multiple free nights can be redeemed for the same stay, if the reservation meets the criteria spelled out above.
Points will be removed from the customer's account at the time of redemption.
If a refund is requested for an overnight stay transaction involving both points and another payment method, the refund will be given based on the payment method for the specific night that is refunded. (i.e., If the refunded night was paid in points, points will be returned; but if the refunded night was paid by credit card, the amount will be refunded back to the credit card that was used for payment.)
Points have no cash value and can only be used for the rewards offered by Georgia State Parks.
Only one Rewards Card account will be issued per household. Each account holder will be issued one card and two keychain tags for other members of the household to use.
Points from multiple accounts cannot be combined into one account. Points cannot be assigned to another person or account.
Points cannot be used for the partial payment of any reward level (e.g., 1,500 points cannot be redeemed for 50% off one night of camping).
Points are only awarded for reservable items. Points are not awarded for retail or other point of sale items, including, but not limited to retail, taxes, cancellation fees, gift card purchases, refunds, purchases at concession-operated facilities, recreational amenity rentals, park passes, golf fees, golf grills, historic site admissions, and programming fees.
---
Were you already a member of our GeoCamp Club or RV Club?
Customers can still redeem their earned "free nights" from stickers until 12/31/18.
From 12/31/17 – 12/31/18, the parks will redeem any free nights exactly the same way they are today.
New stickers are not being passed out anymore but customers who wish to earn free nights can do so by enrolling in our new Rewards Program while visiting any state park or historic site.
For those customers who participated in the RV Club or the Geo program and have earned between 1 sticker and 8 stickers, but not an actual free night as of December 31st, 2017: The customers can mail the brochures/stickers to:
Georgia State Parks and Historic Sites
Attn: Rewards
2600 Hwy 155 SW
Stockbridge, GA 30281
Please include your name, address, phone number, and if applicable your rewards ID located on the back of your new rewards card.
NOTE: Stickers must be submitted to the above address before 12/31/18.
Once we receive the brochure, the stickers will be transferred into points towards our the new rewards program. Please allow us 10-14 business days from receipt of brochure to make the transfer. A confirmation letter will be mailed to the guests after the transfer is completed in the system.