The Cottages at Smithgall Woods are the perfect, idyllic location for your next mountain getaway. Whether you are a couple looking to retreat, or a large group ready to celebrate, there are many options to choose from. Intimate, one-bedroom cottages offer wood burning stoves, king-size beds and hot tubs. On the grander scale, all six cottages may be reserved for a total of 17 bedrooms - each with their own key, phone and television - ideal for weddings and corporate events. There is a large field for ceremonies or activities, a fireplace (wood provided) in every living room and the sound of rushing waters on every porch.
The most unique feature about the cottages at Smithgall Woods is the setting. Located at the end of a one-mile scenic drive off the highway, the cottages are spaced and scattered in the Dukes Creek Valley in the middle of a Southern Appalachian Wilderness. All cottages have been recently renovated and modernized and our guest services will assist with any of your needs. Wander amongst our botanical garden, fly fish right out your door or take a 1-mile stroll to the magnificent Dukes Creek Falls. You'll never want to leave, but always want to come back.
---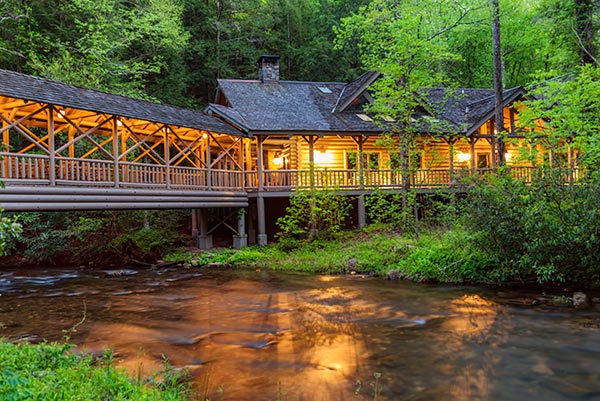 Smithgall Cottage
Beds: 4
Baths: 4 1/2
Our flagship, Smithgall Cottage sits on a point where two roaring trout streams converge. A massive Montana lodge-pole home, this cottage is perfect for families or large groups. With a cedar shake roof and a wraparound porch, you'll feel as if you live among the hemlocks.
---
Dover Cottage
Beds: 5
Baths: 5 1/2
Originally designed as a boutique hotel, our biggest cottage rests beside Dover Creek. With a large kitchen and a bar closet, Dover is ideal for catered gatherings and for families who like to cook! The two-story fireplace makes it hard to leave the common area that seats 25 for dinner.
---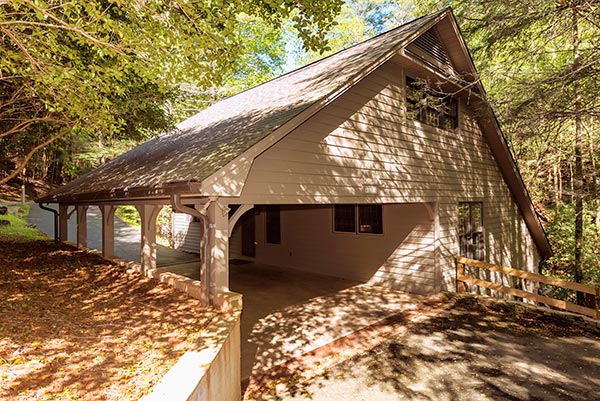 Creekside Cottage
Beds: 3
Baths: 3 1/2
"Creekside" - meaning, literally, you can trout fish from the back deck! This 3-story cottage, built in the side of the mountain is an anglers dream. This cottage sleeps 8. Choose from two bedrooms peering out over the living room fireplace or the master bedroom, a hideaway all its own on the uppermost floor.
---
Parkside Cottage
Beds: 3
Baths: 2
A favorite for the quick-access fishing trip, Parkside Cottage is located nearby the Visitor Center. Although seemingly a world away, downtown Helen and the historic Nacoochee Valley sites are a quick jaunt down the road. Though a skip up the path from the other cottages, do not hesitate to ask our concierge for more ice to keep your drinks cold.
---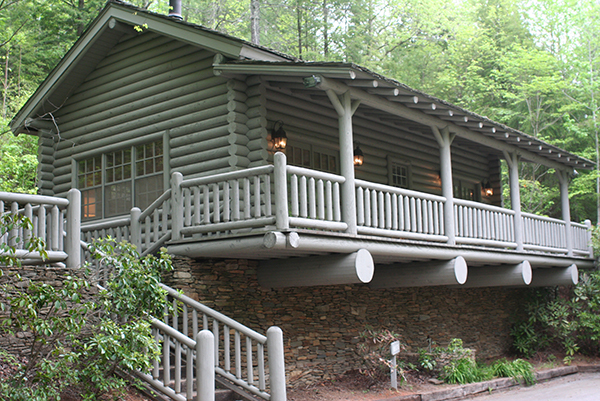 Garden Cottage
Beds: 1
Baths: 1
Overlooking our botanical garden, Garden Cottage is our singular pet-friendly (with fee) cabin. Dukes Creek is earshot away and your private hot tub is right out the side door. Skylights and a wood burning stove make this cabin warm when it's cold outside.
---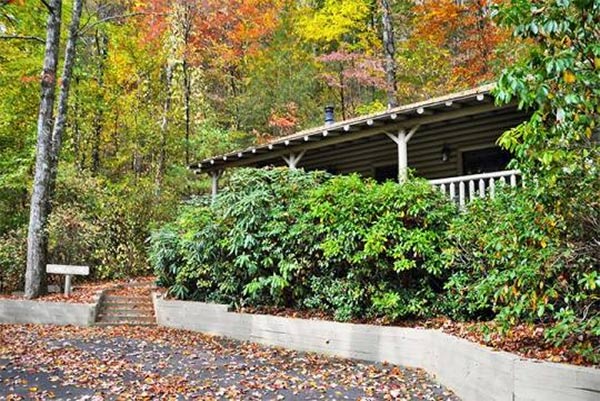 Laurel Cottage
Beds: 1
Baths: 1
Identical to our log cabin Garden Cottage, Laurel sits a little more tucked away, also with hot tub. A full kitchen, gorgeous bathroom and relaxing porch make this a perfect romantic hideaway.
---
---
Learn More