Wednesday, October 3, 2018 - 09:00
White County resident Eric Bentley has been named Assistant Director of the Georgia Department of Natural Resources' State Parks and Historic Sites Division. Bentley will oversee operations of more than 60 properties across the state, including Kolomoki Mounds in Early County and Dahlonega Gold Museum in Lumpkin County. He was appointed by new Georgia State Parks Director Jeff Cown.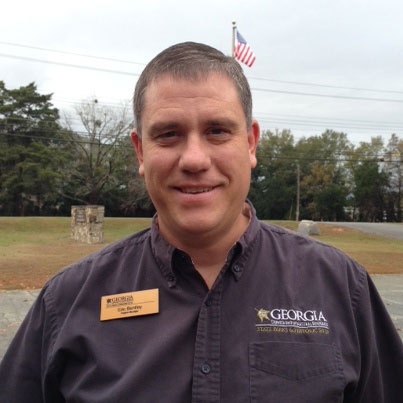 Bentley previously was Resource and Projects Director for the North Georgia Mountains Authority. Before that, he was a regional manager over southwest Georgia parks. Bentley has a 24-year career with the DNR, having also worked at Little White House Historic Site, Kolomoki Mounds State Park and Unicoi State Park. He attended White County High School and Gainesville College before earning his degree in Forest Resources from the University of Georgia.  He currently resides in Cleveland, Ga., with his wife Jennifer and their three sons: Trevor (18), Tanner (16) and Tucker (7).
"I am excited and honored to be selected by Director Cown and Commissioner Mark Williams for this position," said Bentley.  "I'm looking forward to helping shape the future of the best state park system in the country. Georgia has outstanding natural and cultural resources, with unlimited opportunities for camping, hiking, biking, golf and learning about our past."
-END-
Main Website: GaStateParks.org