Juliette, GA
To celebrate the re-opening of Dames Ferry Campground, the public is invited to a ribbon-cutting ceremony on Friday, February 8 at 10 a.m. Located on Lake Juliette in Monroe County, the popular campground is operated by the Georgia Department of Natural Resources in partnership with Georgia Power.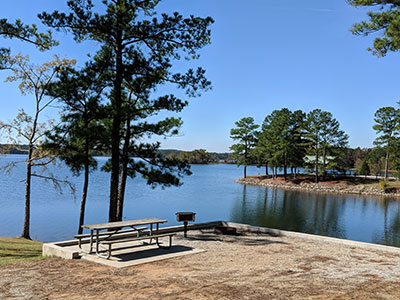 Last summer, Dames Ferry underwent renovations that improved accessibility in the campground, boat ramp, bath house and playground. Today, visitors can enjoy spacious campsites – many with waterfront views and RV pull-through access – as well as two picnic shelters and aquacycle rental. Crystal-clear Lake Juliette is open for fishing, boating and swimming. Site-specific reservations can be made up to 13 months in advance at GaStateParks.org or by calling 800-864-7275. Campsites are $38.
"I'd like to thank Georgia Power for their partnership in bringing this beautiful campground into Georgia's state park system," said State Parks Director Jeff Cown. "Dames Ferry has an exceptionally loyal following, and I am confident that our guests will be pleased with the recent renovations and improvements in accessibility."
Dames Ferry Campground is managed by nearby High Falls State Park. To learn more, visit GaStateParks.org/DamesFerry or call 478-994-7945. Daily parking at all Georgia State Parks is $5.
What: Dames Ferry Campground Ribbon Cutting
When: 10 a.m. on Friday, February 8, 2019
Where: 9546 Ga. Hwy. 87, Juliette, GA 31046
Information: 478-994-7945
-END-
Media Contacts:
Georgia State Parks
Kim Hatcher
Kim.hatcher@dnr.ga.gov
770-389-7284
Georgia Power
Holly Crawford
hcrawfor@southernco.com
404-506-7676