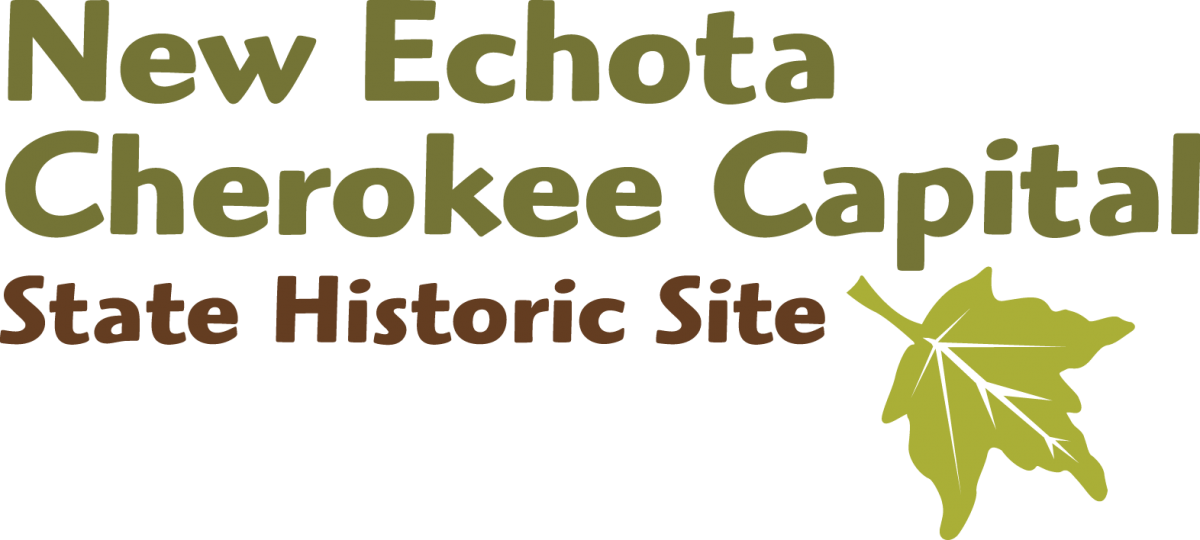 Ranger-Led Programs
To book a field trip, for more information or to schedule a ranger-led program please call 706.624.1321.
---
Guided Site Tours, Focusing on Grades 2 and up
New Echota is one of the most significant Cherokee Indian sites in the nation and was where the tragic "Trail of Tears" officially began. In 1825, the Cherokee national legislature established a capital called New Echota at the headwaters of the Oostanaula River. During its short history, New Echota was the site of the first Indian language newspaper office, a court case which carried to the U.S. Supreme Court, one of the earliest experiments in national self government by an Indian tribe, the signing of a treaty which relinquished Cherokee claims to lands east of the Mississippi River, and the assembly of Indians for removal west on the infamous Trail of Tears.
During the visit, students will have an opportunity to see 12 historic and reconstructed buildings on a ¾ mile walk around the historic grounds, including the Council House, Court House, Print Shop, Missionary Samuel Worcester's home, and an 1805 store, as well as outbuildings such as smoke houses, corn cribs and barns. In the visitor center, students can view interpretive exhibits and a 17 minute film.
Program length: Varies, can be 1-2 hours in length depending on students schedule
Program cost:
Regular admission prices-less than 15 paid admissions/less than 2-week reservation notice:
Adults: $7.00
Seniors: $6.50
Youth: $5.50
Children 5 and under: free

Group rate-15 or more with reservation in advance:
Children: $3.25/person, under 6 yrs of age.
Youth: $5.00/person, 6-17 yrs of age.
Adults: $6.50/person, 18 yrs and older
GSE: SSKG1, SS2H1, SS2H2, SS2G2, SS3H1, SS3G3, SS4H3, SS8H1, SS8H4, SSUSH7
---
Ranger-Led FAQ:
Q: What comes included with the program cost?
A: New Echota State Historic Site has on site picnic tables
Q: Do you offer a discount to Title 1 schools?
A: No additional title 1 discount as groups are already discounted.
Q: How do these programs relate to what I am teaching?
A: Each of these programs were designed to align specifically around the grade-specific standards outlined by Georgia's Standards of Excellence, with a focus on the Georgia studies for Grades 2 and 8
Q: Is there a cost or limit for chaperones?
A: There is no limit for the number of chaperones that can come on a ranger-led program, however, a reasonable close estimate of the number of chaperones is needed when reservation is made to determine group size, which determines the number of tour guides needed. Regular adult group admission is charged to any group chaperone at $6.50/adult.
Q: How early in advance do I need to book our program?
A: We require at least a two-week notice to book any ranger-led programs. In order to book your ranger-led program call New Echota at 706.634.1321.
---
Outreach Programs
Traveling Trunk Program
If you can't make the trip to the park, we will bring a little piece of the park to you! The Georgia Chapter of the Trail of Tears Association (GATOTA) provides 2nd grade educators in Georgia a Traveling Trunk Program designed to supplement the teaching of Cherokee studies. Included are a teaching guide and trunk contents which meet the corresponding Georgia Department of Education 2nd grade Social Studies Standards of Excellence, as well as multiple authentic items and artifacts designed to pique students' interest. The accompanying Teaching Guide contains Teachers' Notes addressing each standard, comprehensive lesson plans, craft instructions, games and other resources that can be helpful to 2nd grade educators. For more information, please contact David Gomez at 706.624.1321.
Site Documentary
Normally included in your visit to New Echota State Historic Site, our documentary film is available for viewing on the New Echota web page.
---
Self-Guided Explorations
Educators and group leaders have the opportunity to experience the New Echota State Historic Site on a self-guided basis. Regular Admission rates apply, and leads will be provided booklets full of information regarding our trails and historic buildings. The group will still have the option to watch our site documentary as well.
---
Other Information
For any questions, visit the Visitor Center or call us at 706.624.1321.