GA
Several Georgia State Park and Historic Site employees were honored recently during a Rangers Conference held at Unicoi State Park. Around 140 assistant managers, interpretive rangers, administrative staff and maintenance rangers participated in training activities, team building and sharing ideas. The conference included an awards ceremony celebrating the efforts of those who make more than 60 sites outstanding destinations for Georgia's citizens and visitors. Learn more at GaStateParks.org/awards.
---
2023 Award Recipients:
Bravery Award
John Shelnutt (Stephen C. Foster State Park in Fargo)
This award recognizes a ranger whose actions lead to life-saving events. Last year, Shelnutt rescued a severely ill visitor who was camping on a platform 13 miles into the Okefenokee Swamp. For five hours through the night, Shelnutt navigated a boat through shallow water and tight spaces, even getting out to pull the boat over a fallen tree. Thanks to his response, the mother and young daughter were brought safely back to the park where EMS was waiting.
Si Longmire Ranger of the Year Award
Ronnie McClure (Crooked River State Park in St. Marys)   
Although McClure is based at Crooked River State Park, he has been instrumental in assisting other parks and historic sites in his region. After the sudden passing of an employee at another park, he stepped in as manager-on-duty as well as lead maintenance ranger overseeing a large project. He has assisted multiple sites with roadway repairs, stump grinding, mulching and equipment maintenance. This award is named after Si Longmire who was the first female manager of a Georgia State Park and later became Assistant Chief of Operations.
Customer Service Award
Emmanuel "Manny" Stewart (Vogel State Park in Blairsville)
Over the past year, Vogel has been involved in a complex campground renovation that has impacted more than 1,000 reservations. Vogel is one of Georgia's most beloved campgrounds, so guests often expressed frustration over cancellations. Stewart was always understanding and courteous while helping them find alternate dates or locations. His outstanding customer service serves as an example of how to best deal with challenging situations. This February, Stewart was promoted to manager of Crooked River State Park in St. Marys.
Outstanding Administrative Award
Dionne Youmans (Wormsloe State Historic Site in Savannah)
This award recognizes those who excel in park administration including financial, budget, personnel, payroll, accounts payable, cash management and operating accounts. Youmans developed a training manual for new employees, coordinates the many wedding reservations at this popular site, and helps manage the gift shop. In addition to her many administrative duties, she also ensures "Women Take Over Wormsloe" is a successful annual event.
Most Innovative Program on a Historic Site
Voices of the Past Lantern Tour (Jarrell Plantation Historic Site in Juliette)
This sold-out event included eight tours of the former cotton plantation with a sawmill, cotton gin, gristmill, shingle mill, sugar cane press and syrup evaporator. It included costumed storytellers at the 1847 House, African-American stories from the site, and recordings from Jarrell family descendants.
Most Innovative Program on a Park
Go Tell it on Black Rock Mountain (Black Rock Mountain State Park in Clayton)
Black Rock Mountain State Park, their volunteer organization Black Rock Buddies, Foxfire Museum and Rabun County Library partnered to create this program drawing 120 participants to the three locations. It included participatory campfire stories, cooking, creative writing, live music and an evening storyteller.
Most Outstanding Maintenance Project
Michael Teel (Florence Marina State Park in Omaha)
Assistant Manager Michael Teel did much of the renovation on the park's Kirbo Interpretive Center, including sheetrock, painting, electrical, HVAC and lighting. He even contacted local landowners to collect wood from an 1840s schoolhouse to build the front porch. Teel spent eight months working on the museum while fulfilling his regular duties, saving the park $75,000 in contractor fees.
Outstanding Housekeeping Award
Stephen C. Foster State Park in Fargo
Four part-time housekeepers are responsible for cleaning nine cottages, 10 lodge rooms, and two conference rooms at this remote park in the Okefenokee Swamp.  Several times throughout the past year, they received notes from happy park visitors and positive comments in surveys. These hardworking women include Carlene Rae, Sheryl Rogers, May Baker, Ruby Welch and Penny Hendrix who passed away last year.
Golf Superintendent of the Year
Shannon Crabb (Highland Walk Golf Course at Victoria Bryant State Park)
Crabb does an outstanding job maintaining Highland Walk Golf Course. He oversaw a renovation project to completely rebuild 21 sand traps, revamped the annual aeration process and re-evaluated chemical application. He also prepared the course to host 30 school team golf matches last year.
--END—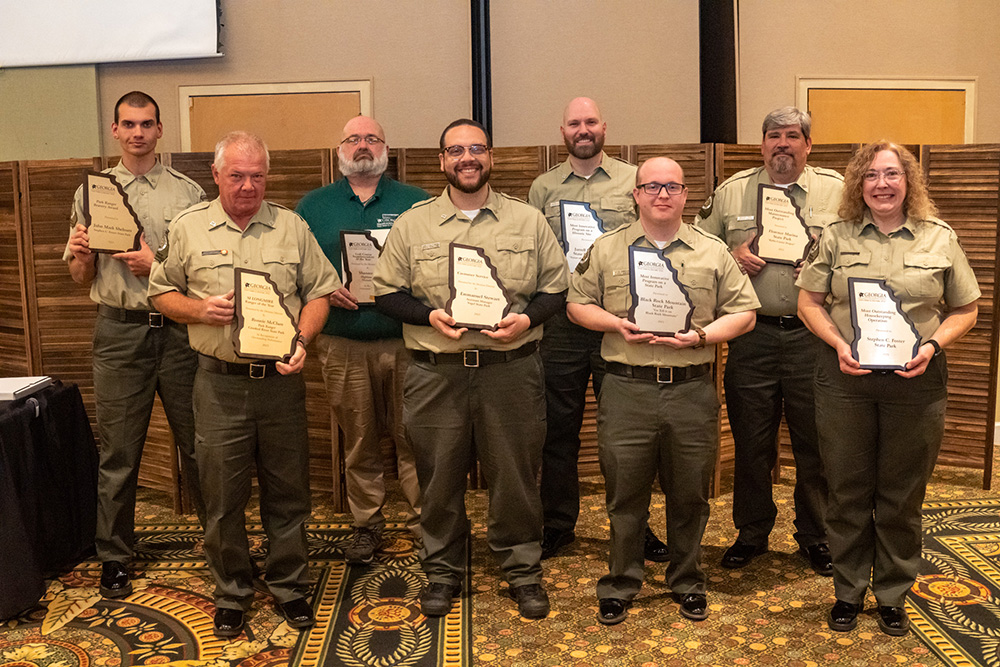 Group photo of 2023 Award Recipients, left to right
John Shelnutt, Ronnie McClure, Shannon Crabb, Emmanuel Stewart, Derek Jackson, Taylor Kimbrough, Michael Teel and Tina Blackstock. Not pictured: Dionne Youmans