ATLANTA, GA
History buffs are in for a treat with the latest Georgia State Parks & Historic Sites perk. New for 2019, Georgia State Parks & Historic Sites have added online sales of Historic Sites Annual Passes. This new addition allows guests unlimited access to more than a dozen state historic sites and makes it easier for those interested in Georgia's rich history to venture to the state's historic landmarks year-round. They are especially useful to geocachers following the park system's History GeoTour.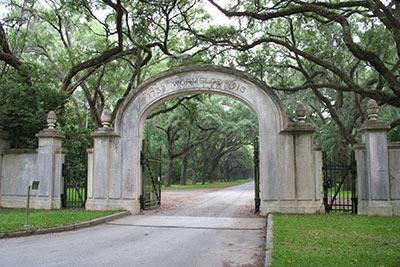 Passes may be purchased online or at the sites for $50 family, $30 adult, $25 youth. Days of operation vary, so be sure to check GaStateParks.org before planning the next family venture and visit GaStateParks.org/ThingsToKnow to purchase a pass ahead of time. Below is a list of participating Georgia State Historic Sites, each with a different story to tell.
A.H. Stephens State Park, Crawfordville
Named after the vice president of the Confederacy and governor of Georgia, A.H. Stephens State Park features a Confederate museum with one of the finest collections of Civil War artifacts in Georgia. Stephens' home, Liberty Hall, is renovated to its 1875 style, fully furnished and open for tours.
GaStateParks.org/AHStephens
Chief Vann House State Historic Site, Chatsworth
Built by Cherokee Indian leader James Vann in 1804, the 137-acre plantation allows guests to experience guided house tours, a half-mile of winding nature trails, a 19th Century Cherokee farmstead and a visitor center illustrating the impact the Vann family had on the Cherokee Nation.
GaStateparks.org/ChiefVannHouse
Etowah Indian Mounds State Historic Site, Cartersville
Home to several thousand Native Americans between 1000 A.D. – 1500 A.D., this site is located less than an hour north of Atlanta. The Etowah Indian Mounds State Historic Site contains six large earthen mounds, a plaza, village sites, borrow pits and a defensive ditch laid out over 54-acres of historic land.
GaStateParks.org/EtowahIndianMounds
Fort King George State Historic Site, Darien
The fort was built in 1721 and served as the southern outpost for the British Empire. The settlement transitioned into a booming lumber export center for the colonial empire on the shores of the Altamaha River until 1925. Since then, it has been reconstructed using old records and drawings.
GaStateParks.org/FortKingGeorge
Fort McAllister State Park, Richmond Hill
This is the site where Gen. Sherman ended his "March to the Sea." Today, visitors can enrich themselves in the fort's fascinating history at the Civil War museum, which boasts several impressive artifacts as well as cannons, a hot shot furnace, bombproof barracks, palisades and more.
GaStateParks.org/FortMcAllister
Fort Morris State Historic Site, Midway
In 1776, Fort Morris State Historic Site – located just 37.4 miles north from Fort King George – became an important source of fortification for the patriots after the Continental Congress discussed needed protection for their growing seaport.
GaStateParks.org/FortMorris
Hardman Farm State Historic Site, Sautee Nacoochee
Built in 1870 by Captain James Nichols, the mansion is a grand example of Italianate architecture and takes guests through centuries of culture. The gazebo-topped mound and cow pasture is a favorite landmark in north Georgia with exceptional ties to Native American history.
GaStateParks.org/HardmanFarm
Hofwyl-Broadfield Plantation State Historic Site, Brunswick
This beautiful plantation represents the history and culture of Georgia's rice coast. In the early 1800s, William Brailsford of Charleston carved a rice plantation from marshes along the Altamaha River.
GaStateParks.org/HofwylBroadfieldPlantation
Jarrell Plantation State Historic Site, Juliette
Nestled in the red clay hills of Georgia, this cotton plantation was owned by a single family for more than 140 years. It survived General Sherman's "March to the Sea," typhoid fever, the cotton boll weevil, the advent of steam power and a transition from farming to forestry.
GaStateParks.org/JarrellPlantation
Kolomoki Mounds State Park, Blakely
This historically significant park is the oldest and largest Woodland Indian site in the southeastern United States, occupied by Indians from 350 to 750 A.D. Georgia's oldest great temple mound, standing 57-feet high, dominates two smaller burial mounds and several ceremonial mounds.
GaStateParks.org/KolomokiMounds
New Echota State Historic Site, Calhoun
In 1825, New Echota State Historic Site – located less than 30 miles from the Etowah Indian Mounds – was established as the capital of the Cherokee Nation by the Cherokee national legislature.
GaStateParks.org/NewEchota
Pickett's Mill State Historic Site, Dallas
Visitors can travel roads used by Federal and Confederate troops, see earthworks constructed by these men, and walk through the same ravine where hundreds died.
GaStateParks.org/PickettsMillBattlefield
Roosevelt's Little White House State Historic Site, Warm Springs
Franklin Delano Roosevelt built the Little White House in 1932 while governor of New York, prior to being inaugurated as president in 1933. FDR moved to the area in hopes to find a cure for Polio. Although one was not found, he saw improvement in his health from swimming in the local warm springs.
GaStateParks.org/LittleWhiteHouse
Traveler's Rest State Historic Site, Toccoa
Thanks to both its architectural significance and role in the early history of the area, Traveler's Rest was designated a National Historic Landmark in 1964. Today, visitors can tour the house and see many original artifacts and furnishings, some of which were crafted by Caleb Shaw, a renowned cabinetmaker from Massachusetts.
GaStateParks.org/TravelersRest
Wormsloe State Historic Site, Savannah
Located in Savannah, Ga. – just 27 miles from Fort McAllister – this impressive colonial estate belonged to Noble Jones, a carpenter who arrived in 1773 with James Oglethorpe and the first group of settlers from England.
GaStateParks.org/Wormsloe
Capitalize on the historic escapade by making a night out of it and plan to stay at one of the nearby Georgia State Parks' overnight accommodations. Guests can choose from fully equipped cabins, "glamping" yurts and modern campsites. Reservations can be made at GaStateParks.org/Reservations.
###
About Georgia State Parks & Historic Sites
Georgia's State Parks & Historic Sites are affordable destinations for vacations and quick getaways. Waterfalls and lakes, salt marsh and mountains are just some of the beautiful environments of the state parks.  Georgia State Park Golf Courses offer the best variety and value around. With eight golf courses to choose from, each features natural settings and picturesque surroundings, as well as fun and challenging play. Most state parks offer fishing, boating, hiking, camping, geocaching, birding and more.  Accommodations include campsites, cabins, lodges, even yurts, and vary by park.  Among the Georgia State Historic Sites are presidential homes, ancient Indian mounds, battlefields, plantations and even a gold museum. Georgia's public libraries have ParkPasses and Historic Site Passes that can be checked out like a book.
Media Contact:
Brianna Reid
breid@pineapple-pr.com
404-237-3761