Most State Parks and Historic Sites have gift shops filled with souvenirs, snacks, clothing, toys, books and more.
---
Limited Time Only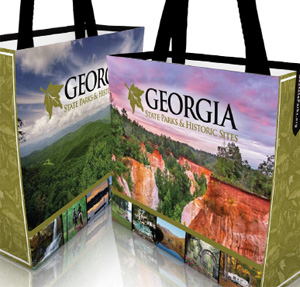 Free Gift With Purchase
Spend $50 or more on merchandise at one of our gift shops and receive a complimentary shopping bag. Visit your closest Georgia State Park or Historic Site to get one before stocks run out.
The bag retails for $5.99. Not available for online purchases.
---
Featured Items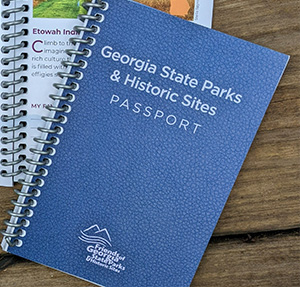 New Travel-Tracking Passport
Explorers on a mission to visit all of Georgia's State Parks and Historic Sites have a new way of tracking their travels. This keepsake passport allows guests to document their journey as they explore the state from mountains to marshes.
Produced by the Friends of Georgia State Parks & Historic Sites, the passport is available for $12.99 in park gift shops.
---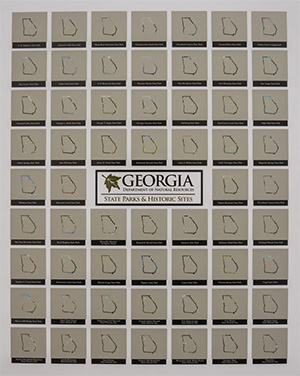 Scratch-Off Posters
On a mission to #SeeThemAll? Our new scratch-off poster is the perfect way to showcase your quest. A very limited quantity is available ONLY in Georgia State Park and Historic Site gift shops.
The 16x20 poster sells for $24.99.
Limited supply! Call ahead to make sure they're in stock.
---
What's At Our Retail Stores?
Inspired by nature and locally sourced, most of Georgia's State Parks and Historic Sites have retail stores or gift shops that offer a wide variety of gifts, souvenirs, drinks and snacks.
To remember your visit, each park stocks unique park-specific items such as:
Apparel
Gifts
Outdoor Gear
Georgia Grown Products
Firewood, ice and other useful camping products can also be found at our stores for the most convenient camping experience.
---
---
---

Find a park near you

Refund/Return Policy
---