Printer-friendly version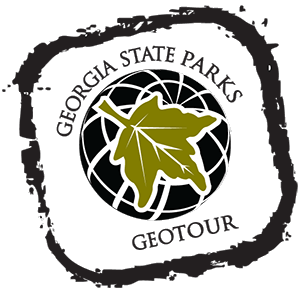 Geocaching combines the high-tech feel of online games with the old-fashioned fun of a treasure hunt. It's the perfect activity for families and groups of all ages.
Using a GPS (or smartphone app), you search more than 60 Georgia State Parks & Historic Sites locations to discover hidden containers or "caches" which contain a small prize (coordinates are available at www.geocaching.com). You take a prize and then leave one for the next person. After signing the logbook to document your success, go back online and share your experience.
There are several geo-adventures awaiting in Georgia State Parks, so the fun can be different each and every time. More than 40 State Parks participate in the Parks GeoTour, and more than a dozen historic sites are on the History Trail GeoTour. The History Trail features indoor boxes with combination locks that can only be opened after learning about the site's history, solving clues and discovering the combination; it's a new twist on some of Georgia's oldest attractions!
We also offer orienteering, an activity which uses a compass and a map to navigate through the woods from one point to another at Cloudland Canyon, Panola Mountain, Red Top Mountain, Sweetwater Creek and Unicoi state parks, and a compass course at New Echota State Historic Site.
---
---
GeoTour
We've hidden 47 caches in 44 state parks, taking you from Cloudland Canyon to Skidaway Island, and everywhere in between. The quest ranges from easy to tricky. (Hint: you might need a tide chart for one of the bonus caches.) Best of all, any age can participate and share the fun of treasure hunting.
Come out to our two newest state parks and add Chattahoochee Bend and Don Carter wild card stamps to your Geo-Challenge PassPort! This unique stamps goes in the blank (non-park designated) squares on the end of your PassPort and counts towards your next geocoin. Newer passports now have 2 designated squares for these new parks.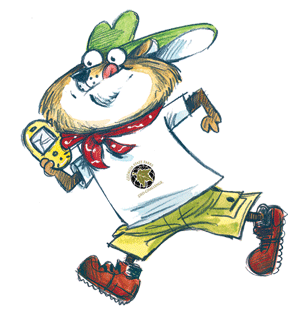 Getting Started
Download this GeoTour: You can download all the caches in this GeoTour and save it directly to your GPS device. Most newer devices allow you to copy the file directly to the internal memory of your GPS device using a cable provided by the manufacturer.
Start your search and locate one or all caches using a hand-held GPS unit.
The cache containers are sealed ammo boxes labeled as a Georgia State Parks & Historic Sites geocache. Caches are located in 44 Georgia state parks.
When you find a Geo-Challenge cache, take a trinket from the cache, leave something of greater or equal value, log your name and any comments to the logbook, stamp your PassPort grid sheet with the unique stamp for that specific park and then share your experiences online.
Geo-Coins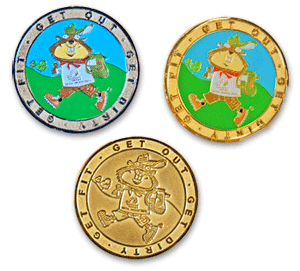 Complete specific numbers of caches to get a custom geo-coin. Bring your stamped PassPort into the park's Visitor Center and receive a voucher for your coin.
With 15 completed caches you are eligible for a bronze level coin
With 30 completed caches you are eligible for a silver level coin
With 40 completed caches you are eligible for a gold level coin
To redeem your voucher and receive your coin, send the voucher to:
Georgia State Parks & Historic Sites
Marketing Department
2600 Highway 155 SW
Stockbridge, GA 30281
---
History Trail GeoTour
Sleuth across the Peach State as you visit 14 historic sites, solving clues along the way. Only by answering questions about Georgia's history will you be able to open the combination lock to each cache. Inside, you'll find collector cards that you can trade with friends or turn in for custom pathtags. This game can be played with or without a GPS device.
Getting Started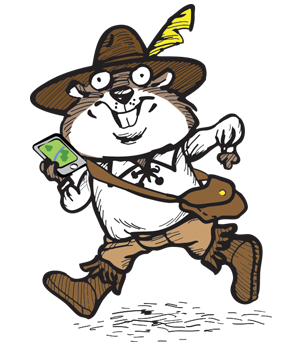 Go to the geocaching.com Georgia History Trail page, create a log-in and find GPS coordinates.
Download this GeoTour: You can download all the caches in this GeoTour and save it directly to your GPS device.
Check our website for hours of operation and admission fees of each site.
In this game, 13 caches are multi-caches and 1 is a puzzle cache. A multi-cache involves visiting two or more stages (locations) within the park or state historic site, the final location being a physical container.
Answer questions at each stage to determine the 4-digit lock combination for the final cache.
No GPS? No problem. To play, stop by the Visitor Center for a list of clues.
After you find a cache and correctly open the combination lock, log your name and comments inside the cache. Take a History Trail Trading Card (one per person/team please) and trade a trinket of equal or greater value.
There are 5 History Groups:

Native Americans: 4 trading cards
Forts: 3 trading cards
Historic Homes: 2 trading cards
Plantations: 3 trading cards
Museums/Battlefields: 2 trading cards

With trading cards, you can collect one or collect them all. You can even trade with your friends. Collect all trading cards in your History Group, turn them in to the Visitor Center and receive a custom pathtag. Collect all 5 pathtags to complete the set.
Log back into www.geocaching.com to tell of your experience and brag about your find!
Sample Question
To get the combination to each cache, you'll need to answer questions along the way. Here's a sample from Kolomoki Mounds State Park in Blakely, Georgia.
How to Play
This is a 4-stage multi cache. You must visit each stage posted in the additional waypoint section below. At each stage you will gather a part of the 4-digit combination that unlocks the ammo can placed at the posted coordinates (inside the visitor center; admission fee required).
You will need 45 minutes to an hour to visit all the stages and open the cache. Paper and pen will prove useful as you gather information for the combination. This cache will be visited by new geocachers, so please do not leave trackables.
Stage 1: Mound A
How many letters are in the first word of the second sentence on the historical marker atop this mound?
Stage 2: Mound D
Read the historic marker. How many log-lined burials were in the original mound at this site?
Stage 3: Mound F
Read the historic marker. How tall is this mound?
Stage 4: Visitor Center
Find the historic marker on the interior wall of the visitor center. What is the last digit in the year that this marker was placed?
Combine all numbers in order to unlock the cache combination lock!