Top 5 Georgia State Park trails, as voted on by hikers.
---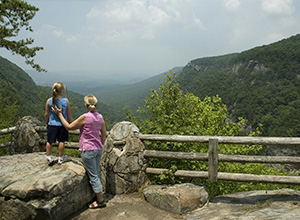 West Rim Trail, Cloudland Canyon - 5 Miles
Formerly rated as one of the top ten hikes in the U.S. by Backpacker Magazine, the West Rim Loop Trail is a five-mile lollipop style hike provoding several overlooks that showcase the park's rugged geology, deep canyons, dense woodland, and views beyond. Hikers will get panoramic views of Cloudland Canyon along with much of Northwest Georgia.
---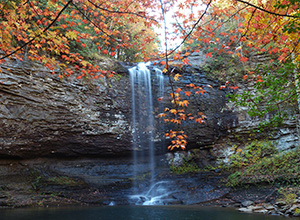 Waterfalls Trail, Cloudland Canyon - 1.8 Mile Round Trip
Visitors who take the Waterfalls Trail are rewarded with the site of Cherokee Falls after ½-mile and then Hemlock Falls about ½-mile further down the canyon. The quantity of water over the falls varies greatly from month to month, but in general, winter and early spring offer the greatest flow. Be warned, it is a steep hike down to Hemlock Falls; 600 stairsteps one way. Hikers with pets should note that although dogs on leash are allowed on all park trails, they sometimes have difficulty navigating the numerous metal grated stairsteps.
---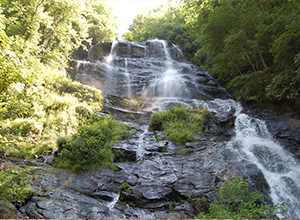 Amicalola Falls Loop Trail - 2.1 Miles
This 2.1 mile loop trail offers hikers the chance to see stunning vistas and the 730 foot Amicalola Falls. By starting at the visitor center, hikers can walk through the stone arch way marking the beginning of the Appalachian Trail. However, if short on time, the trail also can be accessed at a parking lot by the reflection pool. While this trail has a lot of stairs to reach the best views of Amicalola Falls, we promise it is totally worth it.
---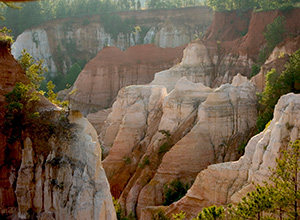 Canyon Loop Trail, Providence Canyon - 2.5 Miles
This 2.5 mile trail gives hikers a chance to view the canyon from above and below. To access the canyon floor, hikers will head on a short but steep half-mile downhill section of the Canyon Loop Trail. Once at the base of the canyon, expect to find some puddles but also amazing photo opportunities of the multi-colored canyons, which are labeled numerically. The most stunning of the nine canyons are numbers 4 & 5. Keep these canyons beautiful! Please do not climb or carve into them.
---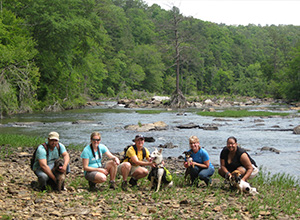 White Trail, Sweetwater Creek - 5 Miles
For hikers interested in seeing a less-densely populated part of Sweetwater Creek, check out the White Trail. The trail intersects with the Red Trail at multiple points, offering views of the New Manchester mill ruins along with gorgeous rapids on Sweetwater Creek. From open meadows to lush forests, the remoteness and diversity of natural features will make hikers forget they are only 30 minutes from downtown Atlanta.
---