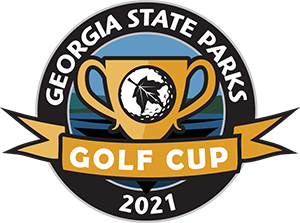 Date: February 20 - April 3, 2021
Event Type: 4-person scramble
Cost: $400 Per Team
Coming this spring, the first annual State Park Golf Cup is a 2 part golf tournament being played throughout the Georgia State Park golf courses. The format is a 4-Person Scramble with each team choosing a course they would like to play. There are 8 courses to choose from and each course has a different event date.
Each golf course will host their own separate tournament and crown a champion team. The champion team of each event will qualify for the Championship Event at Arrowhead Pointe. The 8 qualifying teams will then play in a two-day Championship Tournament that is detailed Championship Event Tab.
Each course is listed below with the dates of their event. Teams just choose what course they would like to play at and pay online.
Registration is closed for this event. Watch this page for tournament results.
---
---

Share your Golf Cup photos with us
---
Event Dates
Course
Date
Wallace Adams Golf Course
Little Ocmulgee State Park, Helena
2/20/2021

View Leaderboard

Team

Ty Henley

Evan Parrish

Colby Hook

Brandon Russell

Scores

| 1 | 2 | 3 | 4 | 5 | 6 | 7 | 8 | 9 | Front | 10 | 11 | 12 | 13 | 14 | 15 | 16 | 17 | 18 | Back |
| --- | --- | --- | --- | --- | --- | --- | --- | --- | --- | --- | --- | --- | --- | --- | --- | --- | --- | --- | --- |
| 3 | 4 | 4 | 3 | 3 | 3 | 4 | 2 | 4 | 30 | 3 | 3 | 3 | 4 | 3 | 3 | 3 | 3 | 4 | 29 |

Team

Shawn Stanford

Joe Lawrenson

Zack Hutchinson

Kenny Robshaw

Scores

| 1 | 2 | 3 | 4 | 5 | 6 | 7 | 8 | 9 | Front | 10 | 11 | 12 | 13 | 14 | 15 | 16 | 17 | 18 | Back |
| --- | --- | --- | --- | --- | --- | --- | --- | --- | --- | --- | --- | --- | --- | --- | --- | --- | --- | --- | --- |
| 4 | 3 | 4 | 3 | 4 | 4 | 4 | 2 | 3 | 31 | 4 | 3 | 3 | 4 | 4 | 4 | 3 | 2 | 3 | 30 |

Team

Todd Hutcheson

Chase Hutcheson

Mason Welch

Nick

Scores

| 1 | 2 | 3 | 4 | 5 | 6 | 7 | 8 | 9 | Front | 10 | 11 | 12 | 13 | 14 | 15 | 16 | 17 | 18 | Back |
| --- | --- | --- | --- | --- | --- | --- | --- | --- | --- | --- | --- | --- | --- | --- | --- | --- | --- | --- | --- |
| 3 | 3 | 4 | 2 | 4 | 4 | 4 | 3 | 3 | 30 | 3 | 3 | 3 | 3 | 4 | 4 | 3 | 3 | 5 | 31 |

Team

Scott Armbrister

Kendall Paige

Alvin Thompson

Kenneth Armbrister

Scores

| 1 | 2 | 3 | 4 | 5 | 6 | 7 | 8 | 9 | Front | 10 | 11 | 12 | 13 | 14 | 15 | 16 | 17 | 18 | Back |
| --- | --- | --- | --- | --- | --- | --- | --- | --- | --- | --- | --- | --- | --- | --- | --- | --- | --- | --- | --- |
| 3 | 3 | 4 | 3 | 3 | 3 | 4 | 3 | 3 | 29 | 4 | 3 | 3 | 4 | 4 | 3 | 4 | 3 | 4 | 32 |

Team

Jimmy Summers

Herschel Pritchett

Kole Faulkner

Russell Faulkner

Scores

| 1 | 2 | 3 | 4 | 5 | 6 | 7 | 8 | 9 | Front | 10 | 11 | 12 | 13 | 14 | 15 | 16 | 17 | 18 | Back |
| --- | --- | --- | --- | --- | --- | --- | --- | --- | --- | --- | --- | --- | --- | --- | --- | --- | --- | --- | --- |
| 4 | 4 | 4 | 3 | 3 | 4 | 4 | 3 | 3 | 32 | 4 | 3 | 3 | 3 | 4 | 3 | 3 | 2 | 5 | 30 |

Team

Cliff Smith

Trevor Cobb

Tony Terrell

Jason Hart

Scores

| 1 | 2 | 3 | 4 | 5 | 6 | 7 | 8 | 9 | Front | 10 | 11 | 12 | 13 | 14 | 15 | 16 | 17 | 18 | Back |
| --- | --- | --- | --- | --- | --- | --- | --- | --- | --- | --- | --- | --- | --- | --- | --- | --- | --- | --- | --- |
| 3 | 4 | 4 | 3 | 4 | 4 | 4 | 3 | 3 | 32 | 3 | 3 | 3 | 3 | 4 | 4 | 3 | 3 | 5 | 30 |

Team

Ottie Lively

Lou Liveley

Tommy Lively

Gracie Liveley

Scores

| 1 | 2 | 3 | 4 | 5 | 6 | 7 | 8 | 9 | Front | 10 | 11 | 12 | 13 | 14 | 15 | 16 | 17 | 18 | Back |
| --- | --- | --- | --- | --- | --- | --- | --- | --- | --- | --- | --- | --- | --- | --- | --- | --- | --- | --- | --- |
| 4 | 3 | 4 | 3 | 4 | 4 | 5 | 3 | 4 | 34 | 3 | 3 | 2 | 3 | 4 | 3 | 4 | 3 | 4 | 29 |

Team

Dawson Dyal

Luke Hyers

Will Chancey

Stetson Smith

Scores

| 1 | 2 | 3 | 4 | 5 | 6 | 7 | 8 | 9 | Front | 10 | 11 | 12 | 13 | 14 | 15 | 16 | 17 | 18 | Back |
| --- | --- | --- | --- | --- | --- | --- | --- | --- | --- | --- | --- | --- | --- | --- | --- | --- | --- | --- | --- |
| 4 | 3 | 4 | 3 | 4 | 4 | 4 | 3 | 3 | 32 | 3 | 3 | 2 | 4 | 4 | 4 | 3 | 5 | 5 | 31 |

Team

Beau Buchanon

Segars Gregg

Tyler Musselwhite

Matt Augsberger

Scores

| 1 | 2 | 3 | 4 | 5 | 6 | 7 | 8 | 9 | Front | 10 | 11 | 12 | 13 | 14 | 15 | 16 | 17 | 18 | Back |
| --- | --- | --- | --- | --- | --- | --- | --- | --- | --- | --- | --- | --- | --- | --- | --- | --- | --- | --- | --- |
| 4 | 4 | 4 | 2 | 4 | 3 | 4 | 3 | 5 | 33 | 3 | 3 | 3 | 4 | 3 | 4 | 3 | 3 | 4 | 30 |

Team

Andrew Mackey

Austion Cudd

Jake Wilkes

Chris Mackey

Scores

| 1 | 2 | 3 | 4 | 5 | 6 | 7 | 8 | 9 | Front | 10 | 11 | 12 | 13 | 14 | 15 | 16 | 17 | 18 | Back |
| --- | --- | --- | --- | --- | --- | --- | --- | --- | --- | --- | --- | --- | --- | --- | --- | --- | --- | --- | --- |
| 4 | 4 | 4 | 3 | 3 | 3 | 4 | 3 | 4 | 32 | 4 | 3 | 3 | 3 | 4 | 4 | 3 | 3 | 4 | 31 |

Team

Russ Bell

Dale sheffield

Jamie Powers

Chris Seabolt

Scores

| 1 | 2 | 3 | 4 | 5 | 6 | 7 | 8 | 9 | Front | 10 | 11 | 12 | 13 | 14 | 15 | 16 | 17 | 18 | Back |
| --- | --- | --- | --- | --- | --- | --- | --- | --- | --- | --- | --- | --- | --- | --- | --- | --- | --- | --- | --- |
| 4 | 4 | 4 | 3 | 4 | 3 | 4 | 3 | 3 | 32 | 3 | 3 | 3 | 3 | 5 | 4 | 4 | 3 | 5 | 33 |

Team

Joshua Black

Michael Gary

Jon Black

Jason Edenfield

Scores

| 1 | 2 | 3 | 4 | 5 | 6 | 7 | 8 | 9 | Front | 10 | 11 | 12 | 13 | 14 | 15 | 16 | 17 | 18 | Back |
| --- | --- | --- | --- | --- | --- | --- | --- | --- | --- | --- | --- | --- | --- | --- | --- | --- | --- | --- | --- |
| 4 | 4 | 4 | 3 | 4 | 4 | 4 | 3 | 4 | 34 | 4 | 3 | 2 | 4 | 4 | 5 | 4 | 2 | 4 | 32 |

Team

Dustin Bailey

Alex Vickers

Cole Vickers

Thomas Vickers

Scores

| 1 | 2 | 3 | 4 | 5 | 6 | 7 | 8 | 9 | Front | 10 | 11 | 12 | 13 | 14 | 15 | 16 | 17 | 18 | Back |
| --- | --- | --- | --- | --- | --- | --- | --- | --- | --- | --- | --- | --- | --- | --- | --- | --- | --- | --- | --- |
| 4 | 5 | 4 | 3 | 5 | 4 | 4 | 3 | 4 | 36 | 3 | 3 | 2 | 4 | 4 | 4 | 3 | 3 | 5 | 31 |

Team

Doo Kang

Andre Klassen

Scott Sparks

Chris Holman

Scores

| 1 | 2 | 3 | 4 | 5 | 6 | 7 | 8 | 9 | Front | 10 | 11 | 12 | 13 | 14 | 15 | 16 | 17 | 18 | Back |
| --- | --- | --- | --- | --- | --- | --- | --- | --- | --- | --- | --- | --- | --- | --- | --- | --- | --- | --- | --- |
| 4 | 4 | 3 | 2 | 4 | 4 | 4 | 3 | 5 | 35 | 4 | 3 | 3 | 4 | 4 | 4 | 5 | 3 | 5 | 35 |

Lake Blackshear Golf Course
Georgia Veterans State Park, Cordele
2/27/2021

View Leaderboard

Team

Jeff Adkinson

Jay Hathorn

Charles Hobbs

Russ Williams

Scores

| 1 | 2 | 3 | 4 | 5 | 6 | 7 | 8 | 9 | Front | 10 | 11 | 12 | 13 | 14 | 15 | 16 | 17 | 18 | Back |
| --- | --- | --- | --- | --- | --- | --- | --- | --- | --- | --- | --- | --- | --- | --- | --- | --- | --- | --- | --- |
| 3 | 3 | 3 | 3 | 2 | 3 | 3 | 3 | 3 | 26 | 4 | 2 | 3 | 3 | 3 | 3 | 3 | 3 | 3 | 27 |

Team

Chris Wynn

Zane Dill

Codie Mixon

Clae Mixon

Scores

| 1 | 2 | 3 | 4 | 5 | 6 | 7 | 8 | 9 | Front | 10 | 11 | 12 | 13 | 14 | 15 | 16 | 17 | 18 | Back |
| --- | --- | --- | --- | --- | --- | --- | --- | --- | --- | --- | --- | --- | --- | --- | --- | --- | --- | --- | --- |
| 4 | 3 | 3 | 3 | 2 | 3 | 3 | 3 | 4 | 28 | 4 | 3 | 3 | 3 | 3 | 4 | 3 | 3 | 4 | 30 |

Team

Jeff Jordan

Lee Gerdes

Lee Higgins

Phil Welch

Scores

| 1 | 2 | 3 | 4 | 5 | 6 | 7 | 8 | 9 | Front | 10 | 11 | 12 | 13 | 14 | 15 | 16 | 17 | 18 | Back |
| --- | --- | --- | --- | --- | --- | --- | --- | --- | --- | --- | --- | --- | --- | --- | --- | --- | --- | --- | --- |
| 3 | 4 | 3 | 4 | 2 | 3 | 3 | 2 | 4 | 28 | 4 | 3 | 3 | 4 | 3 | 3 | 3 | 3 | 4 | 30 |

Team

Robby Gordon

John Gordon

Johnny Wheldon

Robert Speinhour

Scores

| 1 | 2 | 3 | 4 | 5 | 6 | 7 | 8 | 9 | Front | 10 | 11 | 12 | 13 | 14 | 15 | 16 | 17 | 18 | Back |
| --- | --- | --- | --- | --- | --- | --- | --- | --- | --- | --- | --- | --- | --- | --- | --- | --- | --- | --- | --- |
| 4 | 3 | 3 | 4 | 3 | 3 | 2 | 3 | 4 | 29 | 5 | 2 | 3 | 4 | 3 | 4 | 3 | 2 | 4 | 30 |

Team

Stetson Smith

Dawson Dyal

Adam Grayson

Caleb Hayes

Scores

| 1 | 2 | 3 | 4 | 5 | 6 | 7 | 8 | 9 | Front | 10 | 11 | 12 | 13 | 14 | 15 | 16 | 17 | 18 | Back |
| --- | --- | --- | --- | --- | --- | --- | --- | --- | --- | --- | --- | --- | --- | --- | --- | --- | --- | --- | --- |
| 4 | 4 | 4 | 3 | 3 | 3 | 2 | 3 | 3 | 29 | 5 | 3 | 3 | 4 | 3 | 4 | 4 | 3 | 4 | 33 |

Team

Jeff Pate

AJ Pate

Don Otto1

BJ Taylor

Scores

| 1 | 2 | 3 | 4 | 5 | 6 | 7 | 8 | 9 | Front | 10 | 11 | 12 | 13 | 14 | 15 | 16 | 17 | 18 | Back |
| --- | --- | --- | --- | --- | --- | --- | --- | --- | --- | --- | --- | --- | --- | --- | --- | --- | --- | --- | --- |
| 4 | 4 | 3 | 4 | 2 | 4 | 3 | 3 | 4 | 31 | 4 | 3 | 3 | 4 | 3 | 4 | 4 | 3 | 3 | 31 |

Team

Martin McNulty

Marty McNulty

Bobby Drinnon

David Murphey

Scores

| 1 | 2 | 3 | 4 | 5 | 6 | 7 | 8 | 9 | Front | 10 | 11 | 12 | 13 | 14 | 15 | 16 | 17 | 18 | Back |
| --- | --- | --- | --- | --- | --- | --- | --- | --- | --- | --- | --- | --- | --- | --- | --- | --- | --- | --- | --- |
| 4 | 3 | 3 | 5 | 3 | 4 | 3 | 3 | 4 | 32 | 3 | 3 | 4 | 4 | 4 | 4 | 3 | 3 | 3 | 32 |

Team

Scott Sellars

Evan Turner

Josh Turner

Evan Goforth

Scores

| 1 | 2 | 3 | 4 | 5 | 6 | 7 | 8 | 9 | Front | 10 | 11 | 12 | 13 | 14 | 15 | 16 | 17 | 18 | Back |
| --- | --- | --- | --- | --- | --- | --- | --- | --- | --- | --- | --- | --- | --- | --- | --- | --- | --- | --- | --- |
| 4 | 3 | 3 | 3 | 3 | 4 | 2 | 4 | 4 | 39 | 5 | 2 | 2 | 4 | 4 | 4 | 4 | 3 | 4 | 32 |

Team

Slade Ellis

Jake Evans

Ben Wright

Wen Carter

Scores

| 1 | 2 | 3 | 4 | 5 | 6 | 7 | 8 | 9 | Front | 10 | 11 | 12 | 13 | 14 | 15 | 16 | 17 | 18 | Back |
| --- | --- | --- | --- | --- | --- | --- | --- | --- | --- | --- | --- | --- | --- | --- | --- | --- | --- | --- | --- |
| 4 | 3 | 4 | 4 | 3 | 4 | 2 | 2 | 3 | 29 | 6 | 3 | 3 | 4 | 4 | 4 | 4 | 3 | 4 | 35 |

Team

Steve Taylor

Hank Braddy

Scott Spivey

Trent Taylor

Scores

| 1 | 2 | 3 | 4 | 5 | 6 | 7 | 8 | 9 | Front | 10 | 11 | 12 | 13 | 14 | 15 | 16 | 17 | 18 | Back |
| --- | --- | --- | --- | --- | --- | --- | --- | --- | --- | --- | --- | --- | --- | --- | --- | --- | --- | --- | --- |
| 4 | 4 | 3 | 4 | 3 | 4 | 3 | 4 | 4 | 33 | 4 | 3 | 4 | 4 | 3 | 4 | 3 | 3 | 4 | 32 |

Team

Justin Yeatts

Ben Haggerty

Ellis MaManus

Chad Aldridge

Scores

| 1 | 2 | 3 | 4 | 5 | 6 | 7 | 8 | 9 | Front | 10 | 11 | 12 | 13 | 14 | 15 | 16 | 17 | 18 | Back |
| --- | --- | --- | --- | --- | --- | --- | --- | --- | --- | --- | --- | --- | --- | --- | --- | --- | --- | --- | --- |
| 5 | 4 | 4 | 4 | 3 | 5 | 3 | 3 | 3 | 34 | 5 | 3 | 3 | 5 | 4 | 4 | 5 | 3 | 4 | 36 |

Team

Paul Elmore

Gaines Elmore

Griffin Elmore

Deel Amrit

Scores

| 1 | 2 | 3 | 4 | 5 | 6 | 7 | 8 | 9 | Front | 10 | 11 | 12 | 13 | 14 | 15 | 16 | 17 | 18 | Back |
| --- | --- | --- | --- | --- | --- | --- | --- | --- | --- | --- | --- | --- | --- | --- | --- | --- | --- | --- | --- |
| 4 | 4 | 5 | 4 | 3 | 4 | 3 | 4 | 4 | 35 | 5 | 2 | 4 | 4 | 4 | 5 | 4 | 3 | 4 | 35 |

Brazells Creek Golf Course
Jack Hill State Park, Reidsville
3/6/2021

View Leaderboard

Team

Russ Bell

Matthew Bell

Dale Sjeffield

Sean Page

Scores

| 1 | 2 | 3 | 4 | 5 | 6 | 7 | 8 | 9 | Front | 10 | 11 | 12 | 13 | 14 | 15 | 16 | 17 | 18 | Back |
| --- | --- | --- | --- | --- | --- | --- | --- | --- | --- | --- | --- | --- | --- | --- | --- | --- | --- | --- | --- |
| 3 | 3 | 4 | 2 | 4 | 4 | 4 | 4 | 3 | 31 | 4 | 2 | 4 | 3 | 3 | 3 | 4 | 3 | 4 | 30 |

Team

Joe Westberg

Eric Fisher

Dave Boznak

Chris Fisher

Scores

| 1 | 2 | 3 | 4 | 5 | 6 | 7 | 8 | 9 | Front | 10 | 11 | 12 | 13 | 14 | 15 | 16 | 17 | 18 | Back |
| --- | --- | --- | --- | --- | --- | --- | --- | --- | --- | --- | --- | --- | --- | --- | --- | --- | --- | --- | --- |
| 4 | 3 | 4 | 3 | 3 | 4 | 5 | 3 | 3 | 32 | 3 | 3 | 4 | 3 | 3 | 3 | 3 | 3 | 4 | 29 |

Team

Keith Merritt

Mark Story

Colby Story

Seth Story

Scores

| 1 | 2 | 3 | 4 | 5 | 6 | 7 | 8 | 9 | Front | 10 | 11 | 12 | 13 | 14 | 15 | 16 | 17 | 18 | Back |
| --- | --- | --- | --- | --- | --- | --- | --- | --- | --- | --- | --- | --- | --- | --- | --- | --- | --- | --- | --- |
| 3 | 2 | 4 | 2 | 4 | 4 | 5 | 3 | 3 | 30 | 4 | 4 | 4 | 4 | 4 | 2 | 3 | 3 | 4 | 32 |

Team

Tony Monroe

Rick Grant

Eddie Wilkins

Blake Pike

Scores

| 1 | 2 | 3 | 4 | 5 | 6 | 7 | 8 | 9 | Front | 10 | 11 | 12 | 13 | 14 | 15 | 16 | 17 | 18 | Back |
| --- | --- | --- | --- | --- | --- | --- | --- | --- | --- | --- | --- | --- | --- | --- | --- | --- | --- | --- | --- |
| 3 | 3 | 3 | 2 | 4 | 4 | 5 | 3 | 3 | 30 | 4 | 3 | 4 | 3 | 4 | 3 | 4 | 2 | 5 | 32 |

Team

Todd Hutcheson

Mason Welch

Henry Chappel

Jason Duque

Scores

| 1 | 2 | 3 | 4 | 5 | 6 | 7 | 8 | 9 | Front | 10 | 11 | 12 | 13 | 14 | 15 | 16 | 17 | 18 | Back |
| --- | --- | --- | --- | --- | --- | --- | --- | --- | --- | --- | --- | --- | --- | --- | --- | --- | --- | --- | --- |
| 4 | 3 | 3 | 3 | 3 | 4 | 4 | 4 | 4 | 32 | 3 | 3 | 4 | 3 | 4 | 2 | 4 | 3 | 4 | 30 |

Team

Carl Story

Heath Story

Tom Story

Tim Story

Scores

| 1 | 2 | 3 | 4 | 5 | 6 | 7 | 8 | 9 | Front | 10 | 11 | 12 | 13 | 14 | 15 | 16 | 17 | 18 | Back |
| --- | --- | --- | --- | --- | --- | --- | --- | --- | --- | --- | --- | --- | --- | --- | --- | --- | --- | --- | --- |
| 4 | 2 | 4 | 2 | 4 | 4 | 4 | 3 | 4 | 31 | 4 | 3 | 5 | 4 | 3 | 3 | 3 | 2 | 4 | 31 |

Team

Josh Black

Jon Black

Michael Gary

Jason Edenfield

Scores

| 1 | 2 | 3 | 4 | 5 | 6 | 7 | 8 | 9 | Front | 10 | 11 | 12 | 13 | 14 | 15 | 16 | 17 | 18 | Back |
| --- | --- | --- | --- | --- | --- | --- | --- | --- | --- | --- | --- | --- | --- | --- | --- | --- | --- | --- | --- |
| 3 | 3 | 3 | 3 | 3 | 4 | 5 | 3 | 3 | 30 | 4 | 3 | 4 | 4 | 4 | 3 | 4 | 3 | 4 | 33 |

Team

Kendall Paige

Alvin Thompson

Kenneth Armbrister

Scott Armbrister

Scores

| 1 | 2 | 3 | 4 | 5 | 6 | 7 | 8 | 9 | Front | 10 | 11 | 12 | 13 | 14 | 15 | 16 | 17 | 18 | Back |
| --- | --- | --- | --- | --- | --- | --- | --- | --- | --- | --- | --- | --- | --- | --- | --- | --- | --- | --- | --- |
| 3 | 2 | 3 | 3 | 4 | 4 | 4 | 4 | 4 | 31 | 5 | 3 | 5 | 3 | 4 | 2 | 4 | 3 | 4 | 33 |

Team

Brandon Costlow

Chad Gillen

Trey Cashon

Cameron Martin

Scores

| 1 | 2 | 3 | 4 | 5 | 6 | 7 | 8 | 9 | Front | 10 | 11 | 12 | 13 | 14 | 15 | 16 | 17 | 18 | Back |
| --- | --- | --- | --- | --- | --- | --- | --- | --- | --- | --- | --- | --- | --- | --- | --- | --- | --- | --- | --- |
| 4 | 2 | 4 | 3 | 3 | 4 | 5 | 3 | 3 | 31 | 4 | 4 | 4 | 3 | 4 | 3 | 4 | 3 | 4 | 33 |

Team

Gracie Lively

Lou Lively

Ottie Lively

Tommy Lively

Scores

| 1 | 2 | 3 | 4 | 5 | 6 | 7 | 8 | 9 | Front | 10 | 11 | 12 | 13 | 14 | 15 | 16 | 17 | 18 | Back |
| --- | --- | --- | --- | --- | --- | --- | --- | --- | --- | --- | --- | --- | --- | --- | --- | --- | --- | --- | --- |
| 3 | 3 | 4 | 3 | 3 | 4 | 5 | 3 | 3 | 31 | 4 | 3 | 4 | 4 | 4 | 3 | 5 | 4 | 4 | 35 |

Team

Chris Oliver

Jeremy Oliver

Chris Daniel

Scores

| 1 | 2 | 3 | 4 | 5 | 6 | 7 | 8 | 9 | Front | 10 | 11 | 12 | 13 | 14 | 15 | 16 | 17 | 18 | Back |
| --- | --- | --- | --- | --- | --- | --- | --- | --- | --- | --- | --- | --- | --- | --- | --- | --- | --- | --- | --- |
| 3 | 3 | 4 | 3 | 4 | 4 | 5 | 4 | 3 | 33 | 4 | 3 | 5 | 4 | 4 | 3 | 4 | 3 | 3 | 33 |

Team

Chandler Jenkins

Alex Collins

Julius Wright

Matt Helms

Scores

| 1 | 2 | 3 | 4 | 5 | 6 | 7 | 8 | 9 | Front | 10 | 11 | 12 | 13 | 14 | 15 | 16 | 17 | 18 | Back |
| --- | --- | --- | --- | --- | --- | --- | --- | --- | --- | --- | --- | --- | --- | --- | --- | --- | --- | --- | --- |
| 4 | 3 | 3 | 4 | 4 | 4 | 5 | 4 | 3 | 34 | 4 | 4 | 4 | 4 | 5 | 2 | 4 | 3 | 5 | 36 |

Team

Noah Covington

Steve Howard

David Shuman

Doug Foxworth

Scores

| 1 | 2 | 3 | 4 | 5 | 6 | 7 | 8 | 9 | Front | 10 | 11 | 12 | 13 | 14 | 15 | 16 | 17 | 18 | Back |
| --- | --- | --- | --- | --- | --- | --- | --- | --- | --- | --- | --- | --- | --- | --- | --- | --- | --- | --- | --- |
| 4 | 3 | 4 | 3 | 4 | 4 | 4 | 4 | 3 | 33 | 4 | 3 | 5 | 4 | 4 | 3 | 4 | 4 | 5 | 36 |

Team

Dylan Gravely

Josh Powell

Taylor Barrantine

Joseph Kennedy

Scores

| 1 | 2 | 3 | 4 | 5 | 6 | 7 | 8 | 9 | Front | 10 | 11 | 12 | 13 | 14 | 15 | 16 | 17 | 18 | Back |
| --- | --- | --- | --- | --- | --- | --- | --- | --- | --- | --- | --- | --- | --- | --- | --- | --- | --- | --- | --- |
| 4 | 2 | 4 | 3 | 5 | 4 | 6 | 4 | 5 | 37 | 4 | 3 | 4 | 4 | 5 | 3 | 4 | 3 | 4 | 34 |

The Lakes Golf Course
Laura S. Walker State Park, Waycross
3/13/2021

View Leaderboard

Team

Tyler Holmes

Ryan Haugh

Mike Block

Michael Dudzinski

Scores

| 1 | 2 | 3 | 4 | 5 | 6 | 7 | 8 | 9 | Front | 10 | 11 | 12 | 13 | 14 | 15 | 16 | 17 | 18 | Back |
| --- | --- | --- | --- | --- | --- | --- | --- | --- | --- | --- | --- | --- | --- | --- | --- | --- | --- | --- | --- |
| 3 | 4 | 2 | 4 | 3 | 3 | 3 | 3 | 3 | 28 | 3 | 4 | 3 | 4 | 3 | 3 | 3 | 2 | 3 | 28 |

Team

Jon Floyd

Ben Floyd

Jonathan Prkle

Patrick Edwards

Scores

| 1 | 2 | 3 | 4 | 5 | 6 | 7 | 8 | 9 | Front | 10 | 11 | 12 | 13 | 14 | 15 | 16 | 17 | 18 | Back |
| --- | --- | --- | --- | --- | --- | --- | --- | --- | --- | --- | --- | --- | --- | --- | --- | --- | --- | --- | --- |
| 3 | 3 | 3 | 4 | 3 | 3 | 3 | 4 | 3 | 29 | 3 | 3 | 3 | 4 | 2 | 3 | 3 | 2 | 4 | 27 |

Team

Michael Enzenbacher

Caey Crain

Dallas Millam

William Pottenger

Scores

| 1 | 2 | 3 | 4 | 5 | 6 | 7 | 8 | 9 | Front | 10 | 11 | 12 | 13 | 14 | 15 | 16 | 17 | 18 | Back |
| --- | --- | --- | --- | --- | --- | --- | --- | --- | --- | --- | --- | --- | --- | --- | --- | --- | --- | --- | --- |
| 4 | 3 | 3 | 4 | 3 | 2 | 3 | 4 | 3 | 29 | 3 | 3 | 3 | 4 | 3 | 3 | 2 | 2 | 4 | 27 |

Team

Steven Savage

Tom Langevin

Craige Ice

Earl Humphreys

Scores

| 1 | 2 | 3 | 4 | 5 | 6 | 7 | 8 | 9 | Front | 10 | 11 | 12 | 13 | 14 | 15 | 16 | 17 | 18 | Back |
| --- | --- | --- | --- | --- | --- | --- | --- | --- | --- | --- | --- | --- | --- | --- | --- | --- | --- | --- | --- |
| 3 | 4 | 3 | 4 | 3 | 3 | 3 | 4 | 4 | 31 | 3 | 3 | 3 | 4 | 2 | 3 | 3 | 2 | 3 | 26 |

Team

Billy Carter

Wayne Carter

Kevin Stephens

Shane Collier

Scores

| 1 | 2 | 3 | 4 | 5 | 6 | 7 | 8 | 9 | Front | 10 | 11 | 12 | 13 | 14 | 15 | 16 | 17 | 18 | Back |
| --- | --- | --- | --- | --- | --- | --- | --- | --- | --- | --- | --- | --- | --- | --- | --- | --- | --- | --- | --- |
| 3 | 3 | 2 | 4 | 3 | 3 | 2 | 4 | 4 | 28 | 4 | 4 | 2 | 3 | 3 | 4 | 3 | 3 | 3 | 29 |

Team

Richard Hagen

Gene Chow

Derek Taylor

Robby Horsley

Scores

| 1 | 2 | 3 | 4 | 5 | 6 | 7 | 8 | 9 | Front | 10 | 11 | 12 | 13 | 14 | 15 | 16 | 17 | 18 | Back |
| --- | --- | --- | --- | --- | --- | --- | --- | --- | --- | --- | --- | --- | --- | --- | --- | --- | --- | --- | --- |
| 3 | 3 | 2 | 3 | 4 | 3 | 3 | 3 | 4 | 28 | 4 | 3 | 2 | 4 | 3 | 3 | 3 | 3 | 4 | 29 |

Team

Jordan Walker

Austin Ricks

Chris Bedore

Butch Walker

Scores

| 1 | 2 | 3 | 4 | 5 | 6 | 7 | 8 | 9 | Front | 10 | 11 | 12 | 13 | 14 | 15 | 16 | 17 | 18 | Back |
| --- | --- | --- | --- | --- | --- | --- | --- | --- | --- | --- | --- | --- | --- | --- | --- | --- | --- | --- | --- |
| 4 | 3 | 2 | 4 | 3 | 3 | 3 | 3 | 4 | 29 | 4 | 4 | 3 | 4 | 3 | 3 | 3 | 3 | 3 | 30 |

Team

Tyler Harris

Brad Harrison

Hunter Adams

Pat Jordan

Scores

| 1 | 2 | 3 | 4 | 5 | 6 | 7 | 8 | 9 | Front | 10 | 11 | 12 | 13 | 14 | 15 | 16 | 17 | 18 | Back |
| --- | --- | --- | --- | --- | --- | --- | --- | --- | --- | --- | --- | --- | --- | --- | --- | --- | --- | --- | --- |
| 4 | 2 | 2 | 4 | 3 | 4 | 3 | 3 | 4 | 29 | 4 | 4 | 3 | 4 | 3 | 4 | 3 | 3 | 3 | 31 |

Team

John Hatfield

Mike Corcoran

Angelo Collins

John Johannessen

Scores

| 1 | 2 | 3 | 4 | 5 | 6 | 7 | 8 | 9 | Front | 10 | 11 | 12 | 13 | 14 | 15 | 16 | 17 | 18 | Back |
| --- | --- | --- | --- | --- | --- | --- | --- | --- | --- | --- | --- | --- | --- | --- | --- | --- | --- | --- | --- |
| 3 | 4 | 2 | 4 | 3 | 3 | 3 | 4 | 4 | 30 | 4 | 3 | 3 | 4 | 3 | 3 | 4 | 2 | 4 | 30 |

Team

Chris Floyd

Jeremy Bates

Cole Gardner

Kevin Thompson

Scores

| 1 | 2 | 3 | 4 | 5 | 6 | 7 | 8 | 9 | Front | 10 | 11 | 12 | 13 | 14 | 15 | 16 | 17 | 18 | Back |
| --- | --- | --- | --- | --- | --- | --- | --- | --- | --- | --- | --- | --- | --- | --- | --- | --- | --- | --- | --- |
| 4 | 4 | 3 | 4 | 3 | 3 | 3 | 4 | 4 | 32 | 4 | 3 | 3 | 3 | 2 | 3 | 3 | 3 | 4 | 28 |

Team

Michael Russo

Marshall Newman

Charlie Teepall

Scores

| 1 | 2 | 3 | 4 | 5 | 6 | 7 | 8 | 9 | Front | 10 | 11 | 12 | 13 | 14 | 15 | 16 | 17 | 18 | Back |
| --- | --- | --- | --- | --- | --- | --- | --- | --- | --- | --- | --- | --- | --- | --- | --- | --- | --- | --- | --- |
| 4 | 3 | 2 | 3 | 4 | 3 | 3 | 4 | 4 | 30 | 4 | 4 | 4 | 4 | 3 | 3 | 3 | 2 | 4 | 31 |

Team

Michael Phillips

Buster Johnson

Josh Browning

Robbie Browning

Scores

| 1 | 2 | 3 | 4 | 5 | 6 | 7 | 8 | 9 | Front | 10 | 11 | 12 | 13 | 14 | 15 | 16 | 17 | 18 | Back |
| --- | --- | --- | --- | --- | --- | --- | --- | --- | --- | --- | --- | --- | --- | --- | --- | --- | --- | --- | --- |
| 3 | 3 | 2 | 4 | 4 | 3 | 3 | 4 | 4 | 30 | 4 | 4 | 4 | 3 | 3 | 4 | 3 | 3 | 4 | 32 |

Team

Daniel Hurst

Robert Hurst

Chris Wise

Braxton Wise

Scores

| 1 | 2 | 3 | 4 | 5 | 6 | 7 | 8 | 9 | Front | 10 | 11 | 12 | 13 | 14 | 15 | 16 | 17 | 18 | Back |
| --- | --- | --- | --- | --- | --- | --- | --- | --- | --- | --- | --- | --- | --- | --- | --- | --- | --- | --- | --- |
| 4 | 4 | 3 | 3 | 3 | 4 | 4 | 5 | 3 | 33 | 3 | 4 | 3 | 5 | 2 | 3 | 3 | 2 | 4 | 29 |

Team

Chad Wade

Branden Allen

Chris Arnold

Michael Wynn

Scores

| 1 | 2 | 3 | 4 | 5 | 6 | 7 | 8 | 9 | Front | 10 | 11 | 12 | 13 | 14 | 15 | 16 | 17 | 18 | Back |
| --- | --- | --- | --- | --- | --- | --- | --- | --- | --- | --- | --- | --- | --- | --- | --- | --- | --- | --- | --- |
| 2 | 3 | 3 | 4 | 3 | 2 | 4 | 5 | 4 | 30 | 4 | 4 | 3 | 4 | 3 | 4 | 3 | 3 | 4 | 32 |

Team

Brent Barnes

Bruce Barnes

Tim Davis

Matt Bradshaw

Scores

| 1 | 2 | 3 | 4 | 5 | 6 | 7 | 8 | 9 | Front | 10 | 11 | 12 | 13 | 14 | 15 | 16 | 17 | 18 | Back |
| --- | --- | --- | --- | --- | --- | --- | --- | --- | --- | --- | --- | --- | --- | --- | --- | --- | --- | --- | --- |
| 4 | 4 | 3 | 4 | 4 | 3 | 2 | 4 | 4 | 32 | 4 | 4 | 3 | 4 | 3 | 4 | 2 | 3 | 4 | 31 |

Team

Joe Andrews

Parker Agnew

Brandon Eubanks

Tidd Sichelstiel

Scores

| 1 | 2 | 3 | 4 | 5 | 6 | 7 | 8 | 9 | Front | 10 | 11 | 12 | 13 | 14 | 15 | 16 | 17 | 18 | Back |
| --- | --- | --- | --- | --- | --- | --- | --- | --- | --- | --- | --- | --- | --- | --- | --- | --- | --- | --- | --- |
| 4 | 4 | 2 | 4 | 3 | 3 | 3 | 4 | 3 | 30 | 4 | 4 | 3 | 4 | 3 | 4 | 4 | 3 | 4 | 33 |

Team

David Herrin

Kevin Williams

Daniel Mock

Jeff Baxley

Scores

| 1 | 2 | 3 | 4 | 5 | 6 | 7 | 8 | 9 | Front | 10 | 11 | 12 | 13 | 14 | 15 | 16 | 17 | 18 | Back |
| --- | --- | --- | --- | --- | --- | --- | --- | --- | --- | --- | --- | --- | --- | --- | --- | --- | --- | --- | --- |
| 4 | 4 | 3 | 5 | 4 | 3 | 4 | 4 | 3 | 34 | 4 | 5 | 3 | 5 | 3 | 3 | 3 | 2 | 3 | 31 |

Team

Donald Rowe

Tim Loss

Christopher Erving

Michael Churchill

Scores

| 1 | 2 | 3 | 4 | 5 | 6 | 7 | 8 | 9 | Front | 10 | 11 | 12 | 13 | 14 | 15 | 16 | 17 | 18 | Back |
| --- | --- | --- | --- | --- | --- | --- | --- | --- | --- | --- | --- | --- | --- | --- | --- | --- | --- | --- | --- |
| 4 | 4 | 3 | 4 | 4 | 3 | 4 | 4 | 4 | 34 | 5 | 5 | 3 | 4 | 3 | 3 | 3 | 2 | 4 | 32 |

Team

Norman Chevalier

Jeff Spangler

Jeff Bourbon

Andy Pierce

Scores

| 1 | 2 | 3 | 4 | 5 | 6 | 7 | 8 | 9 | Front | 10 | 11 | 12 | 13 | 14 | 15 | 16 | 17 | 18 | Back |
| --- | --- | --- | --- | --- | --- | --- | --- | --- | --- | --- | --- | --- | --- | --- | --- | --- | --- | --- | --- |
| 3 | 4 | 3 | 5 | 4 | 3 | 3 | 4 | 4 | 33 | 4 | 4 | 4 | 5 | 3 | 4 | 2 | 3 | 4 | 33 |

Team

Ty Hobbs

Stetson Smith

Mitch Williams

Sonny Reeves

Scores

| 1 | 2 | 3 | 4 | 5 | 6 | 7 | 8 | 9 | Front | 10 | 11 | 12 | 13 | 14 | 15 | 16 | 17 | 18 | Back |
| --- | --- | --- | --- | --- | --- | --- | --- | --- | --- | --- | --- | --- | --- | --- | --- | --- | --- | --- | --- |
| 4 | 4 | 4 | 3 | 5 | 3 | 4 | 4 | 4 | 35 | 4 | 4 | 4 | 4 | 4 | 3 | 3 | 2 | 4 | 32 |

Team

Bobby Hunt

Kevin

Steve

Chris

Scores

| 1 | 2 | 3 | 4 | 5 | 6 | 7 | 8 | 9 | Front | 10 | 11 | 12 | 13 | 14 | 15 | 16 | 17 | 18 | Back |
| --- | --- | --- | --- | --- | --- | --- | --- | --- | --- | --- | --- | --- | --- | --- | --- | --- | --- | --- | --- |
| 4 | 4 | 3 | 4 | 4 | 3 | 4 | 3 | 4 | 33 | 5 | 4 | 4 | 5 | 3 | 4 | 3 | 2 | 4 | 34 |

Team

James Howell

Chad Howell

Randy Howell

Ryan Howell

Scores

| 1 | 2 | 3 | 4 | 5 | 6 | 7 | 8 | 9 | Front | 10 | 11 | 12 | 13 | 14 | 15 | 16 | 17 | 18 | Back |
| --- | --- | --- | --- | --- | --- | --- | --- | --- | --- | --- | --- | --- | --- | --- | --- | --- | --- | --- | --- |
| 4 | 3 | 3 | 4 | 4 | 4 | 3 | 4 | 3 | 32 | 4 | 3 | 3 | 4 | 2 | 3 | 4 | 3 | 3 | 29 |

The Creek Golf Course
Hard Labor Creek State Park, Social Circle (1pm shotgun start)
3/20/2021

View Leaderboard

Team

Robert Hollan

Hannah Holland

Devin James

Kyle Lairsey

Scores

| 1 | 2 | 3 | 4 | 5 | 6 | 7 | 8 | 9 | Front | 10 | 11 | 12 | 13 | 14 | 15 | 16 | 17 | 18 | Back |
| --- | --- | --- | --- | --- | --- | --- | --- | --- | --- | --- | --- | --- | --- | --- | --- | --- | --- | --- | --- |
| 2 | 3 | 3 | 4 | 3 | 3 | 3 | 3 | 4 | 28 | 3 | 3 | 2 | 3 | 2 | 4 | 4 | 4 | 3 | 28 |

Team

Dale Bennett

Christian Bennett

Colby Bennett

Morgan Bennett

Scores

| 1 | 2 | 3 | 4 | 5 | 6 | 7 | 8 | 9 | Front | 10 | 11 | 12 | 13 | 14 | 15 | 16 | 17 | 18 | Back |
| --- | --- | --- | --- | --- | --- | --- | --- | --- | --- | --- | --- | --- | --- | --- | --- | --- | --- | --- | --- |
| 4 | 3 | 2 | 3 | 2 | 3 | 3 | 4 | 4 | 28 | 3 | 3 | 3 | 3 | 3 | 4 | 3 | 4 | 3 | 29 |

Team

Matt Blume

Kip Custer

Jeff Rice

Mack Adams

Scores

| 1 | 2 | 3 | 4 | 5 | 6 | 7 | 8 | 9 | Front | 10 | 11 | 12 | 13 | 14 | 15 | 16 | 17 | 18 | Back |
| --- | --- | --- | --- | --- | --- | --- | --- | --- | --- | --- | --- | --- | --- | --- | --- | --- | --- | --- | --- |
| 3 | 3 | 3 | 4 | 3 | 4 | 3 | 3 | 4 | 30 | 3 | 4 | 2 | 3 | 3 | 4 | 3 | 4 | 4 | 30 |

Team

Billy Sheer

Mike Grace

Alan Mabry

Jeremy Hull

Scores

| 1 | 2 | 3 | 4 | 5 | 6 | 7 | 8 | 9 | Front | 10 | 11 | 12 | 13 | 14 | 15 | 16 | 17 | 18 | Back |
| --- | --- | --- | --- | --- | --- | --- | --- | --- | --- | --- | --- | --- | --- | --- | --- | --- | --- | --- | --- |
| 5 | 4 | 3 | 3 | 2 | 4 | 3 | 3 | 4 | 31 | 4 | 3 | 3 | 3 | 2 | 4 | 3 | 4 | 3 | 29 |

Team

Lowell Jett

Ron Beck

Harry Shuford

Jim Bennewitz

Scores

| 1 | 2 | 3 | 4 | 5 | 6 | 7 | 8 | 9 | Front | 10 | 11 | 12 | 13 | 14 | 15 | 16 | 17 | 18 | Back |
| --- | --- | --- | --- | --- | --- | --- | --- | --- | --- | --- | --- | --- | --- | --- | --- | --- | --- | --- | --- |
| 3 | 3 | 2 | 4 | 3 | 4 | 4 | 4 | 5 | 32 | 3 | 3 | 3 | 3 | 3 | 4 | 3 | 5 | 3 | 30 |

Team

Dale Branch

David Linyard

Talmadge Chandler

Bruce Ferguson

Scores

| 1 | 2 | 3 | 4 | 5 | 6 | 7 | 8 | 9 | Front | 10 | 11 | 12 | 13 | 14 | 15 | 16 | 17 | 18 | Back |
| --- | --- | --- | --- | --- | --- | --- | --- | --- | --- | --- | --- | --- | --- | --- | --- | --- | --- | --- | --- |
| 4 | 4 | 3 | 3 | 3 | 4 | 3 | 4 | 4 | 32 | 4 | 3 | 3 | 4 | 3 | 4 | 3 | 4 | 3 | 31 |

Team

Nick Utley

Tom Holder

Bill Wright

Brian Smith

Scores

| 1 | 2 | 3 | 4 | 5 | 6 | 7 | 8 | 9 | Front | 10 | 11 | 12 | 13 | 14 | 15 | 16 | 17 | 18 | Back |
| --- | --- | --- | --- | --- | --- | --- | --- | --- | --- | --- | --- | --- | --- | --- | --- | --- | --- | --- | --- |
| 3 | 3 | 2 | 4 | 3 | 4 | 4 | 3 | 5 | 31 | 4 | 3 | 3 | 4 | 3 | 3 | 4 | 4 | 4 | 32 |

Team

Curtis Poole

Michael Chumbley

Nick Terry

Jeff Gravely

Scores

| 1 | 2 | 3 | 4 | 5 | 6 | 7 | 8 | 9 | Front | 10 | 11 | 12 | 13 | 14 | 15 | 16 | 17 | 18 | Back |
| --- | --- | --- | --- | --- | --- | --- | --- | --- | --- | --- | --- | --- | --- | --- | --- | --- | --- | --- | --- |
| 3 | 4 | 2 | 4 | 3 | 3 | 3 | 4 | 5 | 31 | 4 | 3 | 3 | 3 | 3 | 4 | 4 | 4 | 4 | 32 |

Team

Donald Dryden

Cindy Morley

Greg Hites

Justin Hites

Scores

| 1 | 2 | 3 | 4 | 5 | 6 | 7 | 8 | 9 | Front | 10 | 11 | 12 | 13 | 14 | 15 | 16 | 17 | 18 | Back |
| --- | --- | --- | --- | --- | --- | --- | --- | --- | --- | --- | --- | --- | --- | --- | --- | --- | --- | --- | --- |
| 5 | 3 | 3 | 3 | 2 | 3 | 4 | 4 | 5 | 32 | 4 | 3 | 3 | 4 | 3 | 3 | 3 | 5 | 4 | 32 |

Team

Bob Picariello

Evertt Jenkins

Bill Doyle

Jay Hendley

Scores

| 1 | 2 | 3 | 4 | 5 | 6 | 7 | 8 | 9 | Front | 10 | 11 | 12 | 13 | 14 | 15 | 16 | 17 | 18 | Back |
| --- | --- | --- | --- | --- | --- | --- | --- | --- | --- | --- | --- | --- | --- | --- | --- | --- | --- | --- | --- |
| 4 | 4 | 3 | 4 | 2 | 4 | 4 | 3 | 4 | 32 | 4 | 4 | 4 | 4 | 2 | 4 | 4 | 4 | 3 | 33 |

Team

Jason Byars

Andrew Duhon

Tyler Bussell

Scores

| 1 | 2 | 3 | 4 | 5 | 6 | 7 | 8 | 9 | Front | 10 | 11 | 12 | 13 | 14 | 15 | 16 | 17 | 18 | Back |
| --- | --- | --- | --- | --- | --- | --- | --- | --- | --- | --- | --- | --- | --- | --- | --- | --- | --- | --- | --- |
| 4 | 4 | 4 | 4 | 2 | 4 | 4 | 4 | 4 | 34 | 4 | 3 | 3 | 3 | 3 | 4 | 3 | 4 | 4 | 31 |

Team

Jimmy Mehrhof

Pete Williams

Chad Goff

Brandon Keller

Scores

| 1 | 2 | 3 | 4 | 5 | 6 | 7 | 8 | 9 | Front | 10 | 11 | 12 | 13 | 14 | 15 | 16 | 17 | 18 | Back |
| --- | --- | --- | --- | --- | --- | --- | --- | --- | --- | --- | --- | --- | --- | --- | --- | --- | --- | --- | --- |
| 4 | 4 | 3 | 4 | 2 | 3 | 4 | 4 | 4 | 32 | 4 | 5 | 3 | 3 | 2 | 4 | 4 | 4 | 4 | 33 |

Team

Tyler Tucker

Nick Alesia

Zubin Irani

Riley Hogan

Scores

| 1 | 2 | 3 | 4 | 5 | 6 | 7 | 8 | 9 | Front | 10 | 11 | 12 | 13 | 14 | 15 | 16 | 17 | 18 | Back |
| --- | --- | --- | --- | --- | --- | --- | --- | --- | --- | --- | --- | --- | --- | --- | --- | --- | --- | --- | --- |
| 3 | 4 | 3 | 3 | 2 | 3 | 3 | 4 | 5 | 30 | 4 | 4 | 3 | 4 | 3 | 5 | 4 | 5 | 4 | 36 |

Team

David Schmid

Rafael Bryan

Judd Cheek

Sterling Krick

Scores

| 1 | 2 | 3 | 4 | 5 | 6 | 7 | 8 | 9 | Front | 10 | 11 | 12 | 13 | 14 | 15 | 16 | 17 | 18 | Back |
| --- | --- | --- | --- | --- | --- | --- | --- | --- | --- | --- | --- | --- | --- | --- | --- | --- | --- | --- | --- |
| 3 | 4 | 3 | 4 | 3 | 4 | 3 | 3 | 4 | 31 | 4 | 4 | 3 | 3 | 3 | 5 | 5 | 4 | 4 | 35 |

Team

Matt O'Neal

Allen Newman

Clyde Newman

Tim Cawthorn

Scores

| 1 | 2 | 3 | 4 | 5 | 6 | 7 | 8 | 9 | Front | 10 | 11 | 12 | 13 | 14 | 15 | 16 | 17 | 18 | Back |
| --- | --- | --- | --- | --- | --- | --- | --- | --- | --- | --- | --- | --- | --- | --- | --- | --- | --- | --- | --- |
| 4 | 4 | 3 | 4 | 3 | 4 | 4 | 5 | 5 | 36 | 4 | 3 | 3 | 3 | 3 | 4 | 3 | 4 | 3 | 30 |

Team

Sam Waites

Howard Hardaway

Chris Lybeer

John Garrett

Scores

| 1 | 2 | 3 | 4 | 5 | 6 | 7 | 8 | 9 | Front | 10 | 11 | 12 | 13 | 14 | 15 | 16 | 17 | 18 | Back |
| --- | --- | --- | --- | --- | --- | --- | --- | --- | --- | --- | --- | --- | --- | --- | --- | --- | --- | --- | --- |
| 3 | 3 | 3 | 3 | 3 | 4 | 4 | 4 | 5 | 32 | 4 | 4 | 3 | 4 | 3 | 4 | 3 | 5 | 4 | 34 |

Team

Paul Anderson

Mark Hopkins

Laura Jeu de Vine

Bil Jeu de Vine

Scores

| 1 | 2 | 3 | 4 | 5 | 6 | 7 | 8 | 9 | Front | 10 | 11 | 12 | 13 | 14 | 15 | 16 | 17 | 18 | Back |
| --- | --- | --- | --- | --- | --- | --- | --- | --- | --- | --- | --- | --- | --- | --- | --- | --- | --- | --- | --- |
| 4 | 3 | 3 | 5 | 3 | 4 | 4 | 5 | 4 | 35 | 4 | 4 | 2 | 4 | 3 | 4 | 3 | 4 | 3 | 31 |

Team

Danny Gamache

Tim Quigley

Scott Graffin

Anthony Nyberg

Scores

| 1 | 2 | 3 | 4 | 5 | 6 | 7 | 8 | 9 | Front | 10 | 11 | 12 | 13 | 14 | 15 | 16 | 17 | 18 | Back |
| --- | --- | --- | --- | --- | --- | --- | --- | --- | --- | --- | --- | --- | --- | --- | --- | --- | --- | --- | --- |
| 4 | 4 | 3 | 5 | 3 | 3 | 4 | 4 | 4 | 34 | 4 | 3 | 3 | 4 | 3 | 4 | 4 | 4 | 4 | 33 |

Team

Ed Dean

Jon Boone

Don Pratt

Matt Reinagel

Scores

| 1 | 2 | 3 | 4 | 5 | 6 | 7 | 8 | 9 | Front | 10 | 11 | 12 | 13 | 14 | 15 | 16 | 17 | 18 | Back |
| --- | --- | --- | --- | --- | --- | --- | --- | --- | --- | --- | --- | --- | --- | --- | --- | --- | --- | --- | --- |
| 4 | 4 | 3 | 4 | 3 | 4 | 4 | 4 | 4 | 34 | 4 | 4 | 2 | 4 | 3 | 5 | 4 | 4 | 4 | 34 |

Team

John Milliner

Ryan Bennett

Tyler Cheatwood

Scott Spell

Scores

| 1 | 2 | 3 | 4 | 5 | 6 | 7 | 8 | 9 | Front | 10 | 11 | 12 | 13 | 14 | 15 | 16 | 17 | 18 | Back |
| --- | --- | --- | --- | --- | --- | --- | --- | --- | --- | --- | --- | --- | --- | --- | --- | --- | --- | --- | --- |
| 4 | 3 | 3 | 5 | 3 | 4 | 4 | 4 | 5 | 35 | 4 | 4 | 3 | 3 | 3 | 5 | 4 | 5 | 4 | 35 |

Team

Michael Ford

Wesley Fountain

Seth Howard

Nick Bradley

Scores

| 1 | 2 | 3 | 4 | 5 | 6 | 7 | 8 | 9 | Front | 10 | 11 | 12 | 13 | 14 | 15 | 16 | 17 | 18 | Back |
| --- | --- | --- | --- | --- | --- | --- | --- | --- | --- | --- | --- | --- | --- | --- | --- | --- | --- | --- | --- |
| 4 | 4 | 3 | 4 | 3 | 4 | 4 | 5 | 5 | 36 | 4 | 3 | 3 | 4 | 4 | 4 | 4 | 5 | 4 | 35 |

Team

Ben Smith

Dain Overstreet

Steven Clark

Cassidy Johnson

Scores

| 1 | 2 | 3 | 4 | 5 | 6 | 7 | 8 | 9 | Front | 10 | 11 | 12 | 13 | 14 | 15 | 16 | 17 | 18 | Back |
| --- | --- | --- | --- | --- | --- | --- | --- | --- | --- | --- | --- | --- | --- | --- | --- | --- | --- | --- | --- |
| 5 | 4 | 2 | 6 | 3 | 4 | 4 | 4 | 5 | 37 | 5 | 3 | 3 | 3 | 3 | 6 | 4 | 5 | 4 | 36 |

Team

Paul Schlumper

Jack Schlumper

Matt Harris

Josh Mckelvey

Scores

| 1 | 2 | 3 | 4 | 5 | 6 | 7 | 8 | 9 | Front | 10 | 11 | 12 | 13 | 14 | 15 | 16 | 17 | 18 | Back |
| --- | --- | --- | --- | --- | --- | --- | --- | --- | --- | --- | --- | --- | --- | --- | --- | --- | --- | --- | --- |
| 4 | 4 | 3 | 5 | 3 | 4 | 4 | 4 | 5 | 36 | 4 | 4 | 3 | 4 | 3 | 5 | 5 | 5 | 4 | 37 |

Team

Ric Pruitt

Nick Klemm

Mike Gray

Don Gray

Scores

| 1 | 2 | 3 | 4 | 5 | 6 | 7 | 8 | 9 | Front | 10 | 11 | 12 | 13 | 14 | 15 | 16 | 17 | 18 | Back |
| --- | --- | --- | --- | --- | --- | --- | --- | --- | --- | --- | --- | --- | --- | --- | --- | --- | --- | --- | --- |
| 3 | 4 | 3 | 5 | 2 | 5 | 5 | 4 | 6 | 37 | 5 | 4 | 3 | 4 | 3 | 5 | 4 | 4 | 5 | 37 |

Meadow Links Golf Course
George T. Bagby State Park, Fort Gaines (9am shotgun start)
3/27/2021

View Leaderboard

Team

AJ Pate

Colton Cox

Kason Cox

Jeff Pate

Scores

Hole by hole scores not available.

Team

Joe Lawrence

Ben Whiddon

Brandon Brookins

Ellie Jane Riner

Scores

Hole by hole scores not available.

Team

Will Bozeman

Bill Bozeman

Drew Bozeman

Brett Bozeman

Scores

Hole by hole scores not available.

Team

John Mark Stephenson

JB Wilson

Tatum Stephenson

EB Stonestreet

Scores

Hole by hole scores not available.

Team

Randall trawick

Josh Brown

Rusty Faria

Hasten Watson

Scores

Hole by hole scores not available.

Team

Richard Irwin

Randy Roland

Terry Hart

Gary Tew

Scores

Hole by hole scores not available.

Team

John Allred

Derrick Allred

Stephen Allred

Greg Payne

Scores

Hole by hole scores not available.

Team

Nancy Chambers

Bo Chambers

Jimbo Price

Dennis Moore

Scores

Hole by hole scores not available.

Team

Bradley Hyatt

David Hyatt

Chad Brown

Mitch Lucky

Scores

Hole by hole scores not available.

Team

Jeremy Whiddon

Sid Morris

Dave Johnson

Adam Rollin

Scores

Hole by hole scores not available.

Team

Eddie Mitja

Jonathan Mims

Terrell Barrington

Miollie Mitja

Scores

Hole by hole scores not available.

Highland Walk Golf Course
Victoria Bryant State Park, Royston (12:30pm shotgun start)
3/27/2021

View Leaderboard

Team

Benjamin Wolk

Kevin Bowman

Reed Dutton

James O'Brian

Scores

| 1 | 2 | 3 | 4 | 5 | 6 | 7 | 8 | 9 | Front | 10 | 11 | 12 | 13 | 14 | 15 | 16 | 17 | 18 | Back |
| --- | --- | --- | --- | --- | --- | --- | --- | --- | --- | --- | --- | --- | --- | --- | --- | --- | --- | --- | --- |
| 3 | 2 | 3 | 3 | 4 | 3 | 3 | 3 | 3 | 27 | 3 | 4 | 4 | 4 | 2 | 4 | 2 | 3 | 3 | 29 |

Team

Gannon Fields

Cooper Roland

Peyton Shedd

Connor Wilkie

Scores

| 1 | 2 | 3 | 4 | 5 | 6 | 7 | 8 | 9 | Front | 10 | 11 | 12 | 13 | 14 | 15 | 16 | 17 | 18 | Back |
| --- | --- | --- | --- | --- | --- | --- | --- | --- | --- | --- | --- | --- | --- | --- | --- | --- | --- | --- | --- |
| 3 | 4 | 3 | 3 | 3 | 3 | 3 | 3 | 3 | 28 | 3 | 3 | 3 | 4 | 3 | 4 | 1 | 3 | 5 | 29 |

Team

Lando Alexnader

Mirko Alexander

Tyler Herrin

Eddie Collins

Scores

| 1 | 2 | 3 | 4 | 5 | 6 | 7 | 8 | 9 | Front | 10 | 11 | 12 | 13 | 14 | 15 | 16 | 17 | 18 | Back |
| --- | --- | --- | --- | --- | --- | --- | --- | --- | --- | --- | --- | --- | --- | --- | --- | --- | --- | --- | --- |
| 3 | 3 | 3 | 4 | 3 | 3 | 3 | 4 | 4 | 30 | 2 | 4 | 3 | 3 | 2 | 4 | 3 | 3 | 4 | 28 |

Team

James South

Drew Haggard

Lee South

Spencer Risner

Scores

| 1 | 2 | 3 | 4 | 5 | 6 | 7 | 8 | 9 | Front | 10 | 11 | 12 | 13 | 14 | 15 | 16 | 17 | 18 | Back |
| --- | --- | --- | --- | --- | --- | --- | --- | --- | --- | --- | --- | --- | --- | --- | --- | --- | --- | --- | --- |
| 4 | 3 | 4 | 3 | 3 | 3 | 3 | 4 | 3 | 30 | 2 | 3 | 3 | 4 | 3 | 5 | 2 | 3 | 4 | 29 |

Team

Brent Martin

Stuart Johnson

Dan Ragsdale

Kai Shepard

Scores

| 1 | 2 | 3 | 4 | 5 | 6 | 7 | 8 | 9 | Front | 10 | 11 | 12 | 13 | 14 | 15 | 16 | 17 | 18 | Back |
| --- | --- | --- | --- | --- | --- | --- | --- | --- | --- | --- | --- | --- | --- | --- | --- | --- | --- | --- | --- |
| 2 | 4 | 4 | 4 | 3 | 3 | 3 | 4 | 3 | 30 | 3 | 3 | 3 | 3 | 2 | 4 | 3 | 3 | 5 | 29 |

Team

Mark Saxon

Mark Saxon

Bart Carswell

Chris Janssen

Scores

| 1 | 2 | 3 | 4 | 5 | 6 | 7 | 8 | 9 | Front | 10 | 11 | 12 | 13 | 14 | 15 | 16 | 17 | 18 | Back |
| --- | --- | --- | --- | --- | --- | --- | --- | --- | --- | --- | --- | --- | --- | --- | --- | --- | --- | --- | --- |
| 3 | 3 | 3 | 3 | 3 | 2 | 3 | 4 | 4 | 28 | 3 | 4 | 4 | 4 | 2 | 4 | 3 | 3 | 4 | 31 |

Team

John Hylton

Aleaha Hylton

Allie Cobb

Todd Voyles

Scores

| 1 | 2 | 3 | 4 | 5 | 6 | 7 | 8 | 9 | Front | 10 | 11 | 12 | 13 | 14 | 15 | 16 | 17 | 18 | Back |
| --- | --- | --- | --- | --- | --- | --- | --- | --- | --- | --- | --- | --- | --- | --- | --- | --- | --- | --- | --- |
| 2 | 3 | 3 | 4 | 4 | 3 | 3 | 4 | 4 | 30 | 3 | 3 | 3 | 4 | 3 | 4 | 3 | 3 | 4 | 30 |

Team

Caleb Shealy

Ken Morgan

Adam Chisum

Daniel Shealy

Scores

| 1 | 2 | 3 | 4 | 5 | 6 | 7 | 8 | 9 | Front | 10 | 11 | 12 | 13 | 14 | 15 | 16 | 17 | 18 | Back |
| --- | --- | --- | --- | --- | --- | --- | --- | --- | --- | --- | --- | --- | --- | --- | --- | --- | --- | --- | --- |
| 3 | 3 | 3 | 4 | 4 | 2 | 4 | 4 | 3 | 30 | 3 | 3 | 4 | 4 | 3 | 4 | 2 | 3 | 4 | 30 |

Team

Mitch Davies

Taylor Shaw

Tony Curtis

Tyler Deguibert

Scores

| 1 | 2 | 3 | 4 | 5 | 6 | 7 | 8 | 9 | Front | 10 | 11 | 12 | 13 | 14 | 15 | 16 | 17 | 18 | Back |
| --- | --- | --- | --- | --- | --- | --- | --- | --- | --- | --- | --- | --- | --- | --- | --- | --- | --- | --- | --- |
| 2 | 3 | 3 | 4 | 4 | 3 | 3 | 4 | 4 | 30 | 3 | 4 | 3 | 3 | 3 | 4 | 3 | 3 | 4 | 30 |

Team

Shane Bennett

Kevin Dye

Billy Bryant

Todd Yeargin

Scores

| 1 | 2 | 3 | 4 | 5 | 6 | 7 | 8 | 9 | Front | 10 | 11 | 12 | 13 | 14 | 15 | 16 | 17 | 18 | Back |
| --- | --- | --- | --- | --- | --- | --- | --- | --- | --- | --- | --- | --- | --- | --- | --- | --- | --- | --- | --- |
| 3 | 4 | 4 | 3 | 4 | 3 | 3 | 3 | 3 | 30 | 3 | 3 | 3 | 4 | 3 | 5 | 3 | 4 | 3 | 31 |

Team

Daniel Ramsdell

Tony Wilson

Tony Tolleson

Mike Swords

Scores

| 1 | 2 | 3 | 4 | 5 | 6 | 7 | 8 | 9 | Front | 10 | 11 | 12 | 13 | 14 | 15 | 16 | 17 | 18 | Back |
| --- | --- | --- | --- | --- | --- | --- | --- | --- | --- | --- | --- | --- | --- | --- | --- | --- | --- | --- | --- |
| 3 | 3 | 4 | 4 | 3 | 2 | 3 | 4 | 4 | 30 | 3 | 3 | 4 | 3 | 3 | 5 | 2 | 3 | 5 | 31 |

Team

Al Morrison

Michael Butler

Todd Childers

George Pearson

Scores

| 1 | 2 | 3 | 4 | 5 | 6 | 7 | 8 | 9 | Front | 10 | 11 | 12 | 13 | 14 | 15 | 16 | 17 | 18 | Back |
| --- | --- | --- | --- | --- | --- | --- | --- | --- | --- | --- | --- | --- | --- | --- | --- | --- | --- | --- | --- |
| 3 | 3 | 4 | 4 | 3 | 3 | 4 | 4 | 4 | 32 | 3 | 3 | 4 | 4 | 3 | 4 | 2 | 3 | 4 | 30 |

Team

Scott Hodoval

John Hoppa

Joe Perrotta

Jeff Driscoll

Scores

| 1 | 2 | 3 | 4 | 5 | 6 | 7 | 8 | 9 | Front | 10 | 11 | 12 | 13 | 14 | 15 | 16 | 17 | 18 | Back |
| --- | --- | --- | --- | --- | --- | --- | --- | --- | --- | --- | --- | --- | --- | --- | --- | --- | --- | --- | --- |
| 3 | 3 | 3 | 4 | 3 | 2 | 4 | 4 | 4 | 30 | 3 | 4 | 3 | 4 | 3 | 5 | 3 | 3 | 4 | 32 |

Team

Jason Powell

Brandon Bennett

Lee Marchman

Tracy Merritt

Scores

| 1 | 2 | 3 | 4 | 5 | 6 | 7 | 8 | 9 | Front | 10 | 11 | 12 | 13 | 14 | 15 | 16 | 17 | 18 | Back |
| --- | --- | --- | --- | --- | --- | --- | --- | --- | --- | --- | --- | --- | --- | --- | --- | --- | --- | --- | --- |
| 3 | 4 | 3 | 4 | 3 | 2 | 4 | 4 | 4 | 31 | 3 | 4 | 3 | 4 | 3 | 5 | 2 | 3 | 4 | 31 |

Team

John Henzel

Greg Hearn

Matt McRee

Mike Bona

Scores

| 1 | 2 | 3 | 4 | 5 | 6 | 7 | 8 | 9 | Front | 10 | 11 | 12 | 13 | 14 | 15 | 16 | 17 | 18 | Back |
| --- | --- | --- | --- | --- | --- | --- | --- | --- | --- | --- | --- | --- | --- | --- | --- | --- | --- | --- | --- |
| 4 | 4 | 3 | 3 | 4 | 2 | 4 | 4 | 4 | 32 | 2 | 4 | 4 | 4 | 2 | 4 | 2 | 3 | 5 | 30 |

Team

Dustin McCollum

Brett Robertson

Chase Hulsey

Jordan Krippner

Scores

| 1 | 2 | 3 | 4 | 5 | 6 | 7 | 8 | 9 | Front | 10 | 11 | 12 | 13 | 14 | 15 | 16 | 17 | 18 | Back |
| --- | --- | --- | --- | --- | --- | --- | --- | --- | --- | --- | --- | --- | --- | --- | --- | --- | --- | --- | --- |
| 3 | 4 | 3 | 4 | 4 | 3 | 4 | 4 | 3 | 32 | 2 | 4 | 3 | 4 | 3 | 5 | 3 | 3 | 4 | 31 |

Team

Terry Westenfield

Devin Davenport

Robbie Chapman

Gary Davenport

Scores

| 1 | 2 | 3 | 4 | 5 | 6 | 7 | 8 | 9 | Front | 10 | 11 | 12 | 13 | 14 | 15 | 16 | 17 | 18 | Back |
| --- | --- | --- | --- | --- | --- | --- | --- | --- | --- | --- | --- | --- | --- | --- | --- | --- | --- | --- | --- |
| 4 | 3 | 4 | 4 | 3 | 3 | 3 | 4 | 4 | 32 | 3 | 3 | 4 | 3 | 2 | 5 | 3 | 4 | 5 | 32 |

Team

Jonathan Frazier

Jerry Frazier

Jerry Henderson

Willie Frazier

Scores

| 1 | 2 | 3 | 4 | 5 | 6 | 7 | 8 | 9 | Front | 10 | 11 | 12 | 13 | 14 | 15 | 16 | 17 | 18 | Back |
| --- | --- | --- | --- | --- | --- | --- | --- | --- | --- | --- | --- | --- | --- | --- | --- | --- | --- | --- | --- |
| 3 | 3 | 3 | 5 | 3 | 3 | 3 | 5 | 4 | 32 | 3 | 4 | 4 | 3 | 3 | 5 | 3 | 4 | 4 | 33 |

Team

Adam Hardigree

Jason McCarty

Anthony Gibbons

Zeb Burton

Scores

| 1 | 2 | 3 | 4 | 5 | 6 | 7 | 8 | 9 | Front | 10 | 11 | 12 | 13 | 14 | 15 | 16 | 17 | 18 | Back |
| --- | --- | --- | --- | --- | --- | --- | --- | --- | --- | --- | --- | --- | --- | --- | --- | --- | --- | --- | --- |
| 4 | 3 | 4 | 4 | 4 | 3 | 4 | 4 | 5 | 35 | 3 | 4 | 4 | 4 | 3 | 5 | 3 | 4 | 4 | 34 |

Team

John Burgess

Tom Audley

Brian Chouinard

Scores

| 1 | 2 | 3 | 4 | 5 | 6 | 7 | 8 | 9 | Front | 10 | 11 | 12 | 13 | 14 | 15 | 16 | 17 | 18 | Back |
| --- | --- | --- | --- | --- | --- | --- | --- | --- | --- | --- | --- | --- | --- | --- | --- | --- | --- | --- | --- |
| 3 | 4 | 5 | 4 | 4 | 3 | 4 | 5 | 4 | 36 | 3 | 4 | 3 | 5 | 3 | 4 | 3 | 4 | 4 | 33 |

Team

Calvin Pauling

Edward Sutton

Chris Brown

John Jones

Scores

| 1 | 2 | 3 | 4 | 5 | 6 | 7 | 8 | 9 | Front | 10 | 11 | 12 | 13 | 14 | 15 | 16 | 17 | 18 | Back |
| --- | --- | --- | --- | --- | --- | --- | --- | --- | --- | --- | --- | --- | --- | --- | --- | --- | --- | --- | --- |
| 3 | 3 | 4 | 5 | 5 | 3 | 4 | 5 | 4 | 36 | 3 | 4 | 3 | 4 | 3 | 4 | 3 | 4 | 5 | 33 |

Team

Daniel Kimmel

Nate Christiansen

Paul Johnson

Chris Haddon

Scores

| 1 | 2 | 3 | 4 | 5 | 6 | 7 | 8 | 9 | Front | 10 | 11 | 12 | 13 | 14 | 15 | 16 | 17 | 18 | Back |
| --- | --- | --- | --- | --- | --- | --- | --- | --- | --- | --- | --- | --- | --- | --- | --- | --- | --- | --- | --- |
| 4 | 4 | 4 | 5 | 5 | 3 | 4 | 4 | 3 | 36 | 3 | 3 | 4 | 4 | 3 | 5 | 3 | 4 | 5 | 34 |

Team

Stan Watson

Larry Wages

Ronnie Faulkner

Mike Faulkner

Scores

| 1 | 2 | 3 | 4 | 5 | 6 | 7 | 8 | 9 | Front | 10 | 11 | 12 | 13 | 14 | 15 | 16 | 17 | 18 | Back |
| --- | --- | --- | --- | --- | --- | --- | --- | --- | --- | --- | --- | --- | --- | --- | --- | --- | --- | --- | --- |
| 3 | 4 | 4 | 5 | 5 | 3 | 3 | 5 | 4 | 36 | 2 | 4 | 5 | 4 | 3 | 5 | 3 | 4 | 5 | 35 |

Team

Alan Pape

Joshua Pape

Eric Pape

Ryan Pape

Scores

| 1 | 2 | 3 | 4 | 5 | 6 | 7 | 8 | 9 | Front | 10 | 11 | 12 | 13 | 14 | 15 | 16 | 17 | 18 | Back |
| --- | --- | --- | --- | --- | --- | --- | --- | --- | --- | --- | --- | --- | --- | --- | --- | --- | --- | --- | --- |
| 3 | 5 | 4 | 5 | 4 | 4 | 4 | 5 | 3 | 37 | 4 | 5 | 3 | 5 | 3 | 5 | 3 | 3 | 4 | 35 |

Team

Miguel Rodriguez

Kevin Trochesset

Christian Trochesset

Ty Trochesset

Scores

| 1 | 2 | 3 | 4 | 5 | 6 | 7 | 8 | 9 | Front | 10 | 11 | 12 | 13 | 14 | 15 | 16 | 17 | 18 | Back |
| --- | --- | --- | --- | --- | --- | --- | --- | --- | --- | --- | --- | --- | --- | --- | --- | --- | --- | --- | --- |
| 4 | 4 | 4 | 4 | 4 | 4 | 5 | 4 | 5 | 38 | 4 | 5 | 5 | 4 | 2 | 6 | 3 | 4 | 5 | 38 |

Arrowhead Pointe Golf Course
Richard B. Russel State Park, Elberton (12:30pm shotgun start)
4/3/2021

View Leaderboard

Team

Shayne Bennett

Kevin Dye

Billy Bryant

Todd Yeargin

Scores

| 1 | 2 | 3 | 4 | 5 | 6 | 7 | 8 | 9 | Front | 10 | 11 | 12 | 13 | 14 | 15 | 16 | 17 | 18 | Back |
| --- | --- | --- | --- | --- | --- | --- | --- | --- | --- | --- | --- | --- | --- | --- | --- | --- | --- | --- | --- |
| 3 | 3 | 2 | 3 | 4 | 3 | 3 | 4 | 4 | 29 | 4 | 3 | 3 | 2 | 3 | 3 | 4 | 3 | 3 | 28 |

Team

Sandy Thornton

Nathan Thornton

Chad Blackmon

David Baston

Scores

| 1 | 2 | 3 | 4 | 5 | 6 | 7 | 8 | 9 | Front | 10 | 11 | 12 | 13 | 14 | 15 | 16 | 17 | 18 | Back |
| --- | --- | --- | --- | --- | --- | --- | --- | --- | --- | --- | --- | --- | --- | --- | --- | --- | --- | --- | --- |
| 4 | 3 | 2 | 3 | 4 | 4 | 2 | 3 | 4 | 29 | 4 | 3 | 4 | 2 | 4 | 2 | 3 | 4 | 3 | 29 |

Team

Clint Chapman

Dennis Boyd

Graham Farmer

John Michael Kubu

Scores

| 1 | 2 | 3 | 4 | 5 | 6 | 7 | 8 | 9 | Front | 10 | 11 | 12 | 13 | 14 | 15 | 16 | 17 | 18 | Back |
| --- | --- | --- | --- | --- | --- | --- | --- | --- | --- | --- | --- | --- | --- | --- | --- | --- | --- | --- | --- |
| 4 | 3 | 2 | 3 | 4 | 3 | 2 | 3 | 3 | 27 | 4 | 3 | 4 | 3 | 3 | 2 | 4 | 4 | 4 | 31 |

Team

DJ Foust

Eli Roland

Graham Farmer

John Michael Kubu

Scores

| 1 | 2 | 3 | 4 | 5 | 6 | 7 | 8 | 9 | Front | 10 | 11 | 12 | 13 | 14 | 15 | 16 | 17 | 18 | Back |
| --- | --- | --- | --- | --- | --- | --- | --- | --- | --- | --- | --- | --- | --- | --- | --- | --- | --- | --- | --- |
| 3 | 4 | 2 | 3 | 4 | 4 | 2 | 3 | 4 | 29 | 5 | 3 | 3 | 2 | 3 | 2 | 4 | 3 | 4 | 29 |

Team

Dallas Norris

Matthew Norris

Josh Buchanon

Randy

Scores

| 1 | 2 | 3 | 4 | 5 | 6 | 7 | 8 | 9 | Front | 10 | 11 | 12 | 13 | 14 | 15 | 16 | 17 | 18 | Back |
| --- | --- | --- | --- | --- | --- | --- | --- | --- | --- | --- | --- | --- | --- | --- | --- | --- | --- | --- | --- |
| 3 | 4 | 3 | 3 | 4 | 4 | 3 | 3 | 3 | 30 | 3 | 3 | 3 | 3 | 4 | 2 | 4 | 3 | 3 | 28 |

Team

Tim Travis

Ronnie Edwards

Robert Allen

Seth Robertson

Scores

| 1 | 2 | 3 | 4 | 5 | 6 | 7 | 8 | 9 | Front | 10 | 11 | 12 | 13 | 14 | 15 | 16 | 17 | 18 | Back |
| --- | --- | --- | --- | --- | --- | --- | --- | --- | --- | --- | --- | --- | --- | --- | --- | --- | --- | --- | --- |
| 3 | 4 | 2 | 3 | 4 | 3 | 3 | 3 | 4 | 29 | 3 | 4 | 3 | 3 | 4 | 3 | 4 | 3 | 3 | 30 |

Team

Rullie Hallman

Derek Foulke

Kyle Swafford

Gabe Powell

Scores

| 1 | 2 | 3 | 4 | 5 | 6 | 7 | 8 | 9 | Front | 10 | 11 | 12 | 13 | 14 | 15 | 16 | 17 | 18 | Back |
| --- | --- | --- | --- | --- | --- | --- | --- | --- | --- | --- | --- | --- | --- | --- | --- | --- | --- | --- | --- |
| 4 | 4 | 2 | 3 | 4 | 3 | 2 | 4 | 4 | 30 | 4 | 3 | 3 | 3 | 4 | 3 | 4 | 3 | 3 | 30 |

Team

John Britt

Joey Snider

Tyler Carr

Matthew Wilson

Scores

| 1 | 2 | 3 | 4 | 5 | 6 | 7 | 8 | 9 | Front | 10 | 11 | 12 | 13 | 14 | 15 | 16 | 17 | 18 | Back |
| --- | --- | --- | --- | --- | --- | --- | --- | --- | --- | --- | --- | --- | --- | --- | --- | --- | --- | --- | --- |
| 4 | 3 | 2 | 3 | 4 | 4 | 3 | 3 | 3 | 29 | 4 | 3 | 4 | 3 | 3 | 2 | 4 | 4 | 4 | 31 |

Team

Bob Rugare

Bill Manson

Bruce Wood

Clayton Davis

Scores

| 1 | 2 | 3 | 4 | 5 | 6 | 7 | 8 | 9 | Front | 10 | 11 | 12 | 13 | 14 | 15 | 16 | 17 | 18 | Back |
| --- | --- | --- | --- | --- | --- | --- | --- | --- | --- | --- | --- | --- | --- | --- | --- | --- | --- | --- | --- |
| 4 | 4 | 3 | 3 | 4 | 3 | 2 | 4 | 3 | 30 | 4 | 3 | 4 | 2 | 4 | 2 | 4 | 4 | 4 | 31 |

Team

Frank Siple

Joe Rampley

Jimmy Harris

Jack Ennis

Scores

| 1 | 2 | 3 | 4 | 5 | 6 | 7 | 8 | 9 | Front | 10 | 11 | 12 | 13 | 14 | 15 | 16 | 17 | 18 | Back |
| --- | --- | --- | --- | --- | --- | --- | --- | --- | --- | --- | --- | --- | --- | --- | --- | --- | --- | --- | --- |
| 3 | 3 | 3 | 3 | 4 | 4 | 2 | 4 | 4 | 30 | 4 | 4 | 4 | 3 | 3 | 3 | 5 | 4 | 4 | 34 |

Team

Rick Morrow

Kim Morrow

Dave Bishop

Greg Tosh

Scores

| 1 | 2 | 3 | 4 | 5 | 6 | 7 | 8 | 9 | Front | 10 | 11 | 12 | 13 | 14 | 15 | 16 | 17 | 18 | Back |
| --- | --- | --- | --- | --- | --- | --- | --- | --- | --- | --- | --- | --- | --- | --- | --- | --- | --- | --- | --- |
| 4 | 4 | 3 | 3 | 4 | 3 | 3 | 3 | 4 | 31 | 5 | 4 | 4 | 3 | 4 | 2 | 4 | 4 | 4 | 34 |

Team

Tony Taylor

Dustin Taylor

Ricky Harrison

Scott Thornton

Scores

| 1 | 2 | 3 | 4 | 5 | 6 | 7 | 8 | 9 | Front | 10 | 11 | 12 | 13 | 14 | 15 | 16 | 17 | 18 | Back |
| --- | --- | --- | --- | --- | --- | --- | --- | --- | --- | --- | --- | --- | --- | --- | --- | --- | --- | --- | --- |
| 3 | 5 | 3 | 3 | 4 | 4 | 3 | 4 | 4 | 33 | 5 | 4 | 4 | 3 | 4 | 2 | 4 | 4 | 4 | 34 |

Team

Donald Varble

Kipp Neikirk

Wesley Graves

Ellis McCain

Scores

| 1 | 2 | 3 | 4 | 5 | 6 | 7 | 8 | 9 | Front | 10 | 11 | 12 | 13 | 14 | 15 | 16 | 17 | 18 | Back |
| --- | --- | --- | --- | --- | --- | --- | --- | --- | --- | --- | --- | --- | --- | --- | --- | --- | --- | --- | --- |
| 4 | 4 | 3 | 3 | 4 | 3 | 3 | 4 | 4 | 32 | 5 | 4 | 4 | 3 | 4 | 2 | 5 | 4 | 4 | 35 |

Team

Patrick Thompson

Josh Hughes

Alex Carter

Travis Blount

Scores

| 1 | 2 | 3 | 4 | 5 | 6 | 7 | 8 | 9 | Front | 10 | 11 | 12 | 13 | 14 | 15 | 16 | 17 | 18 | Back |
| --- | --- | --- | --- | --- | --- | --- | --- | --- | --- | --- | --- | --- | --- | --- | --- | --- | --- | --- | --- |
| 4 | 4 | 3 | 4 | 5 | 4 | 3 | 4 | 4 | 35 | 4 | 3 | 4 | 3 | 4 | 3 | 4 | 4 | 4 | 33 |

Team

TJ Crowe

Chris Cochran

Zach Brooks

DJ Troughton

Scores

| 1 | 2 | 3 | 4 | 5 | 6 | 7 | 8 | 9 | Front | 10 | 11 | 12 | 13 | 14 | 15 | 16 | 17 | 18 | Back |
| --- | --- | --- | --- | --- | --- | --- | --- | --- | --- | --- | --- | --- | --- | --- | --- | --- | --- | --- | --- |
| 4 | 3 | 3 | 4 | 6 | 4 | 3 | 4 | 3 | 34 | 4 | 4 | 3 | 3 | 5 | 3 | 5 | 4 | 3 | 34 |

Team

Scott Conley

Sherry Conley

Becky Hamm

Tom Hamm

Scores

| 1 | 2 | 3 | 4 | 5 | 6 | 7 | 8 | 9 | Front | 10 | 11 | 12 | 13 | 14 | 15 | 16 | 17 | 18 | Back |
| --- | --- | --- | --- | --- | --- | --- | --- | --- | --- | --- | --- | --- | --- | --- | --- | --- | --- | --- | --- |
| 4 | 4 | 3 | 4 | 5 | 4 | 3 | 3 | 4 | 34 | 4 | 3 | 4 | 3 | 4 | 3 | 5 | 4 | 4 | 34 |

Team

Donny Whitehead

Trey Bowling

Andy Lunsford

Jack Brown

Scores

| 1 | 2 | 3 | 4 | 5 | 6 | 7 | 8 | 9 | Front | 10 | 11 | 12 | 13 | 14 | 15 | 16 | 17 | 18 | Back |
| --- | --- | --- | --- | --- | --- | --- | --- | --- | --- | --- | --- | --- | --- | --- | --- | --- | --- | --- | --- |
| 4 | 4 | 3 | 4 | 5 | 4 | 3 | 3 | 4 | 34 | 5 | 4 | 4 | 3 | 4 | 3 | 5 | 3 | 4 | 35 |

Team

Robert Nix

Trent Massey

Rick Adkins

Lowrie Wilson

Scores

| 1 | 2 | 3 | 4 | 5 | 6 | 7 | 8 | 9 | Front | 10 | 11 | 12 | 13 | 14 | 15 | 16 | 17 | 18 | Back |
| --- | --- | --- | --- | --- | --- | --- | --- | --- | --- | --- | --- | --- | --- | --- | --- | --- | --- | --- | --- |
| 4 | 3 | 3 | 3 | 5 | 5 | 3 | 4 | 4 | 34 | 4 | 4 | 4 | 3 | 4 | 4 | 6 | 4 | 4 | 37 |

Team

Brian Dean

Kevin Echols

Lance Johnson

Nicky Bailey

Scores

| 1 | 2 | 3 | 4 | 5 | 6 | 7 | 8 | 9 | Front | 10 | 11 | 12 | 13 | 14 | 15 | 16 | 17 | 18 | Back |
| --- | --- | --- | --- | --- | --- | --- | --- | --- | --- | --- | --- | --- | --- | --- | --- | --- | --- | --- | --- |
| 4 | 4 | 3 | 3 | 5 | 4 | 3 | 4 | 4 | 34 | 5 | 4 | 4 | 3 | 4 | 3 | 5 | 5 | 4 | 37 |

Team

Cody Seymour

Allen Seymour

Cameron Seymour

Tyler Smith

Scores

| 1 | 2 | 3 | 4 | 5 | 6 | 7 | 8 | 9 | Front | 10 | 11 | 12 | 13 | 14 | 15 | 16 | 17 | 18 | Back |
| --- | --- | --- | --- | --- | --- | --- | --- | --- | --- | --- | --- | --- | --- | --- | --- | --- | --- | --- | --- |
| 4 | 4 | 3 | 4 | 5 | 4 | 3 | 4 | 4 | 35 | 5 | 4 | 4 | 3 | 5 | 3 | 5 | 4 | 4 | 37 |

Team

Steve Gallagher

Laura Gallagher

Philip McCrorie

Kathy McCrorie

Scores

| 1 | 2 | 3 | 4 | 5 | 6 | 7 | 8 | 9 | Front | 10 | 11 | 12 | 13 | 14 | 15 | 16 | 17 | 18 | Back |
| --- | --- | --- | --- | --- | --- | --- | --- | --- | --- | --- | --- | --- | --- | --- | --- | --- | --- | --- | --- |
| 5 | 4 | 3 | 4 | 5 | 4 | 2 | 4 | 5 | 36 | 5 | 4 | 5 | 4 | 4 | 3 | 5 | 5 | 4 | 39 |

CHAMPIONSHIP EVENT - Arrowhead Pointe Golf Course
Richard B. Russel State Park, Elberton
5/7/2021

View Leaderboard

Team

Shayne Bennett

Billy Bryant

Kevin Dye

Todd Yeargin

Scores

| 1 | 2 | 3 | 4 | 5 | 6 | 7 | 8 | 9 | Front | 10 | 11 | 12 | 13 | 14 | 15 | 16 | 17 | 18 | Back |
| --- | --- | --- | --- | --- | --- | --- | --- | --- | --- | --- | --- | --- | --- | --- | --- | --- | --- | --- | --- |
| | | | | | | | | | 28 | | | | | | | | | | 27 |

Team

Jon Floyd

Ben Floyd

Jonathan Pirkle

Patrick Edwards

Scores

| 1 | 2 | 3 | 4 | 5 | 6 | 7 | 8 | 9 | Front | 10 | 11 | 12 | 13 | 14 | 15 | 16 | 17 | 18 | Back |
| --- | --- | --- | --- | --- | --- | --- | --- | --- | --- | --- | --- | --- | --- | --- | --- | --- | --- | --- | --- |
| | | | | | | | | | 29 | | | | | | | | | | 29 |

Team

Ryan Haugh

Michael Dudzinski

Nate Carter

Dalton Bradley

Scores

| 1 | 2 | 3 | 4 | 5 | 6 | 7 | 8 | 9 | Front | 10 | 11 | 12 | 13 | 14 | 15 | 16 | 17 | 18 | Back |
| --- | --- | --- | --- | --- | --- | --- | --- | --- | --- | --- | --- | --- | --- | --- | --- | --- | --- | --- | --- |
| | | | | | | | | | 27 | | | | | | | | | | 31 |

Team

Chris Wynn

Zane Dill

Codie Mixon

Clae Mixon

Scores

| 1 | 2 | 3 | 4 | 5 | 6 | 7 | 8 | 9 | Front | 10 | 11 | 12 | 13 | 14 | 15 | 16 | 17 | 18 | Back |
| --- | --- | --- | --- | --- | --- | --- | --- | --- | --- | --- | --- | --- | --- | --- | --- | --- | --- | --- | --- |
| | | | | | | | | | 31 | | | | | | | | | | 28 |

Team

Ty Henley

Evan Parrish

Colby Hook

Brandon Russell

Scores

| 1 | 2 | 3 | 4 | 5 | 6 | 7 | 8 | 9 | Front | 10 | 11 | 12 | 13 | 14 | 15 | 16 | 17 | 18 | Back |
| --- | --- | --- | --- | --- | --- | --- | --- | --- | --- | --- | --- | --- | --- | --- | --- | --- | --- | --- | --- |
| | | | | | | | | | 30 | | | | | | | | | | 30 |

Team

Shawn Stanford

Joe Lawerenson

Zack Hutchinson

Kenny Robshaw

Scores

| 1 | 2 | 3 | 4 | 5 | 6 | 7 | 8 | 9 | Front | 10 | 11 | 12 | 13 | 14 | 15 | 16 | 17 | 18 | Back |
| --- | --- | --- | --- | --- | --- | --- | --- | --- | --- | --- | --- | --- | --- | --- | --- | --- | --- | --- | --- |
| | | | | | | | | | 30 | | | | | | | | | | 30 |

Team

Jeff Adkinson

Jay Hathorn

Charles Hobbs

Russ Williams

Scores

| 1 | 2 | 3 | 4 | 5 | 6 | 7 | 8 | 9 | Front | 10 | 11 | 12 | 13 | 14 | 15 | 16 | 17 | 18 | Back |
| --- | --- | --- | --- | --- | --- | --- | --- | --- | --- | --- | --- | --- | --- | --- | --- | --- | --- | --- | --- |
| | | | | | | | | | 32 | | | | | | | | | | 29 |

Team

Robert Holland

Hannah Holland

James Devin

Kyle Lairsey

Scores

| 1 | 2 | 3 | 4 | 5 | 6 | 7 | 8 | 9 | Front | 10 | 11 | 12 | 13 | 14 | 15 | 16 | 17 | 18 | Back |
| --- | --- | --- | --- | --- | --- | --- | --- | --- | --- | --- | --- | --- | --- | --- | --- | --- | --- | --- | --- |
| | | | | | | | | | 31 | | | | | | | | | | 30 |

Team

AJ Pate

Colton Cox

Kason Cox

Jeff Pate

Scores

| 1 | 2 | 3 | 4 | 5 | 6 | 7 | 8 | 9 | Front | 10 | 11 | 12 | 13 | 14 | 15 | 16 | 17 | 18 | Back |
| --- | --- | --- | --- | --- | --- | --- | --- | --- | --- | --- | --- | --- | --- | --- | --- | --- | --- | --- | --- |
| | | | | | | | | | 29 | | | | | | | | | | 32 |

Team

Benjamin Wolk

Kevin Bowman

Reed Dutton

James O'Brian

Scores

| 1 | 2 | 3 | 4 | 5 | 6 | 7 | 8 | 9 | Front | 10 | 11 | 12 | 13 | 14 | 15 | 16 | 17 | 18 | Back |
| --- | --- | --- | --- | --- | --- | --- | --- | --- | --- | --- | --- | --- | --- | --- | --- | --- | --- | --- | --- |
| | | | | | | | | | 32 | | | | | | | | | | 29 |

Team

Sandy Thornton

Nathan Thornton

Chad Blackmon

David Baston

Scores

| 1 | 2 | 3 | 4 | 5 | 6 | 7 | 8 | 9 | Front | 10 | 11 | 12 | 13 | 14 | 15 | 16 | 17 | 18 | Back |
| --- | --- | --- | --- | --- | --- | --- | --- | --- | --- | --- | --- | --- | --- | --- | --- | --- | --- | --- | --- |
| | | | | | | | | | 29 | | | | | | | | | | 32 |

Team

Gannon Fields

Cooper Roland

Peyton Shedd

Connor Wilkie

Scores

| 1 | 2 | 3 | 4 | 5 | 6 | 7 | 8 | 9 | Front | 10 | 11 | 12 | 13 | 14 | 15 | 16 | 17 | 18 | Back |
| --- | --- | --- | --- | --- | --- | --- | --- | --- | --- | --- | --- | --- | --- | --- | --- | --- | --- | --- | --- |
| | | | | | | | | | 31 | | | | | | | | | | 30 |

Team

Joe Westbery

Eric Fisher

Dave Boznak

Chris Fisher

Scores

| 1 | 2 | 3 | 4 | 5 | 6 | 7 | 8 | 9 | Front | 10 | 11 | 12 | 13 | 14 | 15 | 16 | 17 | 18 | Back |
| --- | --- | --- | --- | --- | --- | --- | --- | --- | --- | --- | --- | --- | --- | --- | --- | --- | --- | --- | --- |
| | | | | | | | | | 31 | | | | | | | | | | 31 |

Team

Dale Bennett

Christian Bennett

Morgan Bennett

Jason Lord

Scores

| 1 | 2 | 3 | 4 | 5 | 6 | 7 | 8 | 9 | Front | 10 | 11 | 12 | 13 | 14 | 15 | 16 | 17 | 18 | Back |
| --- | --- | --- | --- | --- | --- | --- | --- | --- | --- | --- | --- | --- | --- | --- | --- | --- | --- | --- | --- |
| | | | | | | | | | 31 | | | | | | | | | | 32 |

Team

Russ Bell

Matthew Bell

Dale Sjeffield

Sean Page

Scores

| 1 | 2 | 3 | 4 | 5 | 6 | 7 | 8 | 9 | Front | 10 | 11 | 12 | 13 | 14 | 15 | 16 | 17 | 18 | Back |
| --- | --- | --- | --- | --- | --- | --- | --- | --- | --- | --- | --- | --- | --- | --- | --- | --- | --- | --- | --- |
| | | | | | | | | | 34 | | | | | | | | | | 32 |

Team

Lando Alexander

Mirko Alexander

Tyler Herrin

Eddie Collins

Scores

| 1 | 2 | 3 | 4 | 5 | 6 | 7 | 8 | 9 | Front | 10 | 11 | 12 | 13 | 14 | 15 | 16 | 17 | 18 | Back |
| --- | --- | --- | --- | --- | --- | --- | --- | --- | --- | --- | --- | --- | --- | --- | --- | --- | --- | --- | --- |
| | | | | | | | | | 35 | | | | | | | | | | 35 |
---
Rules

CONDITIONS OF COMPETITION AND LOCAL RULES

The Rules of the United States Golf Association govern play, as modified by the Tournament Committee. See applicable competition's "Notice to Competitors (Players)" for additional Definitions, Local Rules and Conditions. Complete text of Rules and Appendix I may be found in the current Rules of Golf.

EVENT:
The State Park Cup is a 2-part event to find the best scramble team in Georgia. Each team will sign up at any of the listed courses and participate in the qualifying round. A team may play at more than 1 course but if they can not qualify at two courses or take a qualification spot away from another team. Section tournaments will be flighted after play of the round so that every team has a chance to walk home with something but only the top teams of each Section Event may qualify for the Championship
Each course will host a four-person scramble and the top teams (depending on number of teams entered) will move on to the championship tournament at Arrowhead Pointe Golf Course on Richard B. Russell State Park. This will not be a handicapped event, but all teams are welcome to play. Each team is limited to one pro at most (any Class A PGA Professional).
Information on the championship tournament can be found below

FORMAT:
Each player will tee off and the best shot will be chosen. All players must then hit from the chosen location. The ball may be lifted, cleaned and placed within 1 club length, no nearer to the hole. Ball must remain in original condition (may not be moved from rough to fairway, hazard to rough etc.).
HAZARDS AND OUT OF BOUNDS:
All wooded areas that surround the course will be played as a hazard. If a ball is lost in the hazard you may, under 1-stroke penalty, take a drop within two club-lengths of where the ball entered the hazard no nearer to the hole. Only out of bounds is main road entering facility.
TEES PLAYED:
Men - White Tees (6,200 yards)
Seniors (62 and older) – Black Tees (5,500 yards)
Ladies - Red Tees (5,300 yards)

 

SCORING AND SCORECARDS:
Maximum score for each hole is double bogey. All putts must be holed out.
Please return scorecards to scoring area immediately following play

CHAMPIONSHIP EVENT:
Championship Event will be held at Arrowhead Pointe Golf Course at Richard B. Russell State Park. Each team will arrive on Friday, compete in the event Saturday morning and attend awards banquet after play on Saturday. This event is included in the original entry fee and there is no extra cost to the players.
Championship Timeline:

Friday
10-12:00 – Check-in to cottages. 1 cottage per team
1-3:00 – Practice Round. Schedule tee time with pro shop prior to arriving
7:30 – Championship Dinner.

Saturday
8:00 am – Breakfast at clubhouse
9:00 am – Warm-up and announcements
10:00 am – Shotgun Start
12:00 – Boxed Lunch at the turn
3:00 – Awards Ceremony

Championship Event

Championship Event

Each qualifying event will have at least one tournament winner. If there are more than 12 teams at a qualifying event they will send 2 winners to the Championship Event. The Championship event will be held on the weekend of May 7 2021. The event details are below:

Friday
10-12:00 – Check-in to cottages. 1 cottage per team
1-3:00 – Practice Round. Schedule tee time with pro shop prior to arriving
7:30 – Championship Dinner.

Saturday
8:00 am – Breakfast at clubhouse
9:00 am – Warm-up and announcements
10:00 am – Shotgun Start
12:00 – Boxed Lunch at the turn
3:00 – Awards Ceremony