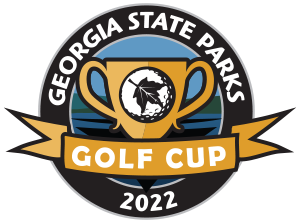 Date: March 5 - May 21, 2022
Event Type: 4-person scramble
Cost: $400 Per Team
Coming this spring, the annual State Park Golf Cup is a 2 part golf tournament being played throughout the Georgia State Park golf courses. The format is a 4-Person Scramble with each team choosing a course they would like to play. Play one or play them all! Choose from 8 courses throughout the state. Each course has a different event date.
Each golf course will host their own separate tournament and crown a champion team. The champion team of each event will qualify for the Championship Event. Lodging is provided for each winning team. The 8 qualifying teams will then play in a two-day Championship Tournament that is detailed Championship Event Tab.
Each course is listed below with the dates of their event. Teams just choose what course they would like to play at and pay online.
---
---

Share your Golf Cup photos with us
---
Event Dates
---
Rules

CONDITIONS OF COMPETITION AND LOCAL RULES

The Rules of the United States Golf Association govern play, as modified by the Tournament Committee. See applicable competition's "Notice to Competitors (Players)" for additional Definitions, Local Rules and Conditions. Complete text of Rules and Appendix I may be found in the current Rules of Golf.

EVENT:
The State Park Cup is a 2-part event to find the best scramble team in Georgia. Each team will sign up at any of the listed courses and participate in the qualifying round. A team may play at more than 1 course but if they can not qualify at two courses or take a qualification spot away from another team. Section tournaments will be flighted after play of the round so that every team has a chance to walk home with something but only the top teams of each Section Event may qualify for the Championship
Each course will host a four-person scramble and the top teams (depending on number of teams entered) will move on to the championship tournament at The Lakes Golf Course - Laura S. Walker State Park. This will not be a handicapped event, but all teams are welcome to play. Each team is limited to one pro at most (any Class A PGA Professional).
Information on the championship tournament can be found below

FORMAT:
Each player will tee off and the best shot will be chosen. All players must then hit from the chosen location. The ball may be lifted, cleaned and placed within 1 club length, no nearer to the hole. Ball must remain in original condition (may not be moved from rough to fairway, hazard to rough etc.).
HAZARDS AND OUT OF BOUNDS:
All wooded areas that surround the course will be played as a hazard. If a ball is lost in the hazard you may, under 1-stroke penalty, take a drop within two club-lengths of where the ball entered the hazard no nearer to the hole. Only out of bounds is main road entering facility.
TEES PLAYED:
Men - White Tees (6,200 yards)
Seniors (62 and older) – Black Tees (5,500 yards)
Ladies - Red Tees (5,300 yards)

 

SCORING AND SCORECARDS:
Maximum score for each hole is double bogey. All putts must be holed out.
Please return scorecards to scoring area immediately following play

CHAMPIONSHIP EVENT:
Championship Event will be held at The Lakes Golf Course at Laura S. Walker. Each team will arrive on Friday, compete in the event Saturday morning and attend awards banquet after play on Saturday. This event is included in the original entry fee and there is no extra cost to the players.
Championship Timeline:

Friday
10-12:00 – Check-in to cottages. 1 cottage per team
1-3:00 – Practice Round. Schedule tee time with pro shop prior to arriving
7:30 – Championship Dinner.

Saturday
8:00 am – Breakfast at clubhouse
9:00 am – Warm-up and announcements
10:00 am – Shotgun Start
12:00 – Boxed Lunch at the turn
3:00 – Awards Ceremony

Championship Event

Championship Event

Each qualifying event will have at least one tournament winner. If there are more than 12 teams at a qualifying event they will send 2 winners to the Championship Event. The Championship event will be held on May 21 2021. The event details are below:

Friday
10-12:00 – Check-in to cottages. 1 cottage per team
1-3:00 – Practice Round. Schedule tee time with pro shop prior to arriving
7:30 – Championship Dinner.

Saturday
8:00 am – Breakfast at clubhouse
9:00 am – Warm-up and announcements
10:00 am – Shotgun Start
12:00 – Boxed Lunch at the turn
3:00 – Awards Ceremony