Challenge yourself to the most beautiful views in the state.
Georgia's Canyon Climbers Club is for those few who have scaled to the top of Amicalola Falls, explored the depths of Providence Canyon, braved the swinging bridge in Tallulah Gorge and mastered the staircase in Cloudland Canyon.
---
Get a Card, Earn a T-Shirt
To join the Canyon Climbers Club, stop by one of four participating state park offices and purchase a $10 membership card, or buy a card online. A healthy dose of enthusiasm and sturdy hiking boots are recommended. Hike all four parks, get your card punched by rangers, and redeem it for a t-shirt and bragging rights. No time limit applies, so hikers can take as long as they wish to visit all four parks.
---

Purchase Canyon Climbers Membership
---
Participating Parks
604 steps one-way
The 729-foot Amicalola Falls is the tallest cascade east of the Mississippi River. A paved, one-mile Base of Falls Trail begins at the bottom and climbs up the mountain while following the water's edge. Overlooks and staircases with more than 600 steps provide excellent views, and thankfully a few benches offer places to rest. Club members must hike this waterfall trail to get their card punched. Amicalola Falls State Park is near Dawsonville in the middle of north Georgia. Overnight accommodations include a mountain-top lodge, rental cottages and campground.
1200 steps both ways
On the edge of Lookout Mountain in northwest Georgia sits Cloudland Canyon State Park. The rugged gorge has more than six miles of hiking trails, including the one-mile Waterfalls Trail with a 600-step staircase. During very dry summers, the park's two waterfalls can shrink to a trickle, yet the rugged scenery of this park remains some of the best in the state. Club members must hike down the Waterfalls Trail, and back up of course, to get their card punched.
1.5 miles both ways (~2500 steps)
One of Georgia's most photographed landscapes is Providence Canyon State Park in the southwest. The beautiful multi-hued soil of these canyons was originally exposed after farmers used poor erosion control during the 1800s. Today, the area is a protected state park with 10 miles of trails and backpacking sites. A surprising feature of the park is the perpetually wet canyon floor. The exposed water table creates a pretty pattern in the sand, called a "braided stream." Club members need to hike the loop trail, with a side trip into scenic canyon 5, to complete their 1.5-mile quest. Because the park's visitor center is now closed, membership cards are punched at Florence Marina State Park, a short drive away.
620 steps both ways
Tallulah Gorge State Park in northeast Georgia is one of the most spectacular canyons in the South. The 1,000-foot-deep gorge was crossed twice by high wire acrobats—Professor Leon in 1886 and Karl Wallenda in 1970. Today, visitors can hike from one side to the other via a suspension bridge swaying 80 feet from the bottom. The staircases leading to the bridge include 310 steps from the north rim and 340 from the south rim—quite a workout for visitors who complete the whole journey. However, Canyon Climbers Club members need walk only up and down from the north rim's overlook 2.
---
When you have completed all 4 parks, send your card to: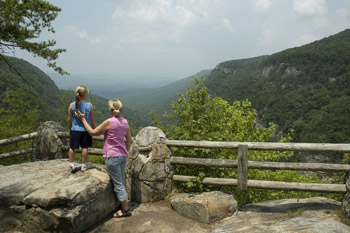 Marketing Coordinator
Georgia State Parks & Historic Sites
2600 Highway 155 SW
Stockbridge, GA 30281
Your card will be returned along with your new t-shirt.