Break out your bicycle, helmet & stain-busting detergent.
Georgia's Muddy Spokes Club challenges mountain bikers and casual cyclists to tackle 11 state parks and 68 miles of trails. The club is designed to get Georgians outside and moving, encouraging them to think of state parks as places to exercise while enjoying beautiful scenery.
---
Get a Card, Earn a T-Shirt
To join the Muddy Spokes Club, stop by one of 11 participating state park offices and purchase a $10 membership card, or buy a card online. Then, visit the 11 state parks in the Muddy Spokes Club and ride the designated bicycle trail at each—for a total of 68 miles. Some trails are fairly easy, some are moderate and some are strenuous and will give you a challenge. Be sure you are in good health, wear safety gear and take plenty of water along. By law, bicycle helmets are required for anyone under age 16 but it's a good idea for everyone to wear a helmet.
---

Purchase Muddy Spokes Membership
---
Participating Parks
Easiest Trails
Rockdale River Trail
12 miles, Paved, 50 feet elevation change
The Rockdale River/Arabia Mountain PATH Trail is rated easy due to being paved, but the trail has numerous long inclines. Riders often see wildlife such as deer and turkey. The trail begins at two fishing lakes and ends near Stonecrest Mall.
The Trooper Trail
3 mile loop
This park has beautiful scenery and the trail is open to both hikers and bikers. It begins near a freshwater spring and passes a wetland overlook. Watch for wildlife such as wading birds and alligators.
Moderate Trails
Iron Hill Trail
3.9 mile loop, Gravel surface, 65 feet elevation change
Winter is a good time to ride this trail since leaves do not obstruct views of the lake and rock outcrops. The trail is 10 feet wide and has a gravel base. It passes an open iron mine, core wash station, a tailings feature, and the shoreline of Allatoona Lake. There are many different native plants and wildlife to be viewed along the way.
Biking Trail
3.3 miles, Gravel surface, 100 feet elevation change
Perimeter Trail
4.1 miles, 50 feet elevation change
The trail is very wide and passes an observation tower where riders can take a break and look for wildlife in the park's food plot.
Hiking & Biking Trail
5 miles, 3 loops, 100 feet elevation change
This trail is easy to moderate, with just a few winding sections and some rocks to negotiate. A few sections are hilly. All sections go through heavily wooded terrain, and one portion follows the river (but no wet stream crossings). The trail has been described by serious mountain bikers as a good "training" trail suitable for families with mountain bikes (not coaster bikes). You will need to go to Victoria Bryant State Park to get your card stamped.
Difficult Trails
Gold Mine Loop
6.3 miles, 300 feet elevation change
Permit required from park office
A favorite with some SORBA members, this park has very challenging mountain bike trails with spectacular scenery. Much of the trail is single track.
Outer Loop Trail
12 mile loop, 150 feet elevation change
This trail is single track and passes an old home site and combine now surrounded by woods. Experienced riders would call it moderate, but the general public would find it difficult (mostly due to distance). Depending on the day of the week, riders take alternating directions, giving them either a gas line climb or a gas line descent. In this steep section, riders either go really fast downhill or struggle climbing up it.
Rock Dam Trail
6.25 mile loop, 100 feet elevation change
For stream crossings without bridges, gullies and rocky terrain make this a more challenging ride. The trail is mostly wooded, with some views of Clarks Hill Lake. Benches are provided for rest stops. Bikers should call the park after heavy rain to confirm trail conditions.
High Bluff Trail
3 mile loop, 150 feet elevation change
Permit required from park office
The High Bluff Trail is only 3 miles (from the parking lot and back); the loop itself is 1.5 miles. The trail is moderately difficult, tight singletrack. There is a stream crossing and some rock gardens to work your way through; however, it does not take riders to view the gorge. The trail is open to both hikers and bikers. Though the loop isn't long, it's a great ride for the singletrack lover.
Mountain Bike Trail
7.5 mile loop, 325 feet elevation change
This exclusive mountain biking trail takes riders over mountainous terrain and over ridges with scenic overlooks. This trail, which is intended for experienced riders, has been used for several national and regional mountain biking racing events. It is marked with a white blaze and is intended to be ridden counter clockwise. The trail loops into a "figure 8" with half the trail on the "Unicoi side" of Smith Creek and the other half on the "Helen side" of Smith Creek. Riders may choose to ride the full 8 miles or can take an early exit and ride only the first half. Trailhead located at the Angler/Mt. Biking parking area.
---
When you have completed all 11 parks, send your card to: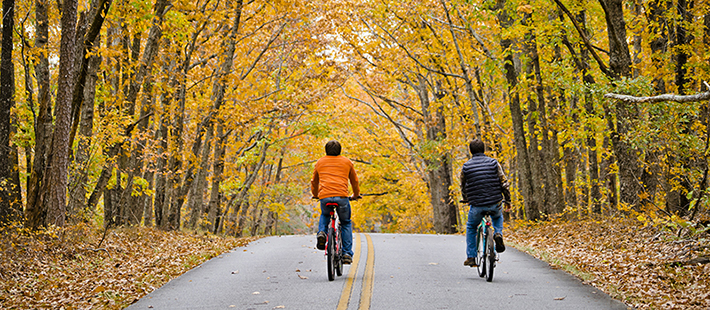 Marketing Coordinator
Georgia State Parks & Historic Sites
2600 Highway 155 SW
Stockbridge, GA 30281
Your card will be returned along with your new t-shirt.