Thanks for Leaf Watching with Us!
December, 2 Wrap-up --
What started as a less-than-inspiring leaf season turned into a late-season kaleidoscope of color. Fall foliage was beautiful during late November, especially maples on southern slopes. Now that trees are mostly bare, photographers and hikers can better see unique tree shapes, streams and wildlife. Thank you to everyone who visited and shared photos on Facebook and Instagram. We love seeing you enjoy Georgia's State Parks and Historic Sites. Insider tip: Cabins and campsites are usually booked far in advance, and reservations are site-specific. If you want to visit on a fall weekend in 2020, reserve your spot now. You'll be glad you did!
#GaLeafWatch @GaStateParks
Fall foliage map on smokeymountains.com
Georgia Forestry Commission Fall Updates

---
2019 Photo Gallery
---
2018 Photo Gallery
---
Top 10 Georgia State Parks for Fall Color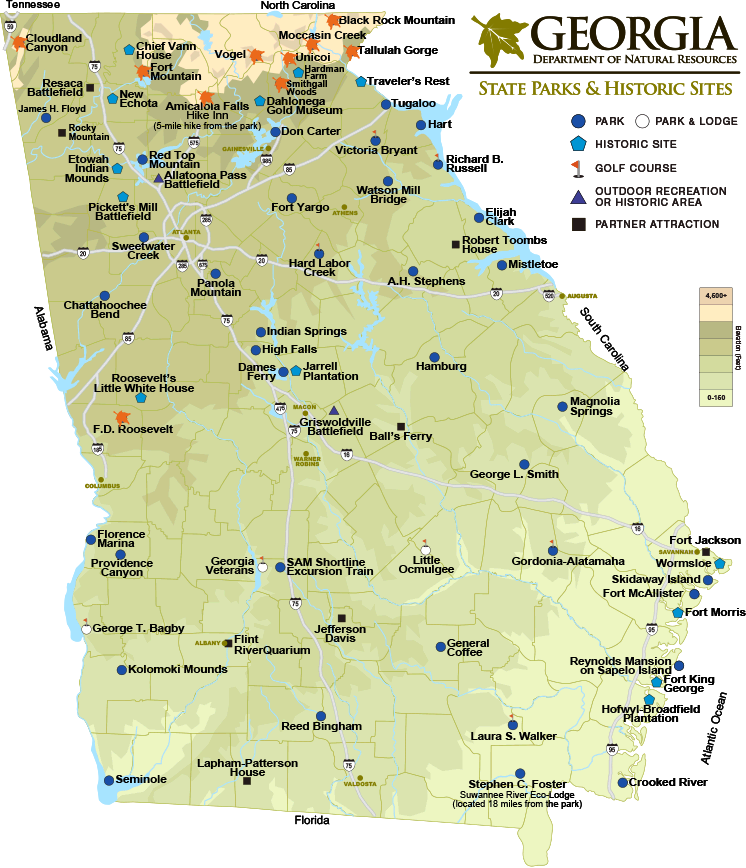 Just an hour north of Atlanta you'll find the Southeast's tallest cascading waterfall. A short, flat path leads to a boardwalk offering the most spectacular views. There's also an easy-to-reach overlook at the top. For a tougher challenge, start from the bottom of the falls and hike up the steep staircase.
At an altitude of 3,640 feet, Black Rock Mountain is Georgia's highest state park. (Brasstown Bald is the state's highest peak.) Roadside overlooks and the summit Visitor Center offer sweeping views of the Blue Ridge Mountains. The 2.2-mile Tennessee Rock Trail is a good choice for a short, moderate hike. For an all-day challenge, take the 7.2-mile James E. Edmonds Backcountry Trail.
One of Georgia's most beautiful parks offers easy-to-reach rim overlooks and challenging trails. A favorite hike takes you down a staircase to the bottom of the canyon, where you'll find two waterfalls. (Remember, you have to hike back up, but it's worth it.) The 5-mile West Rim Loop is moderately difficult and offers great views of the canyon.
Many people are surprised to find hardwood forests and rolling mountains south of Atlanta. The 6.7-mile Wolf Den Loop is a favorite section of the longer Pine Mountain Trail. For a touch of history, drive to Dowdell's Knob to see a life-size bronze sculpture of President F.D. Roosevelt and views of the forested valley. Ga. Hwy. 190 is a pretty driving route.
This park is best known for a mysterious rock wall along the mountain top, plus a variety of trails. For the easiest walk, take the 1.2-mile loop around the park's green lake. For a challenging, all-day hike, choose the 8-mile Gahuti Trail. Mountain bikers have more than 14 miles to explore. Hwy. 52 has beautiful mountain scenery and overlooks worth stopping to see.
Georgia's smallest state park sits on the shore of a gorgeous deep-green lake. Guests can choose from the 2-mile Hemlock Falls Trail or 1-mile Non-Game Trail with a wildlife observation tower. Hwy. 197 is a particularly pretty road, passing Mark of the Potter and other popular attractions.
Protecting more than 6,000 acres around Dukes Creek, this is the perfect spot for fly fishing while enjoying fall color. Day visitors can picnic near the creek, and overnight guests can hike a private trail to Dukes Creek Falls. A 1.6-mile loop climbs to Laurel Ridge and provides a view of Mt. Yonah once most leaves are off the trees. Smithgall Woods has some of the park system's most sought-after cabins and is near wineries and Helen's Oktoberfest.
Tallulah Gorge is one of the most spectacular canyons in the Southeast, and you can choose from easy or difficult trails. Hike along the rim to several overlooks with waterfall views, or get a permit from the park office to trek all the way to the bottom. During November, you can watch expert kayakers as they enjoy the bi-annual "whitewater releases."
New ziplines take you high above the forest canopy for a unique view of leaves. If you're up for a steep hike, take the 4.8-mile Smith Creek Trail up to Anna Ruby Falls. Unicoi offers a lodge and restaurant.
The 4-mile Bear Hair Gap Trail makes a nice day trip for experienced hikers, offering a birds-eye view of the park's lake. For an easier walk, follow the Lake Loop to a small waterfall below the dam. The twisting roads around Vogel, particularly Wolf Pen Gap Road, offer some of north Georgia's prettiest fall scenery.
---
"Hidden Gems" for Fall Color
More than 15 miles of trails wind through this forested park, providing beautiful views of Lake Allatoona and the surrounding forest. The 4-mile Iron Hill Trail is open to both hikers and bikers, and its wide path is fairly easy for smaller children.
This quiet park in northwest Georgia has five miles of hiking trails, plus access to the 60-mile Pinhoti Trail. The moderately easy Marble Mine Trail follows an old road to a 35-foot waterfall adjacent to an old mine opening (now closed).
Located just minutes from I-85 in north Georgia, this little known gem has eight miles of hiking trails, a pretty stream and small fishing ponds. Tent campers will like the wooden platforms surrounded by hardwood forest. Golfers can tee off surrounded by fall color on the park's 18-hole Highland Walk Golf Course.
A wooded trail follows the stream to the ruins of a textile mill burned during the Civil War. Beyond the mill, the trail climbs rocky bluffs to provide views of the beautiful rapids below. Additional trails wind through forest, fields and along the creek.