Georgia State Parks and Historic Sites is celebrating its 90th anniversary this year. After reorganizing the State Board of Forestry in 1931, Georgia State Parks Division was born with two parks to its name: Indian Springs and Vogel. Over the next 90 years the division grew substantially in size adding many more parks and historic sites. Its mission has remained similar throughout the years: to protect Georgia's natural beauty and historic integrity while providing opportunities for public enjoyment and education.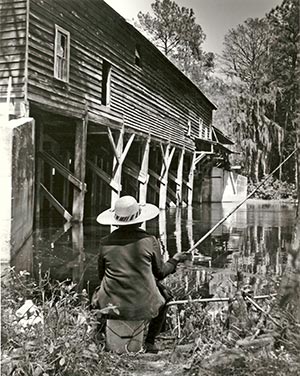 George L. Smith State Park ca. 1970s
To fully understand its creation, readers must look back to the late 19th century and the dawn of the American National Parks. In 1872, Congress established Yellowstone as the first national park. A few years later President Theodore Roosevelt was elected. He said, "We have fallen heirs to the most glorious heritage a people ever received, and each one must do his part if we wish to show that the nation is worthy of its good fortune." Roosevelt was an avid outdoorsman and conservationist, and by the end of his presidency in 1909 he had placed 230 million acres under federal protection. But now, what to do with all that protected land? The National Park Service (NPS) was established in 1916 to organize these separate areas into one organization. But even with this new governmental sector, people were clamoring for more areas to enjoy public recreation. After the creation of the NPS, it seemed inevitable and necessary that states would start to designate their own land for conservation. NPS Director Stephen Mather asked states to help alleviate the pressure of so many citizens visiting the National Parks.
In 1921, delegates from six states met to discuss the creation of State Parks at the National Conference of State Parks. By the next year's conference, interest had increased, and over 30 states sent delegates. President Warren Harding attended and highlighted that the state park movement was, "…a direct result of widespread automobile travel, focusing the need of early preservation of scenic places to provide camping and recreation areas for motorists." With the introduction and expansion of the automobile, every state now had plenty of quiet and beautiful vacation spots. These previously distant and remote state forest lands were suddenly accessible to hike, fish, and camp.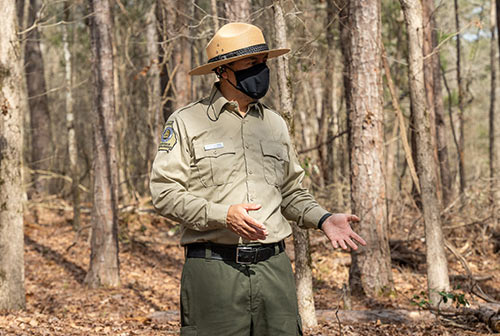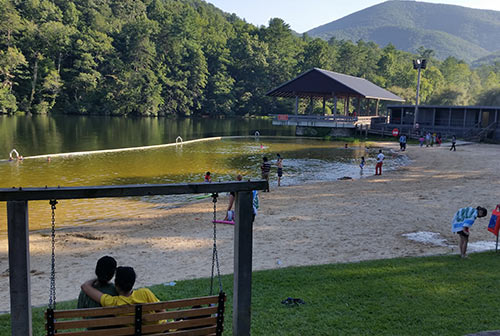 Left: Interpretive Ranger David Guzman at Hard Labor Creek State Park taught a popular survival skills class in the winter of 2020. Right: Vogel State Park and Indian Springs State Park were the first two Georgia State Parks.
After the State Parks Division was formed in 1931, many other parks were founded and designated within the division. But these state parks were not accessible for everyone. For several decades Georgia operated traditional state parks which catered to whites while African Americans were relegated to segregated parks located around the state. These "State Parks for Negroes" as they were known included George Washington Carver State Park in Acworth, Yam Grande State Park near Swainsboro, Lincoln State Park near Millen, and a section of Georgia Veterans State Park near Cordele. While they did provide areas for African Americans to recreate, the equipment, facilities and buildings were not held to the same standard as the "White Only" parks. During the Civil Rights Era the laws promulgating segregation of public facilities such as state parks were challenged in courts. Community activism also shed light on the inherently unequal segregated parks. Ultimately, after several difficult years, the state park system was integrated, and the segregated parks were either closed, turned over to local recreation departments, or absorbed into other state parks.
Today, the Georgia State Parks and Historic Sites Division provides access to all people and state parks have proven vital for the health of all Georgians. Never has this been truer than since the coming of the COVID-19 pandemic in 2020.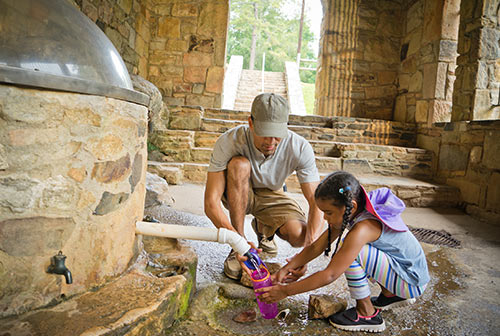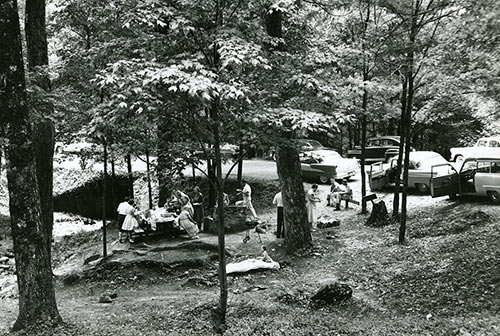 Left: Indian Springs State Park collecting spring water. Right: Amicalola Falls State Park ca. 1950.
During the COVID-19 pandemic, Georgia State Parks and Historic Sites remained open to give Georgians a place to recreate when the world was turned upside down. In 2020 Georgia State Parks and Historic Sites saw record breaking attendance with 11.8 million people visiting, an increase of half-million people from 2019. The always popular parks such as Sweetwater Creek, Cloudland Canyon and Tallulah Gorge had to limit access every weekend. Even historically less-visited sites like James H. Floyd and Don Carter also had to limit entrance after so many visitors came to their sites. Boat ramps, trails, and parking lots overflowed with people looking to get outside their homes. This was both a challenge and a privilege. Throughout the pandemic, the staff and visitors remained committed to making the experience as safe as possible.
Looking forward, how can Georgia State Parks and Historic Sites be better for everyone? It starts with staying committed to our mission, providing a place for people to connect with the outdoors, protecting and conserving our precious natural and cultural resources, and engaging visitors with recreational programs away from screen time. The Georgia State Parks and Historic Sites Division is thankful for the support of Georgians who continue to visit the 84,871 acres of protected state park land, as it looks forward to another 90 years.