Georgia's state wildflower, the azalea, enhances many a yard in July and August. The spectacular colors of the state's native species are on display at many locations managed by the Georgia Department of Natural Resources' State Parks and Historic Sites Division.
Azalea flowers come in an array of dazzling shades, ranging from white and yellow to scarlet and crimson and various hues in between. Azaleas, which belong to the rhododendron family, can grow up to 20 feet in height and sport a wide variety of petal shapes, from star-like to round.
Georgia designated the azalea the state wildflower in 1979, noting it is "considered by many to be the most beautiful of indigenous shrubs." No one species was named because many varieties occur naturally in every county of the state.
One Georgia native azalea of note is the rare plumleaf azalea, whose natural range is limited to southwest Georgia and eastern Alabama. The bright orange blooms of this threatened plant can be enjoyed in July and August along the trails at F.D. Roosevelt and Providence Canyon state parks.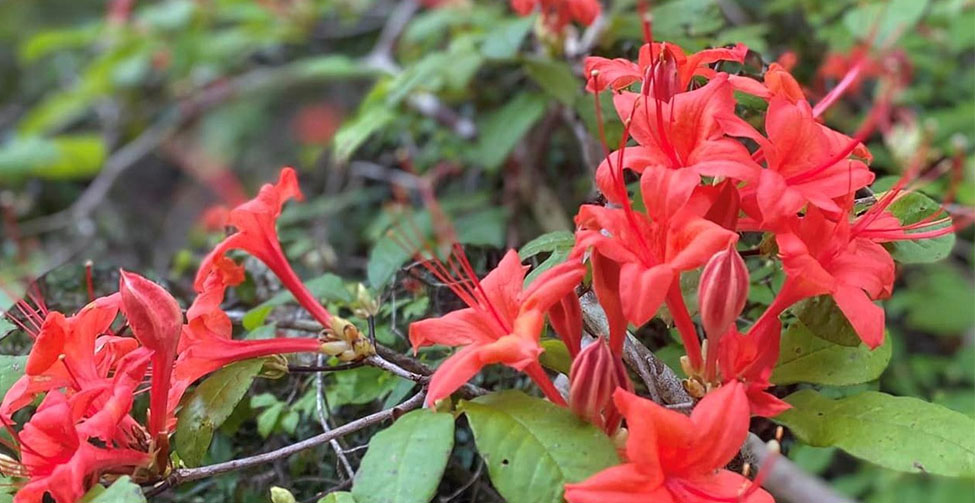 The rare plumleaf azalea blooms in July and August and can be seen at Providence Canyon State Park in southwest Georgia.
Providence Canyon near Lumpkin – known as Georgia's "Little Grand Canyon" – is a particularly scenic site to take in the plumleaf azalea and is home to the largest population of wild plumleafs in the world. The park attracts rhododendron fans from far and wide when the azaleas are blooming.
The plumleaf is also the showcase azalea at Callaway Gardens in Pine Mountain.
The plumleaf is not the only vulnerable native azalea in Georgia. Others include the Florida flame azalea, found in the southwestern part of the state like the plumleaf, and the Oconee azalea of the lower Piedmont and upper Coastal Plain.
Georgia's state parks provide a safe haven for many plant and animal species, from the state wildflower to the state reptile: the deep-digging gopher tortoise. While parks offer public access to many unique species, it is illegal to remove any plant or animal from a state park.
The State Parks and Historic Sites Division continues working to protect the state's natural beauty and historic integrity while providing opportunities for public enjoyment and education.