Georgia's State Parks and Historic Sites are home to many unique plant species, none more so than the carnivorous pitcher plant. These unusual plants, found in moist boggy areas, sport funnel- or tube-shaped leaves that ensnare insects, which the plants digest as a source of nutrients.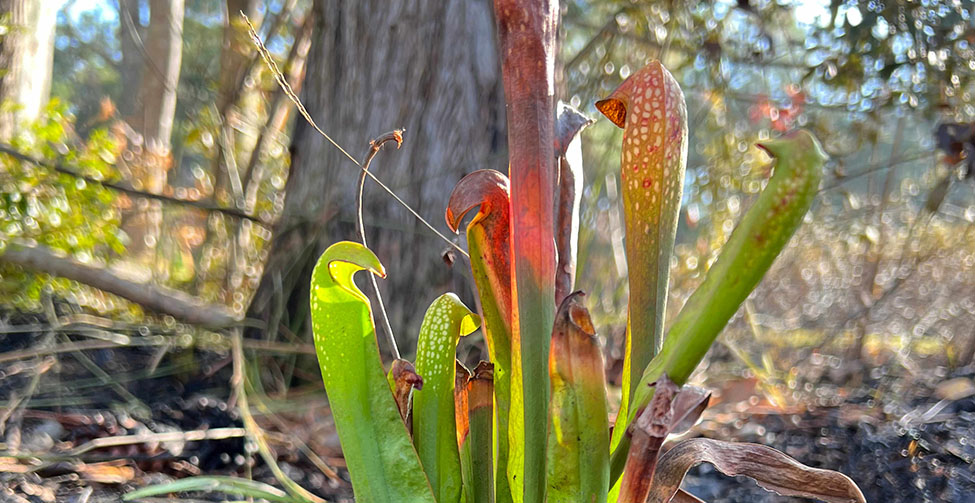 Hooded Pitcher Plant
While bugs fall prey to pitcher plants, the plants themselves can fall prey to poachers and especially habitat destruction. Seven species of pitcher plants live in Georgia, mainly on the Coastal Plain. All are protected and some are listed as threatened or endangered.
While these plants certainly grow outside state park boundaries, they find sanctuary within the parks, on lands managed by the State Parks and Historic Sites Division of the Georgia Department of Natural Resources (DNR). State parks provide the public an opportunity to view this most special of plant species and enjoy the many amenities Georgia's state parks offer, including well-appointed cabins and cottages for overnight stays, as well as miles of hiking trails, camping areas, and fishing and boating options to name just a few.
The division works to protect pitcher plants and other native species by restoring their natural habitats. One such effort involved transplanting more than 50 pitcher plants rescued by Georgia botanist Timothy Estep from a site under construction in Glynn County last October.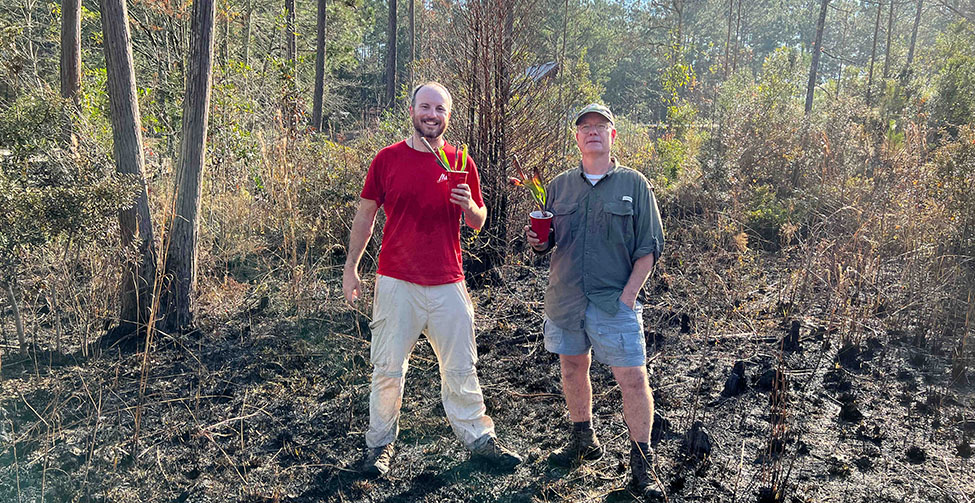 Timothy Estep, George Hamilton
Estep, who noticed the likely doomed plants from the road, reached out to the property owner and received permission to collect some of the pitcher plants. Estep then contacted the State Parks Division, and with help from the division's Southern Resource Manager Braxton Barden and Senior Botanist Lisa Kruse, the lucky plants found new homes at Wormsloe Historic Site near Savannah, General Coffee State Park near Douglas, and Laura S. Walker State Park near Waycross.
For Estep, his position as a GIS Technician with the local government in Glynn County allows him to pursue his passion: working to protect and study the plants in the woods where he grew up, and in this case, the hooded pitcher plant.
"Locally, a dense population of these plants was planned for destruction by construction. I took action, followed regulations, and rescued some of these plants," Estep says. "I didn't do this alone. I had help from other people passionate about preventing species loss in the state, Lisa Kruse and Braxton Barden of the Georgia Department of Natural Resources. Together, they had a plan in place that quickly and efficiently made this entire (transplant) process happen in two months. Without their help, going the extra mile, this project would not have occurred."
The transplant project was but one initiative by the division to manage habitat to conserve the state's native flora and fauna. With pitcher plants, the division also employs prescribed fire to maintain their habitat. One example is a burn at General Coffee last December in an area where the bug-eating plants are easily accessible for public viewing and education efforts.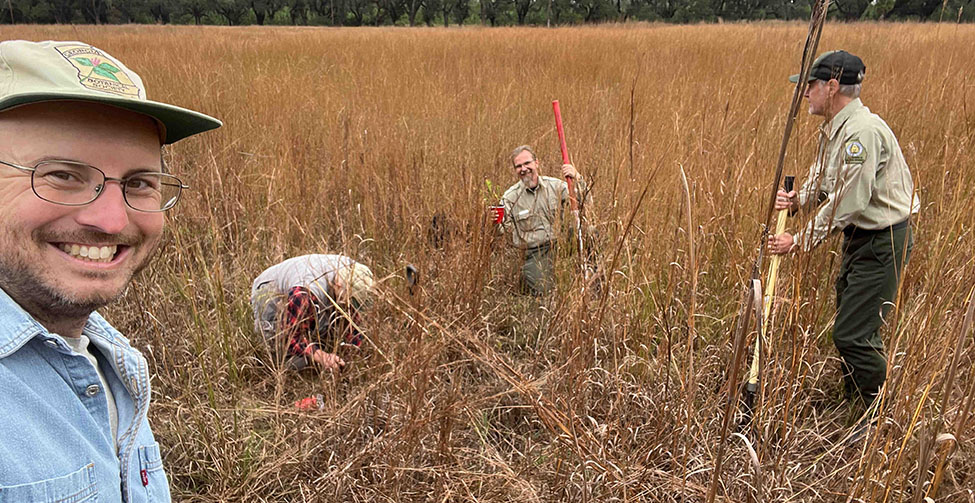 Timothy Estep, Dr. Bob, Braxton Barden, William Stewart
Two species of pitcher plants at General Coffee are listed as a conservation priority under the State Wildlife Action Plan (SWAP) of which the DNR is a partner. The SWAP is a statewide strategy to conserve populations of Georgia's native wildlife species and the habitats they depend on.
Prescribed burns are critical – especially in Georgia's Coastal Plain – to restore the natural environment. Burns benefit not only pitcher plants, but other species of plants and animals like longleaf pines and gopher tortoises whose habitats depend on naturally caused fires such as a lightning strike. But natural fires have become rare due to modern fire-prevention methods, thus the need for prescribed burns. Such burns also help eliminate invasive, non-native plant species that encroach on habitat for native plants and animals.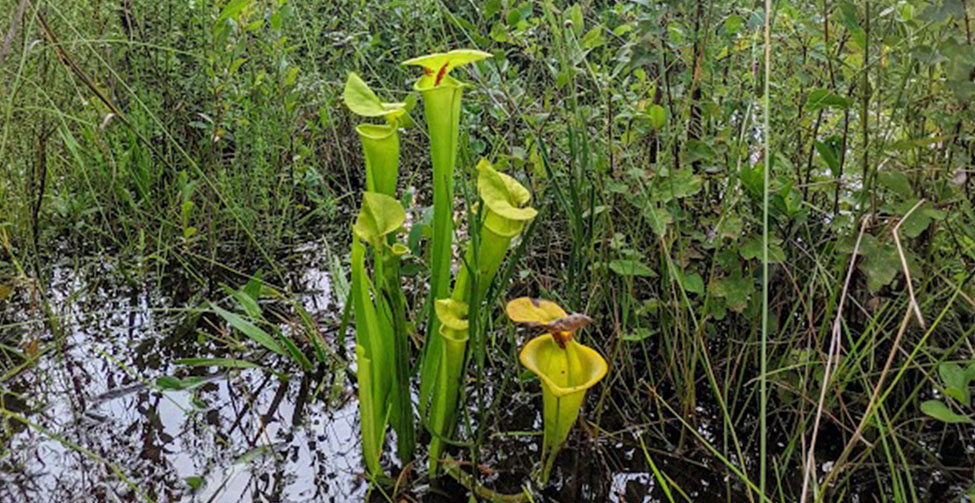 Yellow Flytrap
As part of the DNR's ongoing initiatives to restore natural environments, the division's Southern Resource Manager recently led a prescribed burn at Laura S. Walker State Park, in part to benefit a pitcher-plant bog.
Be it pitcher plants or any other number of Georgia's native wildlife species, the DNR's State Parks and Historic Sites Division works to protect our state's natural beauty and historic integrity while providing opportunities for public enjoyment and education - a mission particularly important to botanist Estep and the rescued pitcher plants.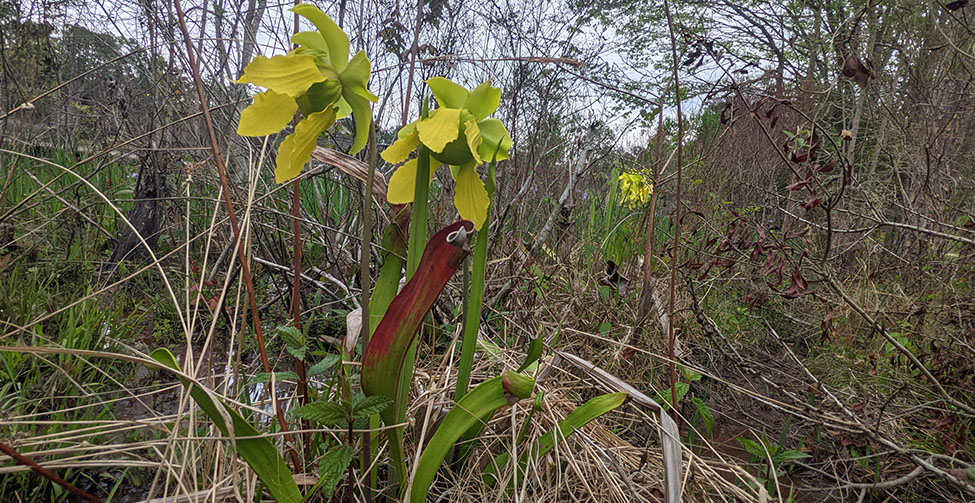 Yellow Flytrap Flowers
"I am confident many of the plants will take to their new home," he says. "I look forward to visiting them in a year."
Learn more about Georgia's biodiversity