Fall is almost here and that means it's time once again for Georgia to show its colors! Bask in the glow of the maples, sourwoods, dogwoods, poplars, hickories, and sweetgums as they bid farewell to the warmth of summer and prepare for the cold months ahead. We've put together a list of some of the best places around Georgia to take in all that autumn has to offer.
---
Cloudland Canyon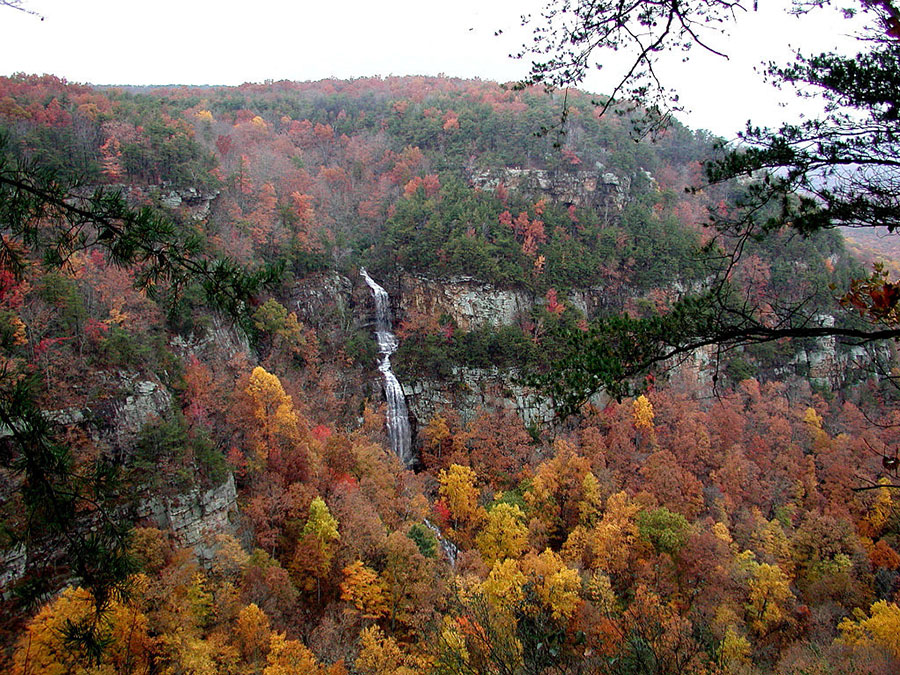 The first Park on our list will come as no surprise to anyone that's been before. With its rugged geography, dense woodland, and panoramic views, Cloudland Canyon State Park is a beloved travel destination for hikers and photographers. Two of Georgia's Top 5 Hiking Trails (Waterfalls Trail & West Rim Trail) can be found here. Waterfalls Trail is the shorter of the two but includes a steep descent down 600 stairs (remember, you'll have to go back up as well)! Dogs on leash are allowed on all park trails but the metal grated steps can make the staircase extremely difficult for your four-legged friends to navigate. If you're looking to add some action to your hike try out the 18-hole, 4.3 star-rated disc golf course that winds through the forest. Discs are available to rent at the visitor's center but don't lose them under all the falling leaves! Other fun activities include biking, horseback riding, and fishing. And free, high mobility all-terrain track wheelchairs make Cloudland Canyon's beauty accessible for all. Once night falls pitch a tent at one of the newly renovated campsites or check in to one of the 16 cottages or 10 yurts on property. Just be sure to check ahead of time for availability and reservations.
---
George L. Smith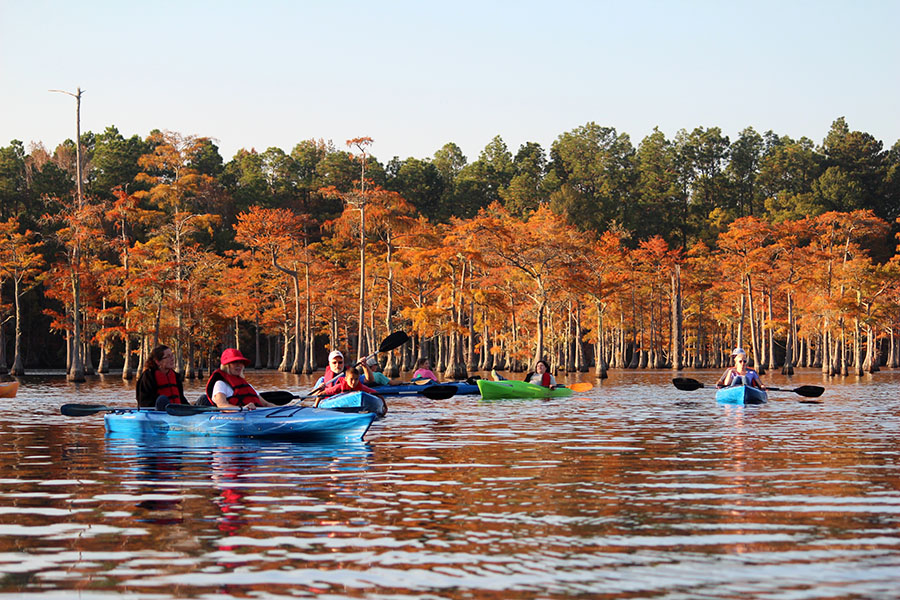 Next on the list is a Park that might surprise you. While George L. Smith State Park is well south of the Blue Ridge Mountains, it still has its own colorful display to share every fall. The tupelo trees found there turn to a rich red and the water-logged cypress trees turn to a brilliant orange. Blue Heron and White Ibis wade the shoreline and beavers stay hard at work building dams. You might even spot a Gopher Tortoise, Georgia's state reptile! Mill pond also has beautiful man-made features to admire. Historic mills, a dam built in 1880, and a covered bridge stand along the banks. All this beauty can be enjoyed by boat, or if you'd rather stay on dry land there are 7 miles worth of biking and hiking trails. For overnight stays there are 8 cottages on property as well as an abundance of campsites available. Make sure you have reservations ahead of time because spots fill up quick.
---
Amicalola Falls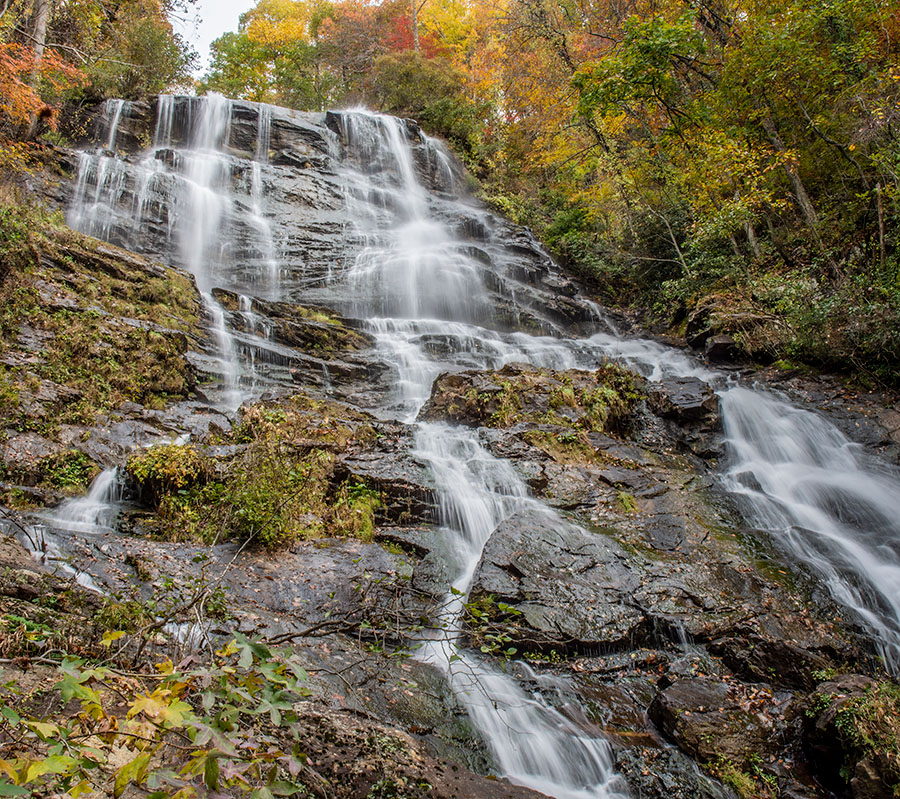 For the next park we're headed back up north. Amicalola Falls State Park sits at the base of the Appalachian Mountain range and is also in the Chattahoochee National Forest. Its namesake, the 729 ft waterfall, is at its most stunning when flanked by the fiery colors of fall. In addition to the abundant hiking trails (and yes there are stairs!) there are also ziplines in the park that provide an up-close look at the transformed canopy of the forest. Archery, hatchet-throwing, fishing, and GPS scavenger hunts are sure to keep the entire family entertained. And for those looking to spend the whole day out in the forest, the eight-mile-long Approach Trail will take you all the way from the park to the southern terminus of the famous Appalachian Trail: Springer Mountain. Overnight accommodations include 14 cabins, 24 campsites, and a beautiful lodge with 57 rooms that all offer breathtaking views of the surrounding wilderness.
---
Fort Mountain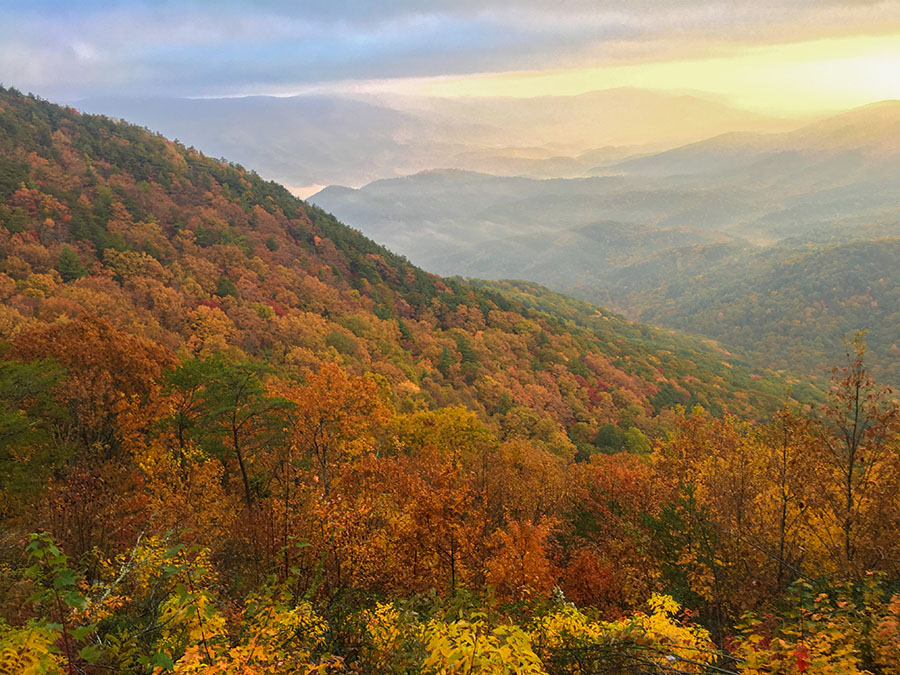 A little further on up is Fort Mountain State Park. Nestled in the southwestern end of the Cohutta Mountains, this park is a must-see destination for hikers, photographers, and history buffs alike. With over 25 miles of horseback trails, 14 miles of mountain biking trails and 10 miles of hiking trails to see, you'll be hard-pressed to experience it all in just one trip! The view in the photo above can be found on the popular Gahuti Trail, an 8.7-mile loop with backcountry campsites for overnight stays. At the top of the mountain you'll find a 38-foot-tall, stone fire tower that was originally built by the Civilian Conservation Corps back in 1935. The tower features a newly renovated top and stairs, along with a uniquely shaped stone that is hidden in the structure.  Close by is an even older, more mysterious structure. Remnants of an 855-foot-long ancient rock wall, believed to have been built by a tribe of Native Americans, are preserved at the top of the mountain. To this day no one is sure of the wall's exact purpose. The beautiful fall foliage provides a perfect backdrop for pondering this mystery and reflecting on the achievements of the past. There are plenty of cottages (15) and campsites (70+) for extending your stay but you'd better book it soon, fall reservations fill up fast at Fort Mountain.
---
Black Rock Mountain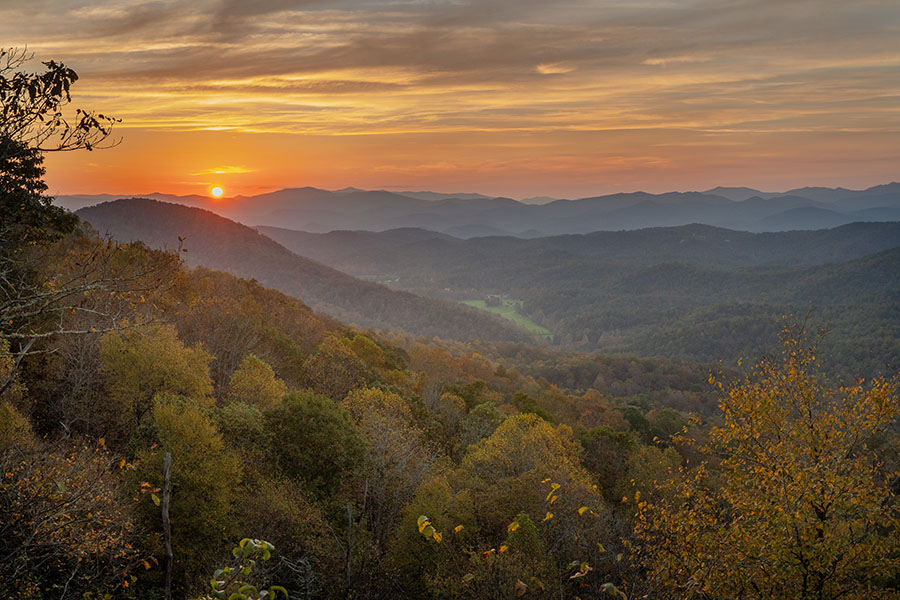 Rounding out the list is Georgia's northernmost park: Black Rock Mountain. The mountain reaches an altitude of 3,640 feet at its summit and features roadside overlooks along the ascent that provide spectacular views of the surrounding forest. You'll also find newly renovated cottages at the top, along with 50+ campsites. You'll definitely want to stay overnight with all there is to see here. 4 hiking trails of varying length and difficulty will lead you past streams, small waterfalls, and wildflowers as the freshly fallen leaves crunch beneath your feet. There's also a geocache to find along the way, just keep an eye out for black bears while you're searching! The 17-acre lake lends itself to fishing, paddling/boating, and picnicking before it gets too cold in the winter. And did I mention photography? Between the sprawling Appalachian Mountains and seemingly endless sea of leaves, you're sure to get that perfect fall photo to share with your friends!
While we tried our best to compile the highlights on this short list, it barely scratches the surface of all that Georgia has to offer. Poke around a little on our website and social media, you'll see what we mean. But even better than seeing through pictures, is seeing for yourself! Get out to one of our 66 parks and historic sites this fall and be sure to share your experiences with us by using #gastateparks. And keep an eye out for Leaf Watch 2023, coming soon…