Being a park ranger is not just a job, it's a lifestyle. They are tasked with caring for Georgia's public lands, ensuring visitors have a great time and feel safe. The days are filled with a wide range of duties. A ranger might balance budgets in the morning, mow lawns in the afternoon, conduct a box turtle program in the evening, and fix a fire alarm in the middle of the night. How do these park ranger moms handle all these responsibilities all while raising their children? It starts with good priorities.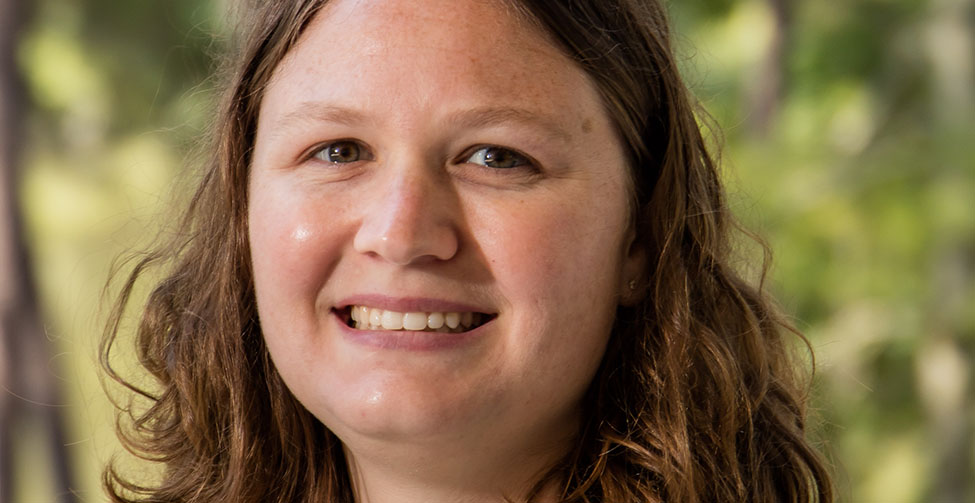 Jamie Madden
Jamie Madden is the Park Manager at Red Top Mountain State Park on the shores of Lake Allatoona in Cartersville, Georgia. She's been working for Georgia State Parks and Historic Sites for 10 years. She had her son Gene two years ago.
"There's always something to be done, but there will be another day," says Madden. "At 5 o'clock it's time to go home and be 'Mom' not 'Park Ranger'. Since having Gene, I have been able to prioritize my family more because I want to spend time with him and my husband Michael at the end of the day."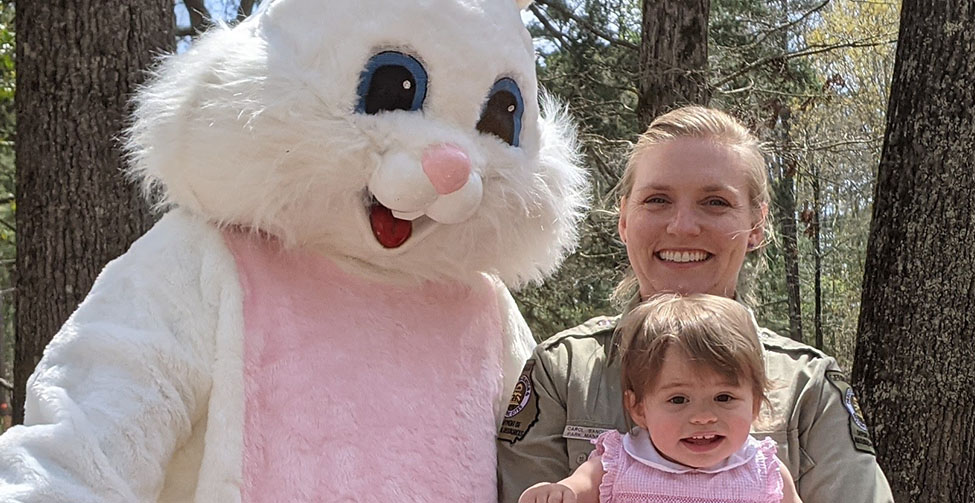 Carol Sanchez
Trails, playgrounds, and lakes stocked with fish surround their homes. Carol Sanchez, Park Manager of Hard Labor Creek State Park, enjoys how close her family lives to the activities offered on the park.
"Not many other people can get to the lake in seven minutes, so on a Tuesday afternoon we might be the only family there," says Sanchez. She and her husband Marshall have a daughter Rosalie (2 ½) and son Elliott (3 mos.). "Rosalie likes to swim at the lake with baby floaters on. She'll also run on the playground and run around the mini-golf course. It's right outside our house."
How many people have a mini-golf course and a playground just steps away from their home?
"He'll see deer in the backyard and hear coyotes at night and thinks it's cool," says Madden.  "Gene likes to come to the visitor center with me. He loves stuffed animals and every time I take him into the gift shop he tries to convince me to buy one for him."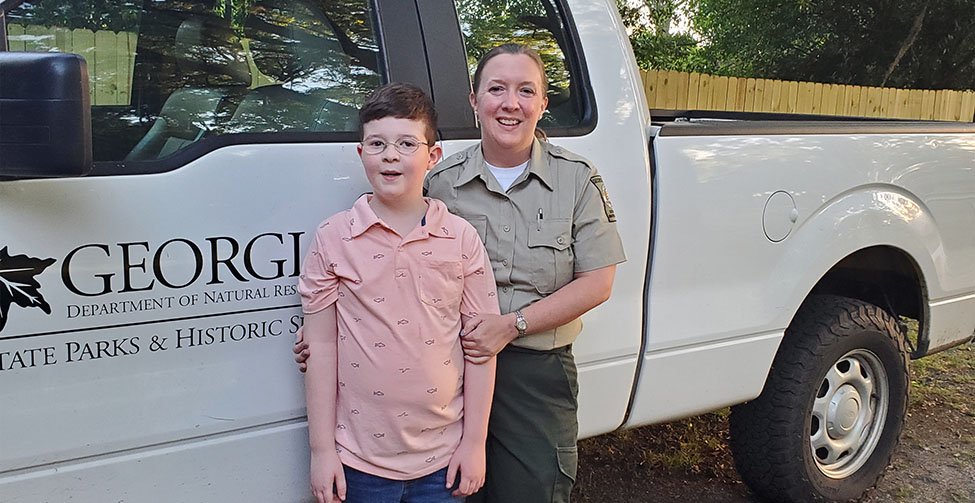 Alison Powell
Georgia State Parks and Historic Sites also consistently host unique programs and events. Alison Powell, Assistant Manager of Florence Marina State Park, takes her son Victor (9) to the Halloween Celebration on the park every year.
"It's fun!" says Powell, "There's a haunted hayride on our trails, games and trick or treating." Throughout the year, Victor fishes and loves to ride boats on the lake. She says he doesn't catch much, but Victor will tell you otherwise. "He loves the park as much as I do. It's all he's ever known. He says he wants to be a park ranger when he grows up."
Getting pulled away from the fun can be tough on these moms. Just because the office closes at 5:00 p.m. doesn't mean the park is closed. Park Rangers conduct rounds in the evening to patrol the park and help overnight guests. The kids of park rangers know that when the uniform is on, their mothers are still on duty.
"If I leave the uniform on, he knows I'm still working," says Madden. "Gene's barely two years old and asks me if I'm going to go on night rounds."
Sanchez's experience is similar.
"She knows when I put on the uniform that means bye," says "She's normally fine with that but gets especially disappointed when I leave the house with my normal clothes on to handle something minor on the park."
All the moms acknowledge they are thankful for the help they receive from their family at home. Madden's husband Michael is a stay-at-home father. Michael was a game warden for the Georgia Department of Natural Resources before taking on the role of dad.
"We are closer as a family since Michael moved home," says Madden. "He helps out a lot."
What most people don't realize is that support comes from the campground as well.
"There's a lot of grandparent energy with our volunteers and hosts in the campground," says Sanchez. "They call themselves 'Park Grannies' and it's really sweet. They'll wave and visit with us when I bring Rosalie and Elliott through the campground. It creates a neighborhood feel."
Powell is a single parent, so the support she receives from the volunteers living on the park is a huge help for her.
"Victor will sit with a campground host if I need to go into a cottage or have a complicated situation. They have fallen in love with him," says Powell. Her mom lives in the area and helps too, but balancing raising Victor and looking after Florence Marina and Providence Canyon makes the helpfulness of the campground volunteers that much more important.
What calls these moms to work in this profession? It's not always clear, but it starts with a love of the outdoors.
"I loved tent camping with my parents and grandparents as a kid," says Powell. "But I grew up wanting to be a teacher, I never thought I'd be in this role."
"Growing up with my twin sister, we lived in a neighborhood with a creek in the backyard," says Sanchez. "It had salamanders, bamboo. But the neighborhood can become small," says Sanchez. She wanted something bigger than her small creek in the backyard.
"We would have loved a place like this," says Sanchez.
Now she can provide that to her children at Hard Labor Creek State Park.
"Before we go outside, Rosalie will yell 'tally ho!' before going on a nature walk. She's a big fan of Nature Cat on GPB."
It's a lifestyle these moms seem to love.
"Gene took his first steps at a state park," says Madden "It's a balancing act, like a lot of other professions. But the uniqueness of this lifestyle adds a special twist."