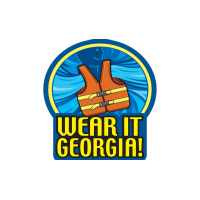 The safety of guests and employees is the number one priority of Georgia's Department of Natural Resources.
As parks head into the state's busy water recreation season, visitors to the 63 park and historic site system are heartily encouraged to be vigilant of water safety at all times.
Georgia's Department of Natural Resources Law Enforcement Division has developed a catchy and pertinent way to remember all the safety rules visitors need to adhere to and should make permanent part of their practice.
SPLASH
Supervision – Designate an adult to watch children at all times. Do not assume someone else is watching.
Prevention – Wear personal flotation devices (PFD or life jacket), install fencing around pools, and use drain covers in hot tubs and pools.
Life jackets save lives – Wear them and be sure your children do.
Arm's Length – Adults should be arm's length to children in water, and safety tools such as hooks should be nearby at all times.
Swim Lessons – Knowing how to swim greatly reduces the chance of drowning. Classes are often available through the Red Cross or YMCA.
Have a Water Safety Plan – Know what to do during a water emergency.
The SPLASH campaign includes bilingual brochures, boat checks by law enforcement officers, public service announcements and videos, and social media messaging. The DNR is in the process of adding "loaner boards" with PFDs at public boat ramps and swimming areas. Be sure to refer to the Georgia Outdoors app as loaner boards are put into service.
Initially launched by Georgia's First Lady Sandra Deal and her Children's Cabinet in 2015, the SPLASH campaign was re-launched in 2017 and is dedicated to the program through public and private partners, including the Georgia Department of Natural Resources, Georgia Emergency Management Agency, Georgia Department of Public Health,Georgia Bureau of Investigation, U.S. Coast Guard Auxiliary, U.S. Army Corps of Engineers, National Association of State Boating Law Administrators, Georgia Power, Shepherd Center and others.
For more great information please go to gadnrle.org/wear-it and see how you can participate and remember to SPLASH.