It's summer of 2016 at Tallulah Gorge, and the nature center is packed with people from all over the Southeast. There are 8 people in line at the gift shop, most of whom are waiting to get a bottle of water after hiking the 1,062 stairs back from the base of the gorge. Jessica James-Weems, Assistant Manager of the Park, gets a message from a visitor: there's an elderly woman suffering from heat exhaustion and she needs immediate assistance....
James-Weems, standing just 4'11", pauses for a moment to gather her thoughts. Then she jumps into action. She grabs her emergency bag filled with water, food, ice packs and other medical supplies and heads down the stairs to meet with the woman. After making contact, she calls the local EMS, requesting for them to bring a stair-chair, a modified stretcher used for carrying people up steep inclines. People gather around the scene, and James-Weems remains composed. Once EMS arrives, she assists them with carrying the woman out of the steep gorge.
In a field traditionally dominated by men, the life of a Georgia State Park Ranger has quickly become an enticing one for women like James-Weems. Currently, out of 44 Managers, she is one of 14 female Park Managers for Georgia State Parks. Possessing qualities that would have previously barred her – a 4'11" woman with two kids – she is a valuable member on the Search and Rescue Team and the Prescribed Burn Team.
"There's nothing I can't do, and I'm given an opportunity to try new things. Except drive the snowplow. I can't see over the steering wheel!"
Now the Park Manager at Black Rock Mountain State Park, James-Weems has been raising her two daughters in Park housing, and that has been a positive adventure for her whole family.
"The department is encouraging and supportive of women, raising a family, and taking time off," said James-Weems, a mother of two daughters who have grown up living on Tallulah Gorge and Black Rock Mountain State Park. "I hope my children write a book about [their childhood]."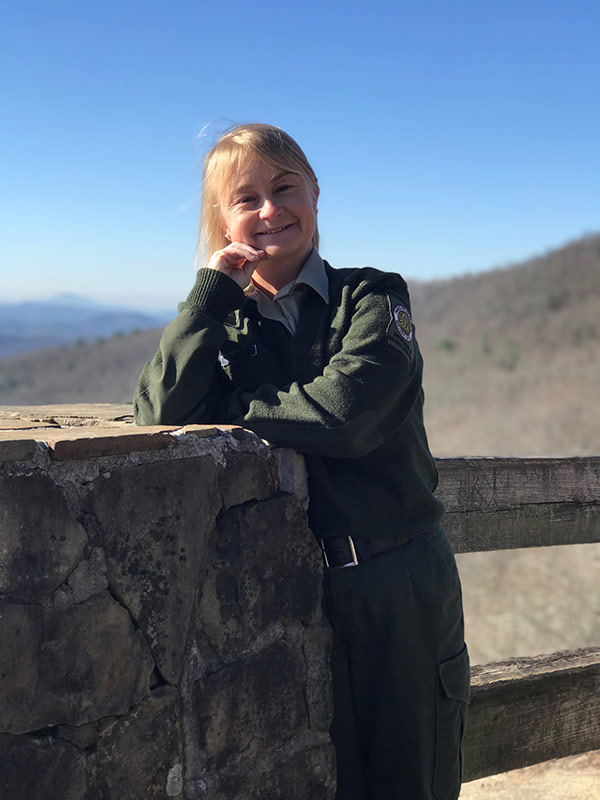 Interpretation is a huge part of what Georgia State Parks and Historic Sites offers to its visitors every year, and female Park Rangers lead a significant portion of those programs. Along with the Park Managers, Interpretive Rangers and Naturalists plan and execute most of the programming in Georgia State Parks. Over half of the Interpretive Rangers and Naturalists are women. Katherine Darsey, Park Manager at Indian Springs State Park, is the region canoe and kayak instructor and is the one who trains these Rangers how to hold the paddle programs.
"It's a lot of fun to get paid tell people to flip over their boats," Darsey said. While working toward her bachelor's degree in biology from Georgia Tech, she worked over the summers as a clerk at High Falls. After graduating, she found she was interested more in working for the parks than working in a lab, so she followed her passion and eventually became the Park Manager at Indian Springs. It has been a rewarding decision for her.
"I had trained Interpretive Rangers Allie Ellis and Michael Putnam at Fort King George how to self-rescue and assist other with righting flipped boats. They told me later that it actually happened on one of their paddle programs and successfully flipped the boat back over," she explained. "So it was cool to have a direct result."
While interpretation is a fun aspect of the job, natural disasters can have a devastating impact on Georgia's Parks. Valerie Ikhwan, the Site Manager at Fort King George Historic Site, has firsthand experience leading hurricane response on Georgia's coast.
"When a hurricane comes, it's do or die," said Ikhwan. In September of 2016, Hurricane Matthew hit Florida, Georgia and the Carolina's. According to reports by the Associated Press, the storm left 250,000 people without power on Georgia's coast and took the lives of three Georgians. Officials called the storm a "1 in 500-year storm surge event," for the islands of Jekyll and St. Simons. Fort King George is located 10 miles north of those islands.
"It's pure chaos, all you see is destruction, and you have to be able to prioritize and chip away," said Ikhwan. "You'll start with checking for downed power lines and high dangers, then clear away hazards, hanging trees and debris. Once those are down, you cut it up and clean it up."
Ikhwan knew the response to Matthew could have gone better in her eyes. 11 months later, she would have a chance to prove it after Category 5 Hurricane Irma hit Florida.
"If someone had told me I would face two hurricanes in 11 months' time, I'd say no way I could get through that. But I learned a lot from Matthew, and Irma went much better," said Ikhwan.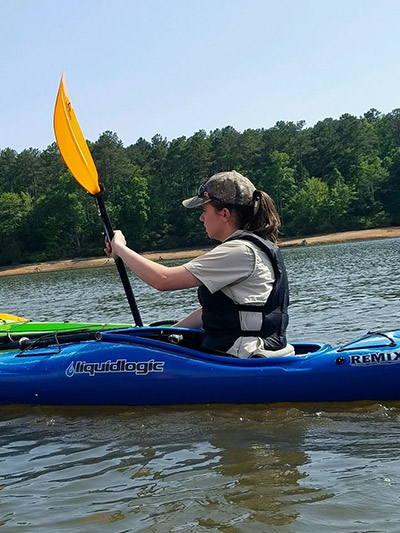 Neither Ikhwan, James-Weems or Darsey came with all their current knowledge they have of interpretation, emergency response, or resource management. They learned it in the field and were encouraged by supervisors and peers to better themselves. Ikhwan recalled she barely knew had to run a riding lawnmower before starting as a Park Ranger, but now she teaches people how to operate a chainsaw in dangerous conditions, both men and women. And she wants women to know it's a career to get excited about.
"I think women are afraid to be Park Rangers because it's not their vision of a career," said Ikhwan. "It never crossed my mind the need to 'hang with the boys' but I quickly saw certain aspects of culture made by men for men. That's why it's important to look for women to call on."
One of those close friends is Katherine Darsey, and they lean on each other and ask each other questions about how to navigate the life of a Park Ranger.
"It is a traditionally male dominated field, but I've never been one to do what's 'expected' as a female," Darsey said. "I was raised with no boundaries to what I could do. I have lots of fun stories that I couldn't get in a lab."
The Rangers come off as unflappable in the face of emergency rescues, hurricane responses, or events with thousands of visitors. And as new issues arise, these women continue to want to excel and find ways to make the park a better experience for visitors.
"I tell people it's the best of every world: fun, challenging, and it's gorgeous," said James-Weems. "I plan on staying for a long time."