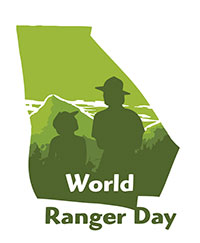 Throughout the month of July, Georgia State Parks recognized our park rangers in celebration of World Ranger Day on July 31st. This annual holiday commemorates the founding of The International Ranger Federation. World Ranger Day is also a day to remember rangers who have been injured or killed while protecting international, national and state parks. We asked our social media followers to help us support our rangers and rangers around the world as they protect and conserve the delicate balance between our natural ecosystems and the public by sharing our posts in July.
Each park ranger was honored by their commitment to one of the five pillars of customer service: serving the resources, visitors, staff, citizens, and one another. The first park ranger honored was Patrick Turknett, who serves the citizens.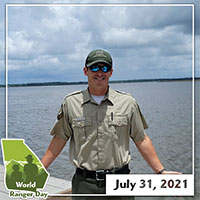 On January 17, 2020, Ranger Turknett responded to an out-of-control boat along the water at the Crooked River Boat Ramp. A 19' Key West boat became inoperable, and as it was being hauled in by a tow boat for repairs, strong winds and waves forced the tow boat captain to drop the tow-line to avoid a collision. This left the Key West boat powerless and bumping dangerously into the rocks on shore. Ranger Turknett grabbed the towline and began to guide the boat, wrestling against the wind and waves, toward the truck at the boat ramp waiting to pull the vessel out of the water. Through his immediate action and intervention, Ranger Turknett pulled the boat onto the trailer winch and rescued the boat operator United States Navy Captain Richard Miller (Ret.) along with avoiding serious damage to the boat and truck. For his efforts, Georgia State Parks and Historic Sites awarded Ranger Turknett the Above and Beyond Award for 2020.
Serving the visitors is a critical part of a park ranger's mission. Ranger Kelehear follows that promise by offering programs that engage and excite future naturalists.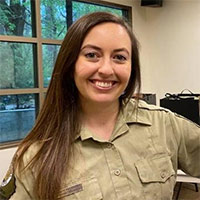 Ranger Kelehear is an interpretive ranger at Sweetwater Creek State Park and has been working with the DNR since 2015. It's her goal to help educate the public about wildlife in their backyards and create an interest that makes them come back to the park.
"One of my favorite things about working with visitor's is seeing them return for other programs," said Kelehear "When I recognize someone from a previous program, I realize that they found it valuable or interesting enough to return. It lets me know I'm doing a good job and it's also fun to see a familiar face!" Ranger Kelehear believes educating visitors about wildlife will make people less afraid and more likely to help protect wildlife in the future.
Teamwork is vital to the operation of a park, and without a good staff, a park ranger is doomed. It's critical for a park ranger to hire the right people, and train them once they join the team. Park Manager Andre McLendon has been hiring, and serving, the staff for many years.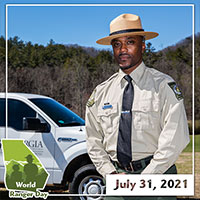 Ranger McLendon has worked at AH Stephens for 27 years, starting as a maintenance ranger and eventually serving as the park manager. During those 27 years, Ranger McLendon has been instrumental in hiring and training our Managers in Training (MIT's) who have gone on to become park managers and assistant managers. The lessons and instruction he has given to new staff has had a large impact on the park rangers you see out on Georgia State Parks and Historic Sites today.
Almost all the park rangers were drawn to this line of work because of their love for the outdoors. Some, like Ranger Kelehear, find purpose in encouraging others through programs to love the outdoors. Ranger McLendon is great at training and providing mentorship for those who are interested in becoming park rangers. For Vogel State Park Senior Ranger Robbie Graper, it's about getting dirty. Ranger Graper serves the natural resources.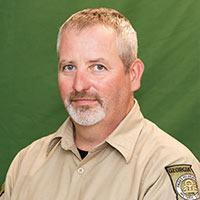 When natural disasters hit Georgia, Ranger Graper does not hesitate to answer the call of leading his regional debris team into hard-hit areas. He helped lead the clean-up efforts during both Hurricane Irma and Hurricane Michael, which caused great damage to Seminole State Park and Kolomoki Mounds State Park. He utilizes his skills as a class c sawyer and heavy equipment operator of excavators, dump trucks and bulldozers to help clean up and restore devastated areas. In addition to ground work, he also climbs, tops and fells hazardous trees. Ranger Graper has been working with DNR since 1993, and because of his valuable and loyal work with DNR, he was recognized as the Si Longmire Ranger of the Year in 2020.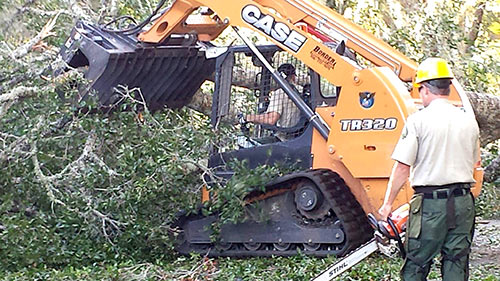 Part of working on a state park is filling in where needed. Even though Park Manager Mikayla Murphy is relatively new to the world of parks and park management, in 2020 she was quickly thrust into the role of interim manager at one of the busiest state parks in Georgia.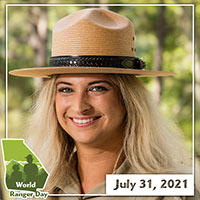 Ranger Murphy started as an intern at Fort Mountain State Park, working her way through the MIT program at Vogel State Park where she would eventually become the assistant manager. In 2020, Vogel's Park Manager and Air Force Reserve Sgt. Jack Becker was deployed to Qatar for 8 months. Ranger Murphy navigated Vogel through the COVID-19 pandemic and record-breaking crowds, all while being far from her home in Missouri. Now the park manager at Florence Marina State Park and Providence Canyon State Park, Ranger Murphy was honored as the 2021 Si Longmire Ranger of The Year for her professionalism, dedication to DNR, and her positive attitude in the face of new responsibilities. Ranger Murphy serves the staff.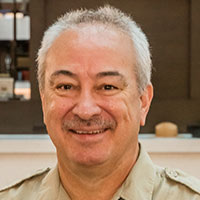 Site Manager David Gomez is a critical resource for the younger rangers like Mikayla Murphy. He oversees two Historic Sites: New Echota-Cherokee Capital and Chief Vann House. Ranger Gomez has been at New Echota as the manager for 24 years and enjoys the combined cultural, historic, and natural resource preservation responsibilities and opportunities of his job.
New Echota is where the tragic Cherokee Trail of Tears began, leading to the removal of the Cherokee to lands west of the Mississippi River.
"It's our job to protect the site and to tell the story of the Cherokee during the early 19th century," says Ranger Gomez. "It's a site of the Cherokee, the State of Georgia and national historical significance and it's important for us to tell it honestly and accurately, and work with the present-day Cherokee people in telling the story."
The Cherokee people are represented today at New Echota and Chief Vann Sites through consultation with tribal officials for various projects and by hosting Cherokee groups and during special programs, including the annual Remember the Removal bicycle ride, which begins at New Echota and ends 950 miles away at the current Cherokee Capital, Tahlequah, Oklahoma. Originating in 1984, the ride started again in 2009 and Ranger Gomez has enjoyed working with this group each year, and countless others, that visit their ancestral homeland.
"We need to remember the Cherokee are not just a people of historical significance but are an important part of our American society today", says Ranger Gomez.
We thank Ranger Gomez for his over 38 years of commitment to our State Parks and Historic Sites Division and in working to preserve our history and teach others about the past.
Tallulah Gorge is one of the most beautiful parks in Georgia, which also makes it the busiest for day-use hikers. People don't realize the sheer magnitude and depth when they descend into the gorge. Luckily, Park Manager Jennifer Jones and Assistant Manager Lieren Merz are there to serve the visitors.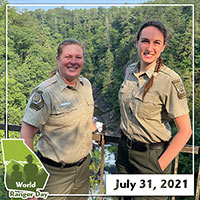 Ranger Jones and Ranger Merz have both worked for the DNR for over 6 years. 2020 saw record breaking numbers of visitors come to Tallulah Gorge, and coupled with a short staff, Ranger Jones and Ranger Merz had their hands full to protect the natural resources while providing a place to recreate during the height of the COVID-19 pandemic.
"There were a lot of new people coming to the park, and some of them didn't know hiking etiquette or how to prepare for a hike," said Ranger Merz.
"They would veer off the beaten path and create new trails, which became a strain on the park," said Ranger Jones. Thousands of visitors annually frequent the 1000+ stairs to the base of the gorge, and some people underestimate the difficulty and don't prepare properly. A big part of Ranger Jones and Ranger Merz's job is to help people get back out of the gorge.
"The majority of rescues this time of year are related to dehydration," said Ranger Jones. "People sometimes don't take water with them or eat before they hike a strenuous trail. But when something like that happens, it's nice to be able to serve the public. I know they are relieved when they see one of us coming to assist them."
Park Rangers know that nobody can run a park alone. Stephen C. Foster Park Manager Bryan Gray has built a team around him that can fill in wherever needed, and they serve one another.
Stephen C. Foster State Park is located in the West entrance of the Okefenokee swamp, and is the only entrance where the park is completely surrounded by the swamp. This makes it far from nearby cities and towns, allowing for arguably the best wildlife and dark sky viewing of anywhere in Georgia.
However, because it is so remote, the park staff relies on each other and has a special bond unique to many workplaces.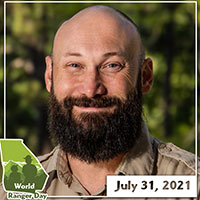 "The staff here is a hardworking, joyful bunch, and we all like to have fun while getting things done," said Ranger Gray. "Passion is likely the number one trait of the whole staff. There is not one single person on staff that could not and has not completed the duties of another when needed, and they make my job so much easier."
Ranger Gray says a good team is a diverse team.
"We have staff from many different generations, educational levels, and skills. The staff seems to do a good job of understanding the different strengths and passions each person has, and knows how best to include that into our operation."
In 2019, Ranger Gray was awarded the Henry Struble Manager of the Year Award for his management expertise at Stephen C. Foster State Park.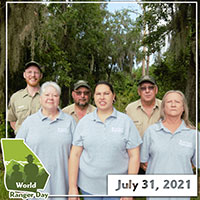 All the rangers profiled here are dedicated to the mission of protecting the visitors, staff, the natural world. Across Georgia, throughout the United States, and around the world, park rangers work hard to protect natural ecosystems and the people that enjoy it. This holiday commemorates the founding of the International Ranger Federation. It is also a day to remember the rangers who have been injured or killed while protecting parks and conservation areas. Georgia State Parks and Historic Sites scheduled events and junior ranger programs in honor of this holiday on July 31. We encourage everyone to come out and visit a Georgia State Park or Historic Site on July 31, or any day, and tell a park ranger thank you!