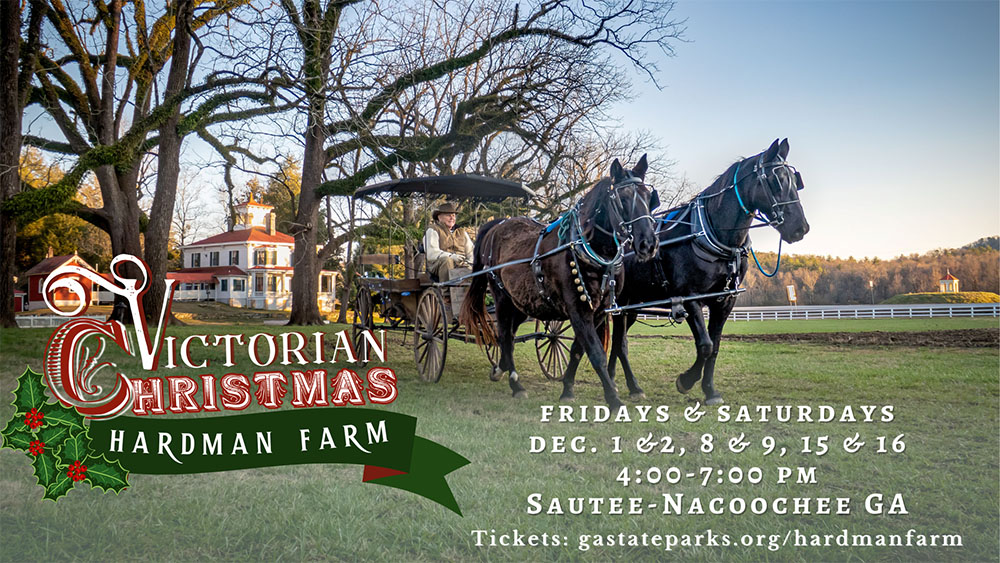 ---
---
» Accessibility Notice:
› Visitors with special needs or accessibility issues are encouraged to contact the park office at 706-878-1077 prior to their arrival to ensure the best experience possible.
---
» Pet Notice:
› Leashed pets are allowed on historic site trails, however, they are not allowed in buildings. Please view our Park Rules page for more information.
---
This property is managed by nearby Smithgall Woods State Park.
---
Travel through centuries of culture at Hardman Farm State Historic Site along the iconic Unicoi Turnpike. Once a Native American trail, the turnpike passes through a historic farm, linking Georgia's earliest inhabitants with the enduring legacy of the Nichols/Hardman families, and their Nineteenth Century Italianate mansion.
---
The Sautee Nacoochee Indian Mound at Hardman Farm is perhaps the best known feature of Hardman Farm, located just south of Helen in White County. The gazebo-topped mound and cow pasture is a favorite landmark in north Georgia with exceptional ties to Native American history.
Guided house tours include the 19th-century parlor, original lighting, and interesting telephone and climate control system. Visitors will also see the bedroom belonging to Anna Ruby Nichols, the namesake of nearby Anna Ruby Falls. The old barn was the focal point of Nacoochee Dairy that operated from 1910 until the mid-1920s. Guests will learn how milk was processed and transported, plus they will see a spring house and former horse barn. The tree-lined road leading from the Visitor Center to the house is a remaining portion of the historic Unicoi Turnpike. This 200-mile road went from Toccoa to western North Carolina and eastern Tennessee. It began as a buffalo trail, then a Native American trading route.
Built in 1870 by Captain James Nichols, the house is a grand example of Italianate architecture and was originally known as "West End" because it was at the west end of the Nacoochee Valley. Its second owner was Calvin Hunnicutt, a wealthy Atlanta business man. Hunnicutt used the house only as a summer retreat and much of his original furniture remains. The last owner was the family of Dr. Lamartine Hardman, Georgia's governor from 1927–1931. It was lovingly preserved and donated to the state of Georgia in 1999. The Nacoochee Mound is a burial site and was probably used long before the Cherokee inhabited the area.
---
Hardman Farm is the perfect location for your next special event, please contact the site to find out more.
---
Facilities
---
Things To Do & See
"Historic Estate" Guided Tour — on the hour
Self-Guided Tour — does not include mansion entry
Gazebo-Topped Indian Mound
Dairy Barn
---
Educational Programs
Field Trips
Reservations required, please contact us for information.
---
Nearby Attractions
---

Site Accessibility