---
"Come stay and play at Richard B. Russell State Park where you can toss a disc, throw a hook, play a round at a top ranked golf course in the U.S., recreate on the water or relax beside the peaceful shores of Lake Richard B. Russell where agrarian people settled along the Savannah River watershed."
Located on a 26,650 acre lake, Richard B. Russell State Park offers some of the state's finest fishing and boating. The park's campground and fully equipped cottages are located on or near the water's edge for a relaxing getaway. Most park facilities are designed for wheelchair accessibility, including the swimming beach. A nature trail follows the shoreline to one of the oldest steel pin bridges in the area, loops through the adjoining woods and returns to the beach.
This park is known for its well-kept disc golf course, where Frisbee-style discs are thrown into metal baskets. This sport is easy to learn and can be enjoyed by all ages. For traditional golfers, the park's 18-hole Arrowhead Pointe Golf Course offers a pro shop and annual passes. Several Indian sites were excavated near the park in 1980 before the lake was filled, indicating that Paleo-Indians lived in the area more than 10,000 years ago. This area is now called Rucker's Bottom and lies deep within the waters of Lake Richard B. Russell.
---
Reservations, Accommodations & Facilities
2,508 Acres
26,650 Acre Russell Lake
3 Picnic Shelters (Before making reservations, call park for capacity limits.)
1 Group Shelter (seats 150. Before making reservations, call park for capacity limits.)
1 Event Room (seats 80. Before making reservations, call park for capacity limits.) — call park to reserve
Sand Beach — seasonal
Boat Ramps
Wi-Fi — available in the park office, cottages, campground, & golf course clubhouse (Not suitable for streaming.)
Things To Do & See
---
Golf Course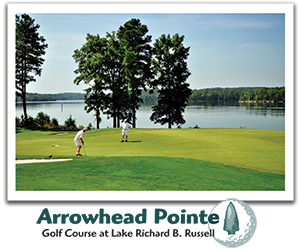 ---
Nearby Attractions
---
Quota Hunt Safety Zone Map
Safety Zones Map PDF - If you have the Avenza PDF reader app on your phone, you can download the map, open it in that app, and it should be able to give you a location when you are at that site. Geo-Referenced maps are not always 100% accurate. They should be used in conjunction with, and not in place of, other traditional methods of navigation or personal familiarity of an area.
---

Site Accessibility